Either you love 'em or you hate 'em.
Who can resist such cute little furballs? Check out 9 pet cafes in Metro Manila you can visit for an awesome and relaxing time, some studies even report that cuddling with pets reduces stress levels. So go ahead and plan your visit.
Update: Check out the Top 10 Most Loved Restaurants in Metro Manila this month!
Take out your Booky app and search for all of these places with ease and convenience. No internet needed when searching because Booky works offline! Use the 'Navigate' button which is integrated with Waze to help you with directions and avoid getting lost.
Enjoy!
It's a natural pet bakery and dog cafe that provides a great selection of natural, homemade pet food and treats that are healthy and free of harmful preservatives, colors and flavors. Their bakery has expanded its services to offer special and customized formulas for pets with special dietary needs. They also deliver doggie cakes treats to homes within Metro Manila and Rizal.
No reservations accepted
View the full menu
View their Instagram account
349-D CM Recto St. cor. P. Guevarra St., Addition Hills, San Juan
+63 2 357-2753
This place do not just serve coffee, tea, rice meals, sandwiches, pasta, and dessert, they also serve an overload of cuteness because of the dogs you can pet and play with when you visit. What a way to kill off stress after a long hard day. Unfortunately, you can't bring your own dogs to the place. Barkin' Blends is one of the most go-to places in Katipunan, if you're in the area, you should check out this list to see where Ateneans hang out the most.
No reservations accepted
View the full menu
View their Instagram
J&R Concon Center, 91 Rose Alvero St,Katipunan, Quezon City
+63 2 533-7290
Cat Cafe Manila's goal is to spread love for animals and awareness for responsible pet ownership while delivering a themed cafe experience to guests through their loving pets and mouth-watering food and drinks. Through its partnership with CARA, Cat Cafe Manila will feature beloved puspins for adoption.
Reservations are required
View their Instagram account
2/F 189 Maginhawa St. cor. Makadios St., Sikatuna Village, Quezon City
+63 922 836-4441
Bengal Brew is the world's first Bengal cat cafe set in a rainforest-themed playground. It is a cafe concept by TV director Don Michael Perez, who is a Bengal cat enthusiast himself. Sandwiches, cakes, pastries and coffee are served.
No reservations accepted
View their Instagram account
Manhattan Parkview, Manhattan Garden City, Araneta Center, Cubao,Quezon City
+63 2 366-8287
This cafe gives you the opportunity to dine and cuddle with furry friends! It's a 2-storey cafe where you'll see the actual cafe on the 1st floor and get to play with their cats on the 2nd floor. You will be taught how to handle their furry tenants and even have your own cat slippers before going up to the cat room for sanitation purposes.
Entrance Fees:
REGULAR – P300 (w/ P150 consumable)
SENIOR CITIZEN – P250 (w/ P150 consumable)
STUDENTS w/ VALID ID – P200 (w/ P100 consumable)
KIDS below 10 years old – P100 (w/o consumable) 
Reservations are accepted
View the full menu
View their Instagram account
#6 Xavier Hills Condominium, Granada St., Quezon City
+63 2 904-0041
Le Cat Coffee Shop is the first cat cafe in Las Piñas area. They currently house 8 adorable feline furballs: Cici, Caramel, Apple, Orange, Strawberry, Barton, Summer, and Peanuts. Unfortunately, due to concerns relating to children and the animals inside the cafe, kids under 10 are not allowed in the cat lounge anymore. 
Entrance Fees:
P199 – with a cup of hot/cold beverage
P219 – with a cup of frappe
No reservations accepted
View their Instagram account
76 Gloria Diaz St BF Resort Village, Las Piñas
Velvet Friends Cat Cafe is a cat cafe in Manila where guests will be able to experience different breeds of cats in a homey and warm atmosphere. Unlike other cafes, customers are allowed to bring their own cats here to savor their treats. However, to encounter their Ambassador Cats, guests should abide by their rules and are charged an hourly fee, which already comes with a cookie and mini-milkshake.
Reservations are accepted
View the full menu
View their instagram account
2/F Cluster H, Blue Bay Walk, Metropark,Pasay
+63 925 557-0384
The first ever cat cafe in the Philippines. Customers get to enjoy food and drinks and the company of the store's feline friends for a door fee of P300. Their opening hours are every 2 hours (11am-1pm, 2pm-4pm, 5pm-7pm, 8pm-10pm) and bookings are strongly recommended. 
Reservations are recommended
View their Instagram account
2/F, #7 Congressional Ave., Quezon City
+63 2 274-7937
Pups and Cups speak for itself, get ready to enjoy a good cup of coffee (plus more) with the company of their cuddly and friendly dogs. Enter the Pups Corner for 1.5 hours with a free drink of your choice for only P190.
No reservations accepted
View their Instagram account
#363 El Grande Ave. cor. Cebu St., BF Homes, Parañaque
Visit these kid-friendly and fun pet cafes during your breaks or on weekends. Share your experiences with us by tagging us on Instagram @bookymanila or using the hashtag #bookymanila. We love seeing your food-ventures based on our featured lists on the blog.
If you're not already enjoying the offline convenience of Booky, it's free to download on iPhones and Android. Stay updated with the latest on new restaurant openings via the Booky app's 'New Restaurant Alert' feature!
They love humans so much!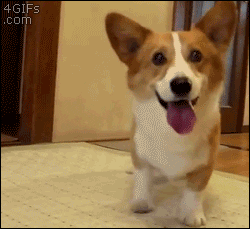 Comments
comments