What a catch!
Sometimes, we just need a little vitamin sea – and then same could be said for our appetite. We don't mean to be a little shellfish, but the seafood restaurants out there cod be a little cheaper. There's still hope, because salmon once told me you don't have to break the bank for a good boodle. Water you waiting for? Check out these affordable seafood spots around the Metro!
Update: Check out the Top 10 Most Loved Restaurants in Metro Manila this month!
Paella, salted egg shrimps, or maybe some oysters? Go get 'em.
Blackbeard's Seafood Island prides itself in being the home of the original boodle feasts, perfect for any type of celebration. Choose from over 12 unique boodles and enjoy their selection of fresh Paluto dishes such as lobster, crabs, catfish, and more. With all its fresh food offerings, Seafood Island is sure to give the best Seafood Dining Experience to its loyal customers.
Insider Tip: It has over 38 branches in the Philippines, search for a branch near you on the Booky app!
The Red Crab Alimango House is the go-to choice of Filipinos for the ultimate fresh crabs and seafood experience. it is a definitive place for locals and balikbayans alike. Whether it's broiled, steamed, or fried you can trust The Red Crab to prepare crab and seafood favorites just the way you like it.
Owned by restaurateur Raymund Magdaluyo and celebrity chef Peter Ayson, this is a Hawaiian-inspired restaurant where you will enjoy their wide variety of seafood viands here! This one has lobster and rib-eye steak!
iSeafood – The Lokal Food Park
iSeafood at The Lokal food park serves affordable seafood dishes such as paella, buttered shrimps, honey garlic shrimps, sea and chips, and more. 
View menu
The Lokal Food Park, Shaw Blvd. cor. Lawson St, Mandaluyong
Bun Appetit is one of the most popular vendors at the Salcedo Saturday market in Makati and at the Pantree Food Hall. They serve succulent seafood grilled cheese sandwiches and sides like Mexican Grilled Corn and Garlic Noodles but it's their bestselling Lobster, Crab, and Shrimp rolls that are to-die-for!
Insider Tip: Catch them every Saturday at Salcedo Market from 7am-2pm (or until stocks last) 
No reservations accepted
View menu
View their Instagram
Jaime C. Velasquez Park, Salcedo Village, Makati
Asan Si Diwa At Ila at Sagul Food Park is a travel-themed concept inspired by the owners'  travels from all over the Philippines. Through discovering eccentric dishes, their spicy garlic shrimp with shredded corn and shitake mushroom is their take on reinventing recipes to make it adventurous just like them. 
View menu
Sagul Food Park, 43 Malingap Street, Teacher's Village, Diliman, Quezon City
(02) 622-0222
Hip On – Carnival Food Park
Hip On at the Carnival Food Park seafood buckets of shrimp (or hipon in Filipino, hence the name!), mussels, crab, and more juggled in a pan mixed with different flavors like salted egg, butter and garlic, curry, and more.
View menu
Carnival Food Park, Gil Fernando Ave, Sta. Elena, Marikina
Dona Levita – The Station Food Park
Doña Levita from The Station Food Park keeps it simple and authentic with their traditional Filipino cuisine, with bestselling dishes like the salted egg shrimp, baked cheesy tahong, adobo, and more. 
View menu
The Station Food Park, 178 Maginhawa, Sikatuna Village, Diliman, Quezon City
Prime Shack at Industrie Food Loft is a steaks and prawns concept by Chef Janica Ribo. Must-orders here are the oysters rockefeller, Australian ribeye steak, and the cajun spice prawns.
View menu
Industrie Food Loft, City Golf Plaza, Julia Vargas Ave, Ortigas, Ugong, Pasig
(0917) 130-8463
Baypoint Seafood Bistro at The Vibe Gastrohub serves affordable seafood dishes, including Taiwanese giant butterfly squids on sticks, calamares, and more.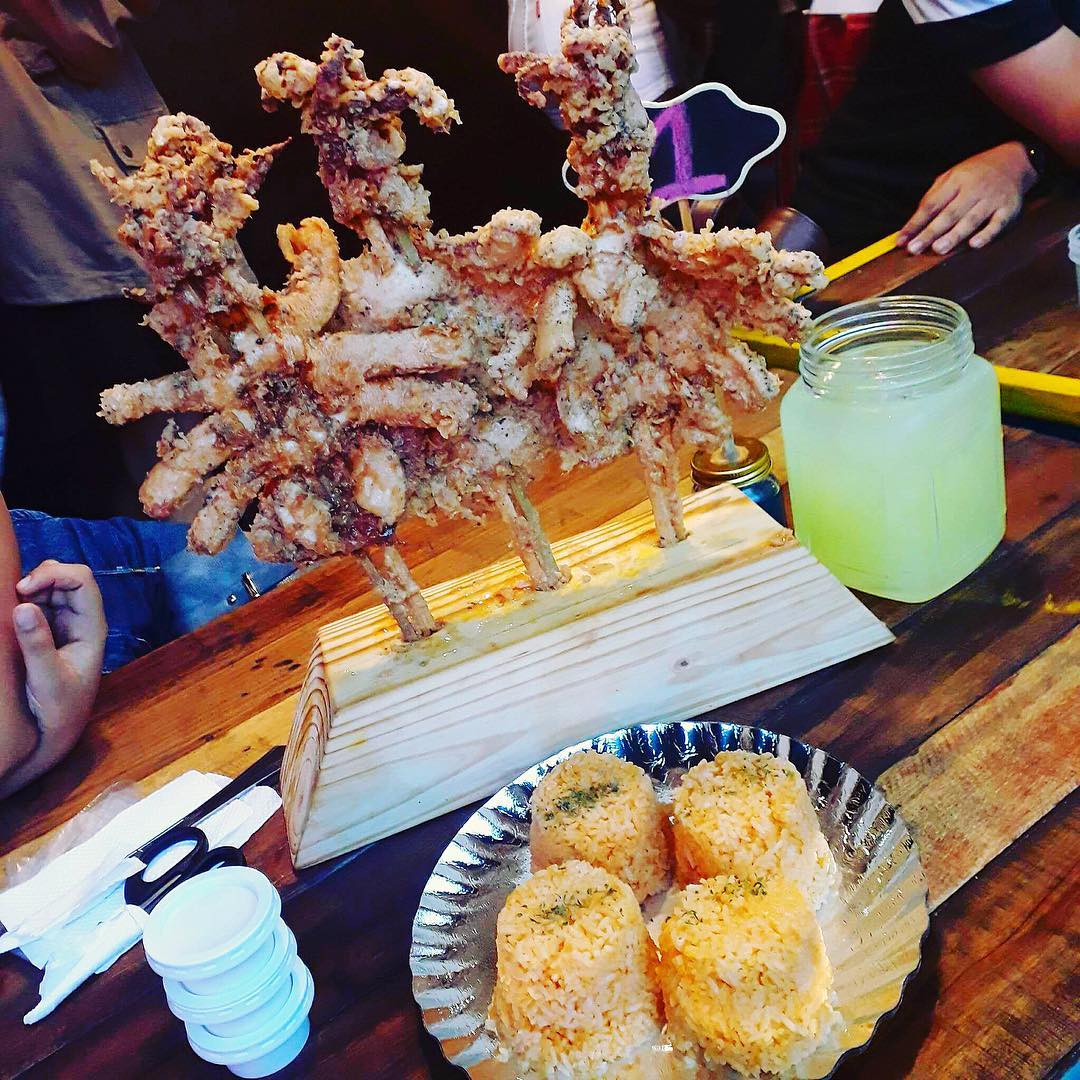 View menu
No. 9 Mindanao Ave, Tandang Sora, Quezon City
(0905) 519-2881
The Shrimp Basket from the newly-opened Kantorini Food Park serves value-for-money assorted shrimp baskets such as garlic butter shrimp, poached shrimp, shrimp scampi, and more.
View menu
Kantorini Food Park, Lot 2 Katipunan Ave, Diliman, Quezon City
(0917) 622-5034
If you want to be featured in our future posts, tag us on Instagram @bookyapp and use the hashtag #bookymanila. If you haven't, download the Booky app now for FREE on iOS or Android; it even works offline!
Comments
comments