Get ₱300 off their wagyu-all-you-can! 
Ba-Be-Q in Metrowalk is a Korean grilling restaurant where you can cook your own meals with a personal charcoal grill on every table. They've got the usual unlimited samgyeopsal and beef options, but now they're taking K-BBQ to the next level: WAGYU.
Yup, our latest Booky Prime partner is offering unlimited grilled wagyu and believe us when we say there's plenty of protein to go around.
Now, unlike most of our Booky Prime partners, Ba-Be-Q is going to do things a little differently. If you book a table there, your discount will only apply to a) their ala carte menu items and b) the unlimited wagyu barbeque. Hold on though! It may not sound like a lot, but let's break it down:
If you want unlimited K-BBQ and the Booky discount, you need to avail of the unlimited wagyu for P599. Before you say it's a little steep, this option includes unlimited chicken, pork, beef, and all the side dishes as well. So if you think about it, you're literally getting all the bang for your buck!
Update: Check out the Top 10 Most Loved Restaurants in Pasig this month!
Sam Gyeop Sal
Ba-Be-Q Korean Charcoal Grill opened 5 years ago and this little known K-BBQ joint is actually one of the first places in Manila that offered unlimited barbeque with tables side cooking to make sure that your meat is perfectly done.
Bulgogi
If you ever find yourself in Korea one day, you'll notice that there are a lot of hole in the wall restaurants and pubs. A lot of tourists steer clear of these places because oftentimes, nothing is in English but you're missing out! These spots often have the best kept secrets cooking up in the kitchen. Pair that with an ice cold beer and you've got yourself some good memories in the works.
Gyeran Jjim
That's Korean steamed eggs for those of you wondering
Dak Barbecue
Boneless chicken in a sweet marinade
Fun Fact: Ba-Be-Q is the only restaurant in the area that offers makchang or beef stomach. Don't react until you try it for yourself!
The owners of Ba-Be-Q wanted to emulate this experience and make it accessible for us here in Manila. You won't find any fancy interiors or those cutesy corners for your IG shots. The restaurant is all about the food and the good times.
So Gum Gui
Bar cut pork belly
Also unlike most Korean restaurants in Manila, Ba-Be-Q's main attraction is their all-you-can eat K-BBQ but their ala carte menu doesn't offer the usual japchae, panjeon, or bibimbap. To really bring in that hole in the wall uniqueness, they offer a variety of Korean street food inspired dishes that pair beautifully with, you guessed it, an ice cold beer.
GIMME UNLI WAGYU!
Spicy Bulgogi
Insider Tip: Dip your galbi or samgyeopsal in their house blend gochujang for a sweet and smoky twist!
Wagyu Deung Sim
Wagyu sirloin slices
Now before you go drooling over unlimited wagyu, take note that Ba-Be-Q offers locally raised wagyu beef. It's still got that melt-in-your mouth goodness, but manage your expectations because it is different from the A-grade wagyu that you'll find in most Japanese restaurant. But just look at the marbling on that, it's as good as it looks!
Wagyu Galbi
Your not-so-typical beef short ribs
Insider Tip: Unlimited wagyu (with all the inclusions) for 2 costs P1,198*. With the Booky discount, you're only going to pay P898* for all dat wagyu! You're welcome.

View menu
View their Instagram account
G/F Metrowalk, Meralco Ave, Ugong, Pasig
Watch out because The Booky Report is going to bring you more stories, lists, and news on all things edible!
For more food, food, food, download Booky and discover 1,000 of the top restaurants in Metro Manila and just watch as your foodiverse explodes!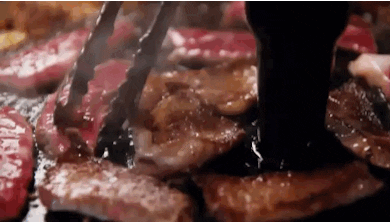 Comments
comments