New grilled meats + loads of Korean & Japanese flavors!
Among the many food halls in the country, Hole in the Wall was definitely among the pioneers to establish a thoroughly design-forward concept—bringing to life 11 unique stalls in their 500-seater space. One of the earliest standouts was Bad Bird, which instantly made waves with their signature umami flavor.
Read more: 11 Specialty Stalls to Try at Hole in the Wall
Bad Bird — Mega Fashion Hall
Established by Lowbrow Casual Restaurants, Bad Bird is one of the pioneer dining concepts at Hole in the Wall in Century City Mall. Their claim to fame: their award-winning umami fried chicken available in three levels of spiciness: Safe, Spicy, and Chemical.
Fun Fact: Lowbrow Casual Restaurants is also the group behind Fowlbread, Wrong Ramen, and Hole in the Wall.
On March 1, Bad Bird opened its first stand-alone branch in Mega Fashion Hall—with cool, intimate interiors to boot. On its first week alone, lines have already been getting crazy at this 40-seater restaurant.
For months, Bad Bird meticulously developed over 10 new menu items including small plates, grilled items, cocktails, and dessert. While each new dish shines on its own, its overall cuisine is still focused on the umami taste that made the restaurant a crowd favorite at Hole in the Wall.
"Definitely, the fried chicken is still the star of the show," says Tin Adriano, VP of Marketing for Lowbrow Casual Restaurants. She adds, "Across all new dishes, the umami flavor is highlighted, still using Japanese and Korean flavors and spices."
Check out some of these new dishes below!
Pepper Beef
Squid
Pork Belly
Bacon-Cut Short Rib
Spiced Lamb
Spicy Meat Wand
Insider tip: All grilled dishes are served with Korean pear, shredded cabbage, and 4 sauces. For 2 extra sides, just add P99!
Other old favorites such as these small plates are also here to stay.
Sesame Watercress
Hush Puppies
They also have crazy cocktails.
Gin Apple Soju Fizz
Kimchi Bloody Mary
Insider tip: They plan on adding even more desserts and cocktails in the coming months, so subscribe to their newsletter at eatlowbrow.com and stay tuned!
No reservations accepted
View their Instagram account
3/F Mega Fashion Hall, SM Megamall, Mandaluyong
(02) 753 9729
Excited to try Bad Bird? Don't forget to add it to your MUST-TRY LIST on the Booky app! Download the free app today and search over 16,000 restaurants and menus in Manila even without internet.
Also show us your food adventures by tagging us on Instagram @bookyapp and #bookymanila!
Yup.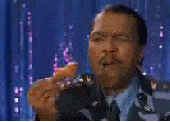 Comments
comments