Book a table and get ₱300 off!
With so many cuisines represented in Manila's food scene, modern and fusion dining is becoming a favorite to those who want to try something different. Olivia & Co. is the newest edition to world dining.
Book a table now and get a discount!
Having made a name for themselves in Singapore, Olivia & Co. has a 70-seater modern bistro in Uptown Mall and a posh 40-seater in S Maison. They are an all day dining spot that anyone in the city will come to love.
Updated: Check out the Top 10 Most Loved Restaurants in BGC and Pasay this month!
Adorned with wall art of famous sites, statues, and figurines of well known monuments, and model planes that look to be flying to a new corner of the globe, the Uptown Mall branch has a whimsical vintage interior that is both fun and cozy. Olivia & Co. in S Maison, on the other hand, features the same whimsical wanderlust in a window-adorned space.
Fun Fact: The restaurant is named after the owner's wife and the many travelling adventures she has around the world.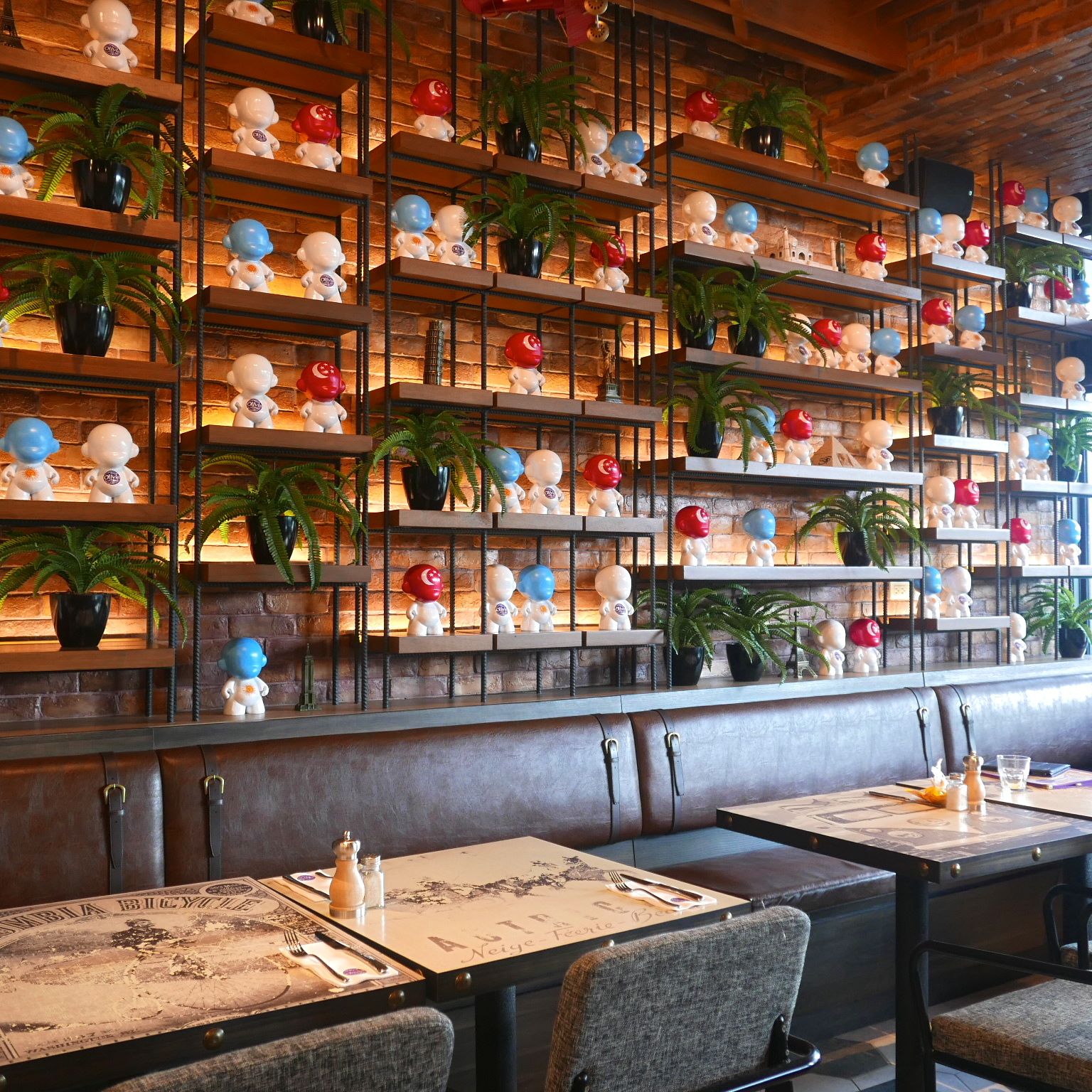 One look at the menu of Olivia & Co. and it's clear that their offering doesn't adhere to one specific cuisine. They have influences from all over the world and created a modern fusion menu that is easy on the eyes and can satisfy any craving.
Try it: Download Booky and get P300 off when you book a table at Olivia & Co.
Smoked Salmon Salad
What sets Olivia & Co.'s menu apart from other modern restaurants is that it's a mix of exciting new flavors and comfort food at the same time. They've found the perfect balance of the familiar and the adventurous.
Fisherman Squid Ink Pasta
Season seafood meat selections in a spicy squid ink sauce
Laksa Pasta
Homemade laksa sauce, grilled prawns, vietnamese corriander
Tokyo Wings
The wing selection pays tribute to entire cuisines. Take your pick from the savory teriyaki Tokyo wings, sweet and spicy Bangkok wings, or the tangy spice from their Hanoi wings.
Hangover Burger
Signature beef patty, cheese, egg, crispy ham, truffle mayo, fries
Olivia Sliders Board
Grilled Beef, pulled pork and soft shell crab tempura
Passion Fruit White Chocolate Cheesecake
This one is a definite must-try! Each bite of the simple looking cheesecake is worth every peso.  If you're not looking for an entire meal, Olivia & Co.'s waffles can be a great sweet and savory snack to share.
Snorlax Waffles
Berry compote, savoury bacon pieces, honey, sliced bananas, homemade peanut butter sauce, ice cream
They also have a long list of drinks—coffees, teas, fresh juices, smoothies, milkshakes, beers, and wines—for you to quench your thirst.
Salted Caramel Macaroon Milkshake
Salted caramel sauce, mini macaron, ice cream
Mango Mojo
Mango puree, banana, vanilla, granola, yoghurt
Insider Tip: There are sockets and free wifi at Olivia & Co. Perfect for study dates and work meetings!
Pineapple Power
Nutmare Milkshake
M&M's, peanuts, Oreo, Kit Kat, caramel sauce, chocoholics, ice cream
So if you're looking to try something new but still want comfort food, Olivia & Co. will make you feel at home and take you on a trip around the world.
Watch out because The Booky Report is going to bring you more stories, lists, and news on all things edible. Use #bookymanila and have your food trips featured!
For more food, food, food, download Booky and discover 900 of the top restaurants in Metro Manila and just watch as your foodiverse explodes!
Comments
comments