This won't be your last resort
Resorts World Manila in Newport, Pasay is without a doubt, one of the hottest lifestyle hubs in the country today. It's a one-stop (and non-stop) entertainment destination that's got everything you could possibly want: a shopping mall, a bar, a performing arts theater, a 24-hour cinema, and a casino.
The Resorts World complex is host to SEVEN distinguished hotel brands including the luxury all-suite Maxims Hotel, the five-star Marriott Hotel, the Holiday Inn Express, and the Belmont Hotel. Soon to open are the Hilton Manila (October 25), the Sheraton Manila (December 2018), and Hotel Okura Manila which is set to open in the first quarter of 2019.
Of course, no all-in-one resort can be complete without a handful of unique restaurants to spice up your stay. Whether it's steak, pasta, sushi, or dessert, you're sure to find whatever you're craving for. With this list as your guide, deciding where to eat won't be a problem.
Named after the king of cheeses, you can expect a lot of the dishes at Parmigiano to be loaded with parmesan. Known for their pizza, pastas, risottos, and steaks, you'll be completely surprised by how authentic the food tastes at this homegrown Italian restaurant.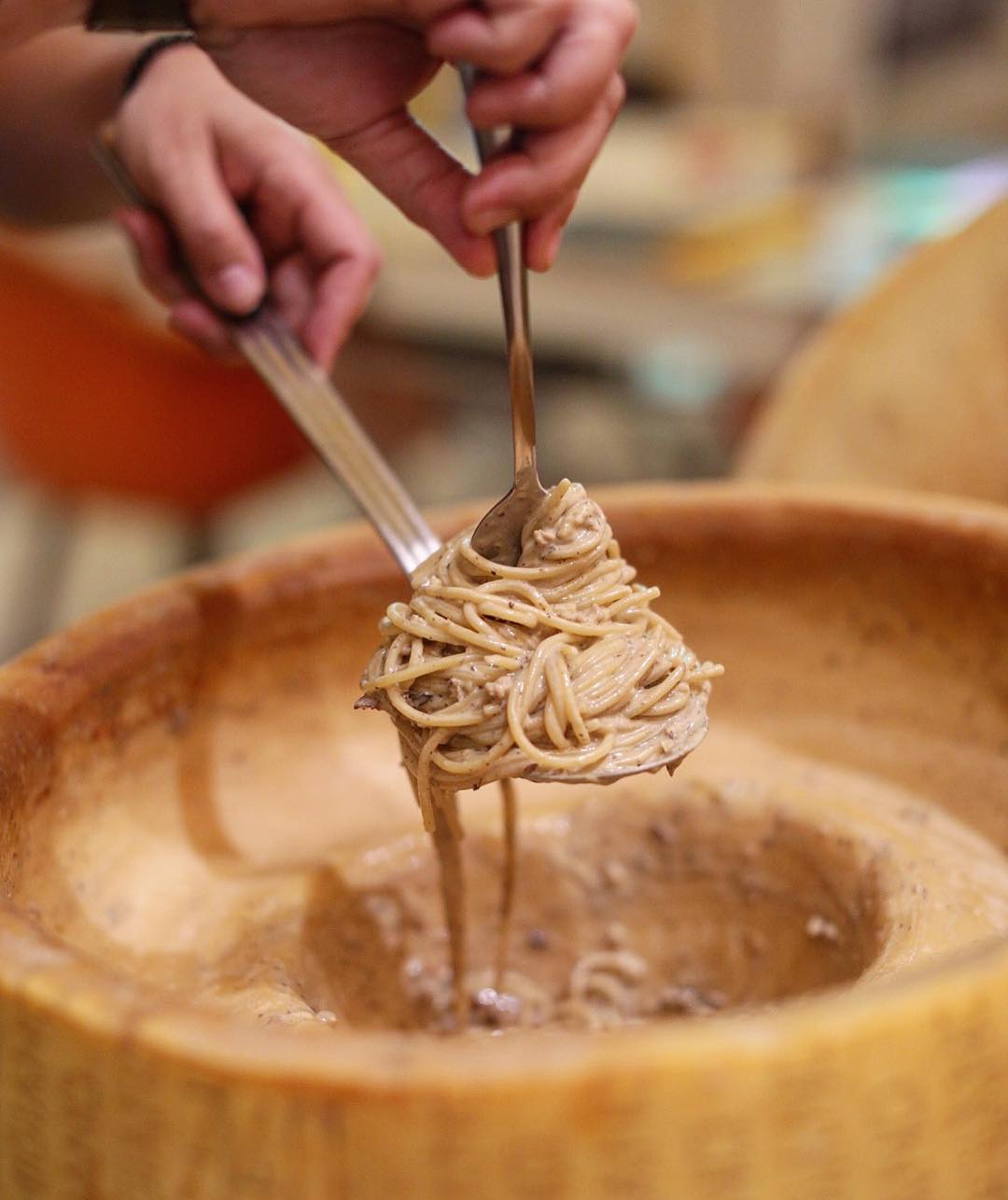 View menu
View their Instagram account
2/F Newport Mall, Resorts World Manila, Newport City, Pasay
(02) 804-0032
Ichiba is what you get when you cross a Japanese seafood market and a food hall. There are ten stalls serving a variety of traditional dishes including takoyaki, tempura, yakitori, gyoza, and ramen. They even have an Asahi bar and a section where you can catch your own live seafood!
No reservations accepted
View menu
View their Instagram account
(0917) 732-2176
If there's one food that's synonymous to luxury, it has to be steak. So it should come as no surprise that one of New York City's top steakhouses has made a home in Resorts World Manila, the very definition of opulence. Wolfgang's by Wolfgang Zwiener serves a first-class dining experience with their menu of dry-aged steaks, premium seafood, fresh salads and indulgent desserts. 
Reservations are accepted
View menu
View their Instagram account
(0920) 821-9247
Passion is a fine-dining Chinese restaurant that may seem intimidating at first (and a bit expensive), but you'll get your money's worth with its world-class menu and excellent service. Try their Braised Whole Abalone in Premium Oyster Sauce, Seafood E-fu Noodles, and Imperial Peking Duck for a dining affair worth remembering. There are 7 VIP rooms and 400 seats making it an ideal place to host a company function or a family reunion.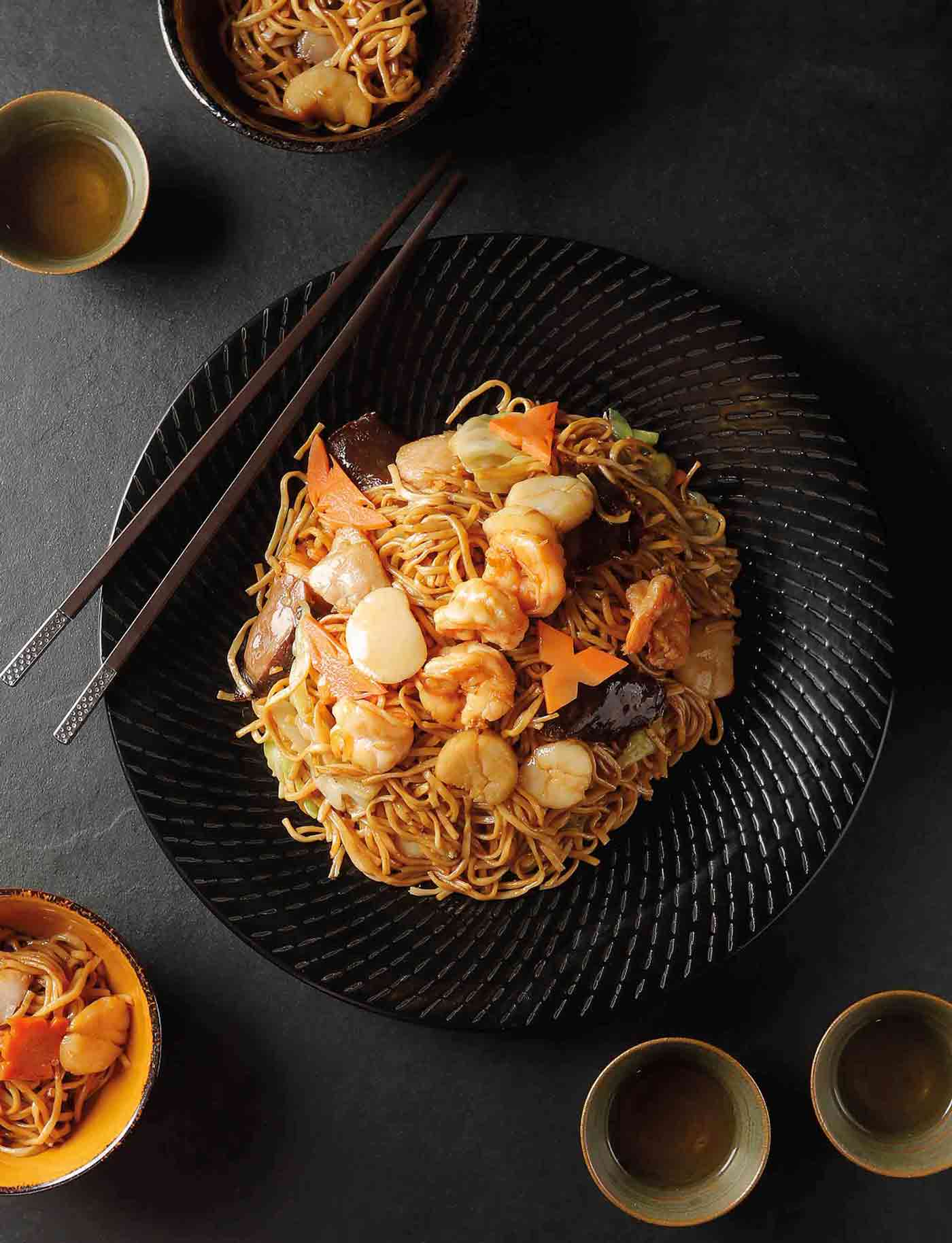 Reservations are accepted
View menu
View their website
(02) 908-8875
Let's get one thing straight, Ginzadon is not a fusion restaurant. Located at Maxims Tower, this fine dining restaurant celebrates the cuisines of Japan and Korea by staying true to their traditions and serving them side by side in a thrilling interplay of textures and flavors.
Reservations are accepted
View menu
View their website
(02) 908-8887
Seafood is king at Johnny Kahuku's. This Hawaiian-inspired concept from restaurateur Raymund Magdaluyo and celebrity chef Peter Ayson will make you forget that you're at Resorts World  and not an actual beach resort. The laidback luau vibe of the place is just the right atmosphere for enjoying the bounty of the sea.
Few dishes can give us goosebumps like a succulent roasted goose can. If you think that Hong Kong is the only place you can get this hard-to-come-by dish, turn your car around from NAIA and head across the street to Marriott instead! Man Ho is the five-star hotel's signature Chinese restaurant specializing in Cantonese cuisine.
Reservations are accepted
View menu
Manila Marriott Hotel, 10 Newport Boulevard, Newport City, Pasay
(02) 988-9999
Only at Mr. Kurosawa can one enjoy Japaella or Chorizo Teriyaki Pizza. This unabashedly unique fusion restaurant takes European and Japanese cuisine and combines them, creating a modern gastronomic experience. The restaurant's name is an ode to the late Japanese filmmaker, Akira Kurosawa.
Reservations are accepted
View menu
View their Instagram account
(02) 659-8363
Cru Steakhouse redefines global culinary excellence. They are the proud winners of not one, not two, but three highly prestigious World Luxury Restaurant Awards, including Regional Winner for Luxury Steakhouse Category. Their dry-aged steaks are hand-cut, hand-seasoned and carefully prepared to capture the flavor of premium quality beef. Thanks to its elegant open plan, the kitchen becomes a theatre where diners can watch their food being prepared by first-class chefs. 
Reservations are accepted
View menu
View website
Manila Marriott Hotel, 10 Newport Boulevard, Newport City, Pasay
(02) 988-9999
Crisostomo shines the spotlight on the country's cuisine. The restaurant, named after the protagonist in Jose Rizal's acclaimed novel, Noli Me Tangere, is the brainchild of celebrity chef, Florabel Co-Yatco. Their dishes will take you back to the turn of the century
Planning to make the drive to Pasay one of these weekends?  Bookmark this article for reference or simply search for 'RESORTS WORLD' or 'NEWPORT MALL' in the Booky App to see the complete list of restaurants around the area, complete with the full details of their location and menu!
Update: Check out the Top 10 Most Loved Restaurants in Pasay this month!
Comments
comments