Move over, sushi burritos.
Sushi burritos and sushi bowls are so passé; it's time to put the spotlight on sushi donuts, the newest sushi craze that will flood your Instagram feed.
This crazy mashup is beautiful in its own way and defies the way we know our traditional sushi. It's a donut-shaped sushi where the cooled sushi rice is moulded to take form of a donut shape, with two layers of rice and ingredients like mangoes, salmon, black sesame and avocado in between. It's colorful and fun to eat, although you may need to use your spoon and fork when devouring this delicious creation.
So far, we've found two notable restaurants serving this creative and delicious dish, but do let us know in the comments section below if you know any more restaurants offering their own kind of sushi donuts.
If you had known about Go Sushi's humble beginnings as a takeout store in Maginhawa you would never have guessed that over a year later, they would be operating a full-blown restaurant in Mindanao Avenue. In case you haven't heard of them, GoSushi serves affordable Japanese fusion dishes but they are most notable for being one of the first in Metro Manila to offer sushi donuts!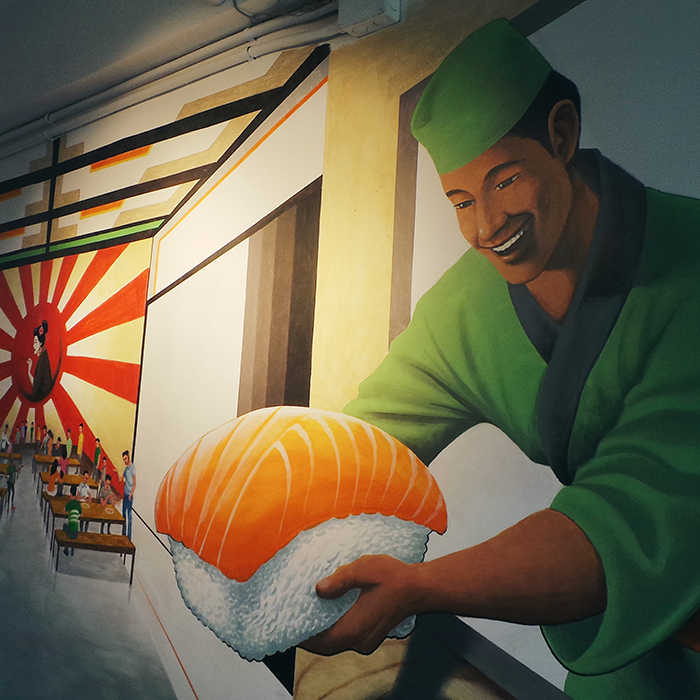 Their pride and joy, however, are their instagram-worthy sushi donuts. Currently, they are offering six amazing flavors (priced between Php 219-289) for you to choose from.
California Maki
Philly Cheese Steak
Black Sesame Salmon
California Torch
Philadelphia
Smoked Salmon
Sushi Trays
Looking for something to bring to your next potluck with your friends? They're also popular for their sushi trays which you can have in a square plastic container (if take-out), or you can have it placed in a long marble stone tray if dine-in.
Other sushi flavors include the Crispy Tuna, Torched Eel roll, Salted Egg Tempura, Cordon Bleu, Crazy Maki, and Mt. Salmon Lava.
The restaurant proudly serves other Japanese dishes that don't burn a hole in your pocket.
Chicken Teriyaki
Would you believe that you can order rice toppings for under 200 bucks? Options include Wasabi Sisig, Asian Wings, Grilled Sukiyaki beef, and Katsudon.
Or you can try some of their comforting bowls of soup!
Seafood Ramen
They also have Tonkotsu ramen and Sukiyaki.
They accept advanced orders and delivery requests, but strongly suggest that you pick-up the order yourself to guarantee the presentation of the sushi. They advise the customers who plan to order donut sushi to just come by the restaurant instead of having it delivered, because it may collapse since no nori is holding the rice to stay in place.
No reservations accepted
View menu
View their Instagram account
Mindanao Ave (beside Balai Pandesal), Project 8, Quezon City
(02) 623-8004
You can also find sushi donuts at…
Shinsen which means "fresh" in Japanese is a homegrown sushi bar that now has two branches around Pasig. While it is known for its fresh sushi selections, oysters and teppanyaki, which you can read about here, what's more interesting are their Sushi Dōnatsu. 
Each one is named after a region in Japan and is priced at a flat Php 278 – not bad considering that one sushi donut is about as big as four regular sushi rolls!
Check them out this weekend, you can book a table via Booky and get up to P300 OFF + free dessert! Learn more about it here.
If you're not already enjoying the offline convenience of Booky, you can download the app for FREE! Whether you're on iPhone or Android, you get P1000 worth of savings on us. But why stop there? When you sign up for BOOKY PRIME, you can get up to P15,000 worth of Buy 1 Get 1 deals and unlimited discounts – all for just P199 a month. Your next bite is just a touch away.
Comments
comments