Say it in unison: "Uni is the foie gras of the sea."
Perhaps one of the most polarizing ingredients out there is uni. Uni, Japanese for "sea urchin," is a popular delicacy around the world. The texture is smooth, wet, and custard-like. While its flavor isn't particularly strong or sharp, the combination of the briny ocean taste and creamy texture is not for everyone.
Update: For unlimited discounts and monthly Buy 1 Get 1 coupons, subscribe to BOOKY PRIME for just ₱199 per month. Learn more here.
Whether you love it or hate it, we believe these restaurants in the metro have the power to turn the tides in uni's favor. Read on to discover the best places in the city to enjoy this controversial shell-fish.
Nikkei – multiple branches
Nikkei serves the best of both worlds with its Japanese-Peruvian menu. Every plate served seems to have a touch of Asian and Latin flair. One of their coolest dishes has to be the Seared Tuna w/ Sea Urchin Risotto where slices of tuna steak are gently placed atop a risotto made with uni, enoki, and shiitake mushrooms. The plate is then garnished with cilantro, togarashi, and katsuobushi. 
Fun fact: "Nikkei" is the term for Peruvian cuisine culturally inspired by the influx of Japanese immigrants in Peru in the 19th century.
Bar Pintxos was one of the South's secret gems until they opened their second branch in BGC last year. Now, every tita (and her countless amigas) has heard of the tapas bar serving authentic Catalan and Basque-inspired dishes by Miguel Vecin and Tinchu Gonzalez. Their sea urchin pintxos include the Mar i Muntanya, a heavenly bite consisting of uni, lardo, and lomo iberico, and the Boquerones Uni – a balanced bite of uni and caviar placed over white anchovies in vinegar.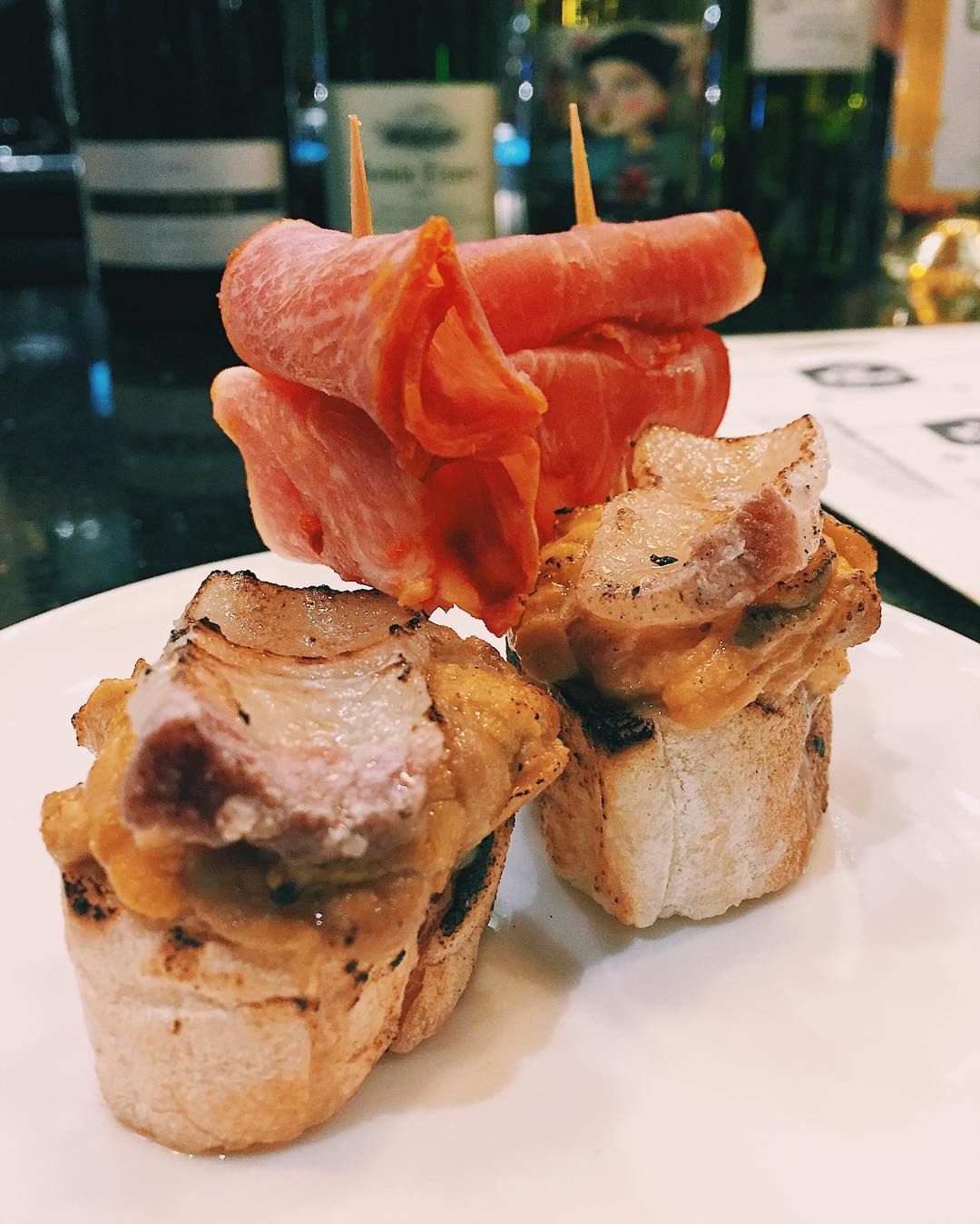 Tucked in Commercenter Alabang is Kessaku, a casual restaurant serving a full range of authentic, top-quality Japanese food. Their no-frills menu includes everything from sushi boats to tempura, wagyu cubes, and more. The unidon is a must-try for any serious sea urchin lover!
Fun Fact: True to their name, the word "kessaku" translates to "creating masterpieces".

View menu
View branches
G/F Commercenter Building, Filinvest, Alabang
(02) 403 3445
Influenced by the Robotayaki style of Izakaya, Soru Izakaya offers a tasteful blend of after-work gastropub drinks accompanied with fresh Japanese eats. From sashimi plates and savory yakitori combinations to refreshing beverages and speakeasy cocktails, Soru Izakaya completes the whole modern Japan experience that brings you a glimpse of the Tokyo night life.
Also read: 11 Places in Manila to Get Japanese Food for as Low as ₱99!
Green Pastures is a farm-to-table concept restaurant by Chef Robby Goco of Cyma. It is one of the go-to places for clean, healthy and organic dishes. The restaurant integrates uni to the menu in their Crab Meat and Sea Urchin Spaghetti. Unlike most uni pastas, which are cream based, this dish is a briny version of aglio olio.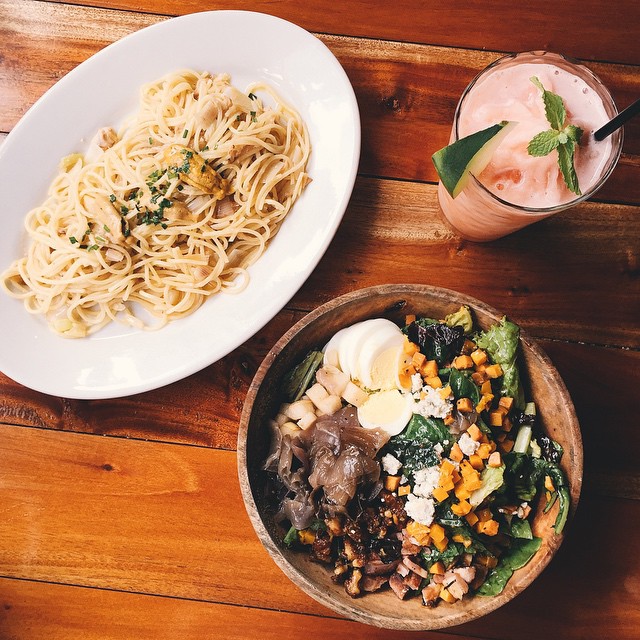 Felix – Greenbelt 5
Felix, by Chef Florabel Co-Yatco, is a beautiful fine dining restaurant that serves a wide variety of international and Filipino-inspired dishes. They serve a rich uni and prawn pasta that's to die for!

View menu
G/F Greenbelt 5, Legaspi St, Legazpi Village, Makati
(02) 710-1696
Haru – Kapitolyo
Haru Sushi Bar & Restaurant,  from the same owners of another Kapitolyo favorite Cafe Juanita, arguably serves one of the best uni donburis in the city. For an affordable price, you can get some of the freshest and most excellent plates of sushi and sashimi in the city. New on the menu is Hata To Uni, a lapu-lapu and sea urchin sashimi!
Also read: 18 Garden Getaways Around Manila That Bring In the Outdoors

View menu
View their Instagram account
9 West Capitol Dr, Kapitolyo, Pasig
(02) 631-0597
Isogi – San Antonio Plaza
Isogi is one of Dasma's best kept secrets. Hidden from plain sight in San Antonio Plaza, the Japanese concept by Kai serves an Uni Pasta that's the perfect marriage of Japanese and Italian cooking. The pasta is always impeccably al dente and the uni sauce thick, richly coating each noodle.
Fun fact: Isogi is a concept by the same owners of Kai in Greenbelt 5! Book a table through the app and get up to ₱100 off.
Reservations are not accepted
View menu
G/F San Antonio Plaza, Dasmariñas Village, Makati
(0917) 892-1332
At Kappou Imamura, Chef Hiro Imamura and his seasoned chefs use only the freshest seasonal produce and serve them with a flair, giving guests a visually entertaining and delectable feast. Be warned, the restaurant is quite upscale and requires a dress code of semi-formal attire. If you're feeling fancy, treat yourself to "Hirame" Fluke, "Uni" Sea Urchin and Caviar in "Dashi Hanaho" Jelly, which – at P1,280 per order – is utterly luxurious. 
Insider Tip: Only guests 12 years old and above may dine at this restaurant.
Reservations are not accepted
View menu
UG/F North Wing, Okada, New Seaside Drive, Entertainment City, Parañaque
(02) 555-5799;loc. 57183
Ooma – multiple branches
Ooma is known for their bold takes on casual Japanese fare. Case in point, their Uni Udon. Fresh uni, shrimp, onion, fresh mushrooms, nori crumbs, scallion, and bouncy noodles are tossed in a sinful uni cream sauce. If you like Ooma, you'll love The Moment Group's  other collaboration with Chef Bruce Ricketts – Mecha Uma, home of the city's most dynamic chef's table.
Reservations are accepted
View menu
View Instagram account
View all branches
Yakumi – Solaire Resort & Casino
Yakumi at Solaire highlights masterfully prepared dishes using world-class ingredients. A prime example is the exquisite Uni To Truffle Chawanmushi, a steamed Japanese egg custard with sea urchin and truffles.
Insider Tip: The restaurant offers an authentic Japanese brunch buffet every Saturday.
Reservations are accepted
View menu
Solaire Resort & Casino, 1 Aseana Ave, Parañaque
(02) 888-8888
If fine dining is what you're after, true to its name, Impressions is sure to leave you in awe. The restaurant located in Maxims Hotel offers fusion cuisine underlined by the sophistication of French culinary traditions. Chef Cyrille Soenen's best showcase of sea urchin is the Tartine Iodee, a mouthwatering combination of sea urchin, scallops, oysters, and assorted cress, served with a sea urchin parfait and cucumber confit. 
Fun Fact: Sea urchins are believed to be powerful aphrodisiacs.
Reservations are not accepted 
View menu
3/F Maxims Hotel, Newport Boulevard, Newport, Pasay
(02) 908-8883
Tomo – San Juan
Because of its location, Tomo is probably one of the most underrated Japanese restaurants in Metro Manila. They serve some of the freshest fish and sweetest uni in the city and a number of dishes that showcase it. Their Uni Tempura and Salmon Uni Aburi are hard to beat!
Reservations are recommended
View menu
View Instagram account
137 Araullo Street, Addition Hills, San Juan
(0977) 859-7622
Canton Road – ShangriLa at the Fort
Canton Road lends a modern touch to traditional Cantonese food. This casual dining restaurant offers roasted barbecue meats, dim sum and family set meals. Their signature fried rice has all your favorite seafood goodies like sea urchin, shrimp, and Australian scallops.
Reservations are accepted
View menu
View their Instagram account
2/F Shangri-la Hotel at the Fort, 30th St corner 5th Ave, Fort Bonifacio, Taguig
(02) 820-0888
Sea urchin figures throughout the menu but one of Mangetsu's most ingenious dishes is the Sea Urchin Omelet with a superior chicken broth sauce. It's simple, silky, and satisfying.
Fun Fact: Uni is commonly mistaken for the roe - or eggs - of the shellfish, but they're actually its gonads. Yum!
Reservations are not accepted
View menu
View Instagram account
38 Jupiter St., Bel-Air Village, Bel-Air, Makati
(02) 478-3292
Kazunori in Pasong Tamo is another Japanese restaurant concept from the people behind Yushoken Ramen and Mendokoro Ramenba. Their sushi bar offers hand-rolled sushi as well as fresh and quality dishes like omurice and katsudon. If you want to impress, celebrate, or simply indulge, order their off-menu Saito Special (named after the chef) which features rolls heaped with Uni, Otoro, Ikura, and Chutoro. This over-the-top dish will set you back 5000 pesos!
Reservations are not accepted
View menu
G/F Mazda Showroom, 2301 Chino Roces Ave, San Lorenzo, Makati
(02) 989-3152
Tanabe – multiple branches
Aside from serving regular fixes like sushi and sashimi, Japanese fusion restaurant Tanabe also serves Uni Foil Yaki – an irresistible parcel of grilled sea urchin with lemon butter sauce. 
Reservations are not accepted
View menu
View all branches
Chef Jordy Navarra's modern Filipino eatery features a burnt kalabaza soup with sea urchin and orange kamote. It's simple, yet innovative dishes like this that make the restaurant worthy of all the buzz. 
Reservations are recommended
View menu
View Instagram account
The Alley at Karrivin, Karrivin Plaza, 2316 Chino Roces Ave, Makati
(0917) 720-8630
Inagiku – Makati Shangri-La
Inagiku Restaurant in Makati Shangri La is a favorite for their world-class execution of Japanese cuisine spearheaded by Chef Wataru Hikawa. Their aburi uni is superb, torched to perfection and plated seductively. A must-try. 
Reservations are recommended
View menu
2/F Makati Shangri-La Hotel, Ayala Ave, Makati
(02) 814-2580
If you're not already enjoying the offline convenience of Booky, you can download the app for FREE! Whether you're on iPhone or Android, you get P1000 worth of savings on us. But why stop there? When you sign up for BOOKY PRIME, you can get up to P15,000 worth of Buy 1 Get 1 deals and unlimited discounts – all for just P199 a month. Your next bite is just a touch away.
Comments
comments