Book a table and get P500 off! 
Back in 2010, many wished to keep this Italian restaurant their own little secret. But there's really no way of hiding when the proof is in long queues and nightly full house. Today Va Bene stands loud and proud with two branches: one in Makati and one in BGC.

Book a table and get a discount!
Chef Massimo Veronesi  is the main man behind one of our most loved Italian restaurants in Manila. The Italian chef studied and trained at Lago di Garda and worked as an apprentice at various Michelin-starred restaurants across Verona, Tuscany, Bologna, and Milan. Chef Massimo went on to work as head chef of Mi Piace restaurant at the Peninsula before opening the first Va Bene branch in Makati back in 2010.
Va Bene is an Italian expression meaning 'it's good' or 'it works well', which is something you're likely to hear from this restaurant's patrons
For a time, Va Bene was one of Makati's best kept secrets thanks to its then-questionable location at a gas station. That didn't stop people from talking about the great food which earned them a huge following. Chef Massimo swears off packed noodles so don't expect to find any displayed on their kitchen shelves. Fresh and handmade pastas have always been their claim to fame.
Despite the accolades and reputation that Chef Massimo gained throughout his career, he continues to deliver on his promise to serve authentic Italian food at reasonable prices. Step into any of his restaurants and you'll see that it exudes simplicity, comfort, and a humble ambiance.
Upon ordering, they will give you complimentary bruschetta with a salsa dip made of chopped tomatoes, basil, parmesan, and olive oil. You can ask for a refill of this addicting starter for free.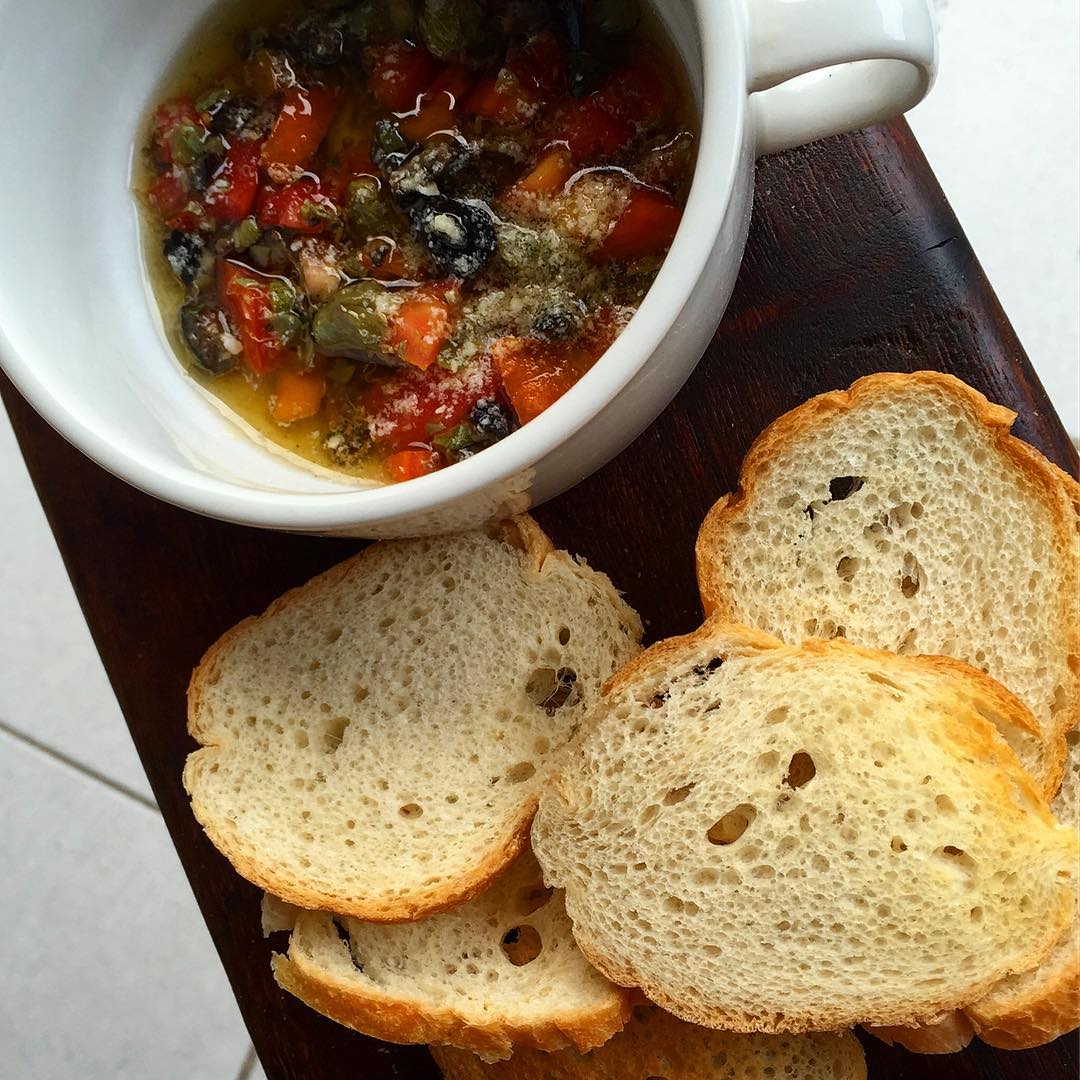 While almost all of their dishes are no doubt delicious and authentic, here are some of their best-sellers, from starters down to homemade desserts, that will surely win your hearts on your next visit.
Polipo
This light and refreshing salad has thin slices of braised octopus, mandarins, olives, capers, arugula and shaved pecorino cheese. If you're lucky enough to dine here when truffles are in season, you can even ask them to shave a little bit over the salad.
Polpette
Italian meatball, tomato sauce, "caccio pepe" polenta, ricotta mousse, rosemary, Toscana extra virgin olive oil. This is one of their new bestsellers. Order this with bread so you can mop up every bit of that fantastic sauce!
Black Ink Tagliolini
Seafood, marinara sauce, light tomato cream sauce
Organic Eggs Tagliatelle
Their signature bestseller. Portobello mushrooms, white wine cream sauce, truffle oil
Want to try 3 of their pasta dishes in one sitting? Ask the waiter about their Trio Pasta Platter!
Milanese di Pollo
Breaded and pan-fried chicken, mozzarella, roasted potatoes, sauteed vegetables, mixed lettuce salad. 
On weekdays, they serve a special Business Lunch Menu exclusive to the Makati branch. Diners who avail of this promo must choose one from among 3 appetizers (bruschetta, salad or soup). They may order one dish for P299, one appetizer + one main for P499, or one main + a glass of wine also for P499. Bear in mind, this menu is only available from 11:30 am to 5:30 pm!
Basil Panna Cotta
Calamansi sorbet, fruit salad
Homemade Profiteroles
Caramelized walnuts, vanilla ice cream, chocolate sauce
Booky tip: Book a table with us and get this dessert for FREE.
Get up to P500 discount on your total bill when you book a table at Va Bene using the Booky app! If you still haven't, download it and sign up to Booky Prime to get your first P1000 free discount credits, which you can also use at any of our 1,000 Prime partner restaurants. You even get a surprise FREE dessert after you complete our customer feedback form.
Watch out because The Booky Report is going to bring you more stories, lists, and news on all things edible!
For more food, food, food, download Booky and discover 900 of the top restaurants in Metro Manila and just watch as your foodiverse explodes!
Comments
comments