Make this Christmas memorable and special for your loved ones, embody the season of gift-giving with these unique holiday gift baskets.
1. Gifts of Hope Christmas Coffee Set
Sustainable gifting ideas and gifts of hope this Christmas. Customizable sets available.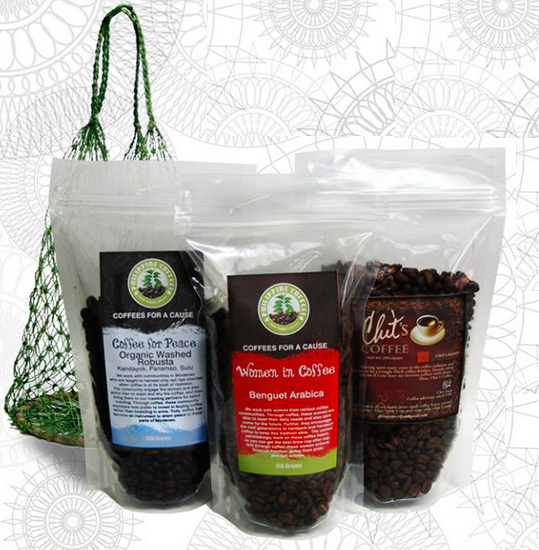 Content: 
Coffee for Peace – Organic washed robusta
Women in Coffee – Benguet arabica
Chit's Coffee
Price:
P979
Give to:
Your Balikbayan relatives
Where to buy: 
ECHO CAFE (Eton Centris Walk)
Eton Centris Walk, Quezon Ave, Diliman, Quezon City
+63 2 709-7800
2. Blue Kitchen Holiday Basket
Share the festive Filipino spirit with a very Filipino Blue Kitchen holiday basket. Customizable sets available.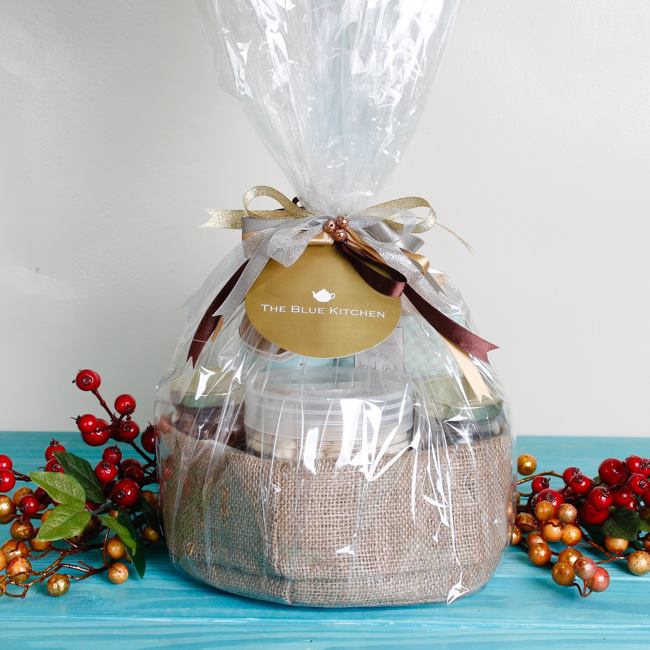 Content:
Uraro Bites, Garlic Tuyo, Crispy Swordfish Flakes, Garlic Bread Sticks, Dalandan Extract with Honey
Price:
P1,045
Give to:
Your family doctors, bankers, teachers
Where to buy:
THE BLUE KITCHEN (Rockwell)
G/F Power Plant Mall, Estrella cor. Rockwell Dr., Poblacion, Makati
+63 2 898-0931
3. Philippine Single Origin Gift Set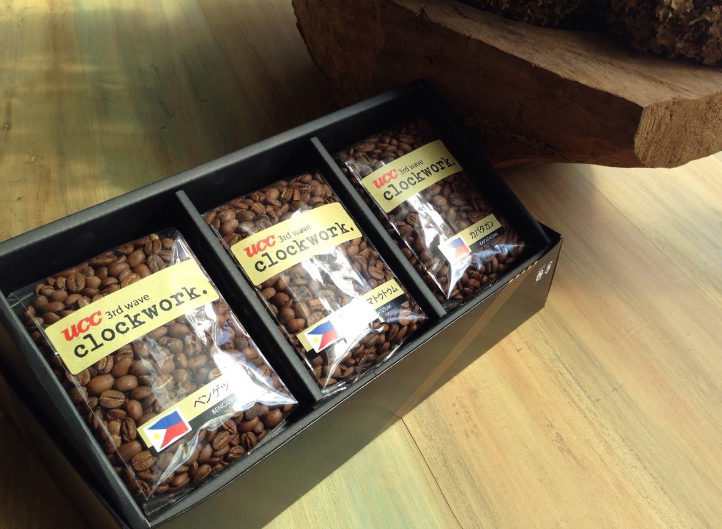 Content:
Benguet, Mt. Matutum, Kapatagan
Price:
P1,500
Give to:
Your dad
Where to buy:
UCC CLOCKWORK (Blue Bay Walk)
Blue Bay Walk, EDSA Macapagal Blvd., Pasay
+63 2 843-4383
4. Holiday Party Fare Basket
Beers of the world in one basket.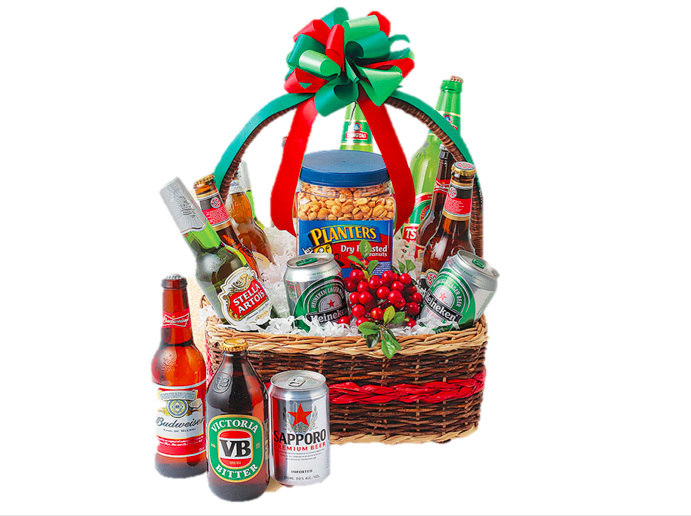 Content:
Vittoria Bitter Beer, Stella Artois Beer, Tsingtao Chinese Beer, Hoegaarden Belgian Beer, Sapporo Premium Beer, Heineken Beer Can, Budweiser Bottle, Estrella Galicia, Planters Peanut
Price:
P1,999.95
Give to:
Your beer-loving boyfriend
Where to buy:
S&R MEMBERSHIP SHOPPING (Aseana-Baclaran)
Bradco Avenue, Aseana Business Park, Baclaran, Paranaque
+63 2 853-9999
5. O Christmas Tree Hershey's Choco Syrup Bundle
Christmas presents can be yummy & extra-ordinary.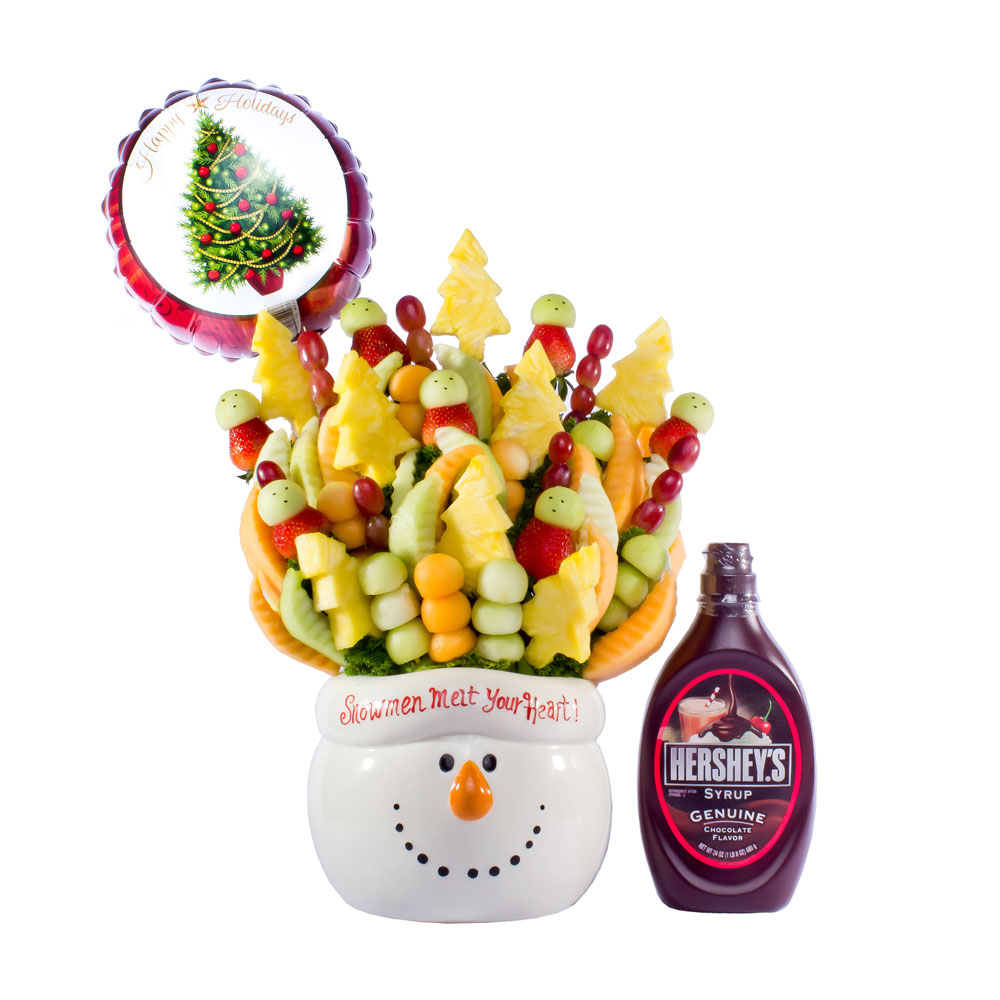 Content:
Red American strawberries, honey dew, cantaloupe balls & wedges, X-mas tree-shaped pineapple slices, Christmassy mylar foil balloon, Hershey's chocolate syrup
Price:
P2,485
Give to:
Your vegetarian neighbor
Where to buy:
FRUIQUET (Mega Fashion Hall)
4/F SM Mega Fashion Hall, Mandaluyong City
+63 2 794-5999
6. Macaron de Paris Pyramid
The rustle of giftwrap and the twinkly of the lights mean it's the season for gift-giving. Picture these delicious Christmas gifts under the tree, waiting to be unwrapped for all to enjoy.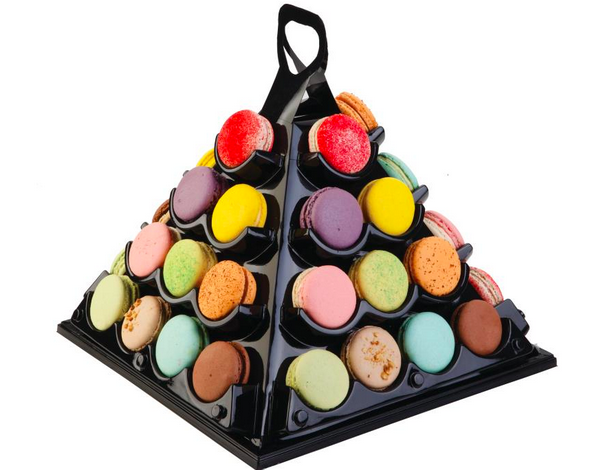 Content: 
40 pieces of their beloved French macarons, 12″ tall with handle & 12″ wide
Price: 
P2,500
Give to:
Your sweet-toothed girlfriend
Where to buy:
BIZU PATISSERIE & BISTRO (Greenhills)
Greenhills Shopping Center, Promenade, San Juan
+63 2 724-2498
7. Frosty's Cool Christmas Box
Light and sumptuous, these healthy snacks are best enjoyed with the cold, chilly holiday weather.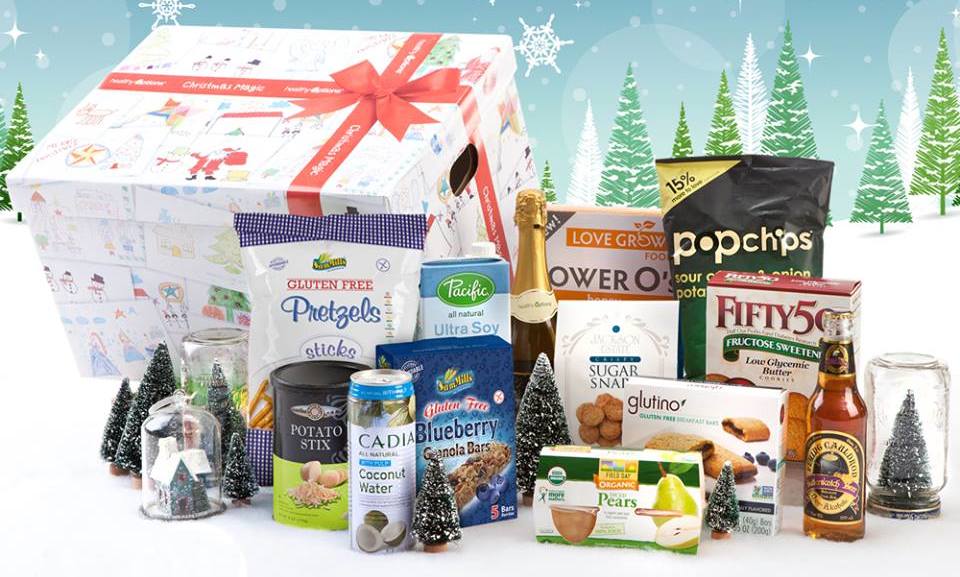 Content: 
Cadia Coconut Water Pulp, 50/50 Sugar-free Cookie Butter, Glutino Gluten-free Breakfast Bar Blueberry Wheat-free, Healthy Options Sparkling Juice Wild Berry, Jackson Estate Sugar Snaps, Love Grown Food Cereal Power O's, Natural Nectar Shoe String Sea Salt, Field Day Diced Peaches, Pacific Food Ultra Soy Vanilla, Popchips Potato Chips Sour Cream & Onion, Flying Cauldron Butterscotch Beer, Sam Mills Granola Bars Blueberry Gluten-free, Sam Mills Pretzels Sticks Gluten-free
Price:
P3,395
Give to:
Your grandparents or your health-conscious friends
Where to buy:
HEALTHY OPTIONS (Alabang Town Center)
G/F, Commerce Mall, Alabang Town Center Commerce Avenue, Muntinlupa
+63 2 553-2335
8. Royal Holiday Basket
Quintessential Christmas traditions of friendship and togetherness for a very merry table of delicious gourmet meant to share with your loved ones. They offer a wide range of fruit baskets, grocery baskets, wine baskets and yuletide hams.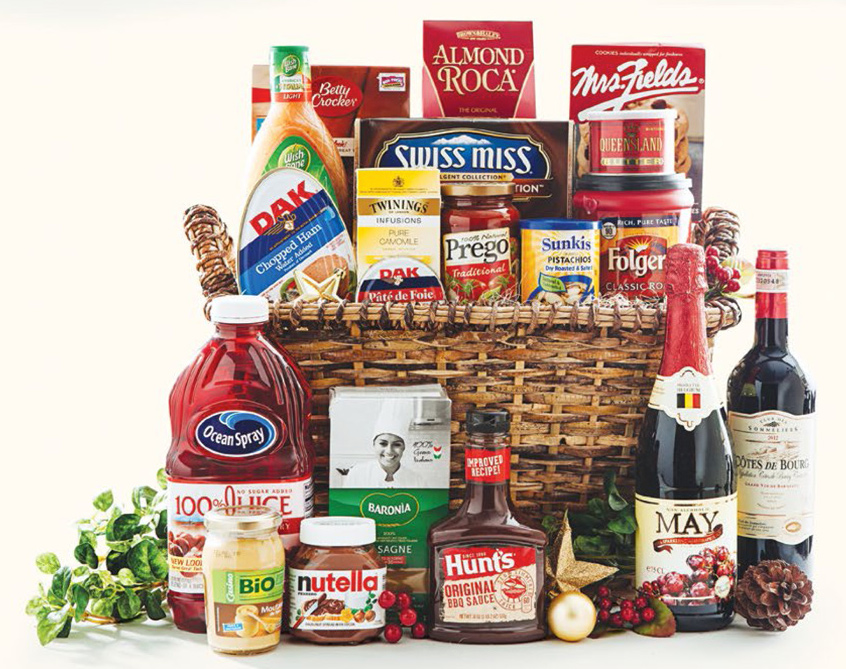 Content: 
Baronia Lasagne Semola, Dark Chopped Ham, May Sparkling Juice Red, Sunkist Dry Roasted Pistachios, Nutella Hazelnut Cocoa Spread, Swiss Miss Dark Chocolate Sensation, Dak Pate de Foie, Twinings Pure Camomile, Queensland Tin Butter, Mrs. Fields Semisweet Choco Dip Cookies, Brown & Haley Almond Roca Stand Up Bag, Prego Spaghetti Sauce Traditional, Betty Crocker Fudge Brownies Mix, Folgers Coffee Classic Roast Jar, Hunts Original BBQ Sauce, BIO Mustard of Dijon, Wishbone Italian Dressing, Langers Cranberry Juice Cocktail, Club des Sommeliers Cotes de Bourg
Price:
P3,995
Give to:
Your special corporate clients
Where to buy:
RUSTAN'S FRESH (McKinley)
San Antonio Plaza Arcade, #50 McKinley Road, San Antonio, Forbes Park, Makati
+63 2 817-8379
9. Christmas Around The World Collection
A yuletide adventure awaits! Join in a festive voyage around the globe, right within your teacup. The spirit of the season is captured in five magical teas to transport heart and hearth this Christmas.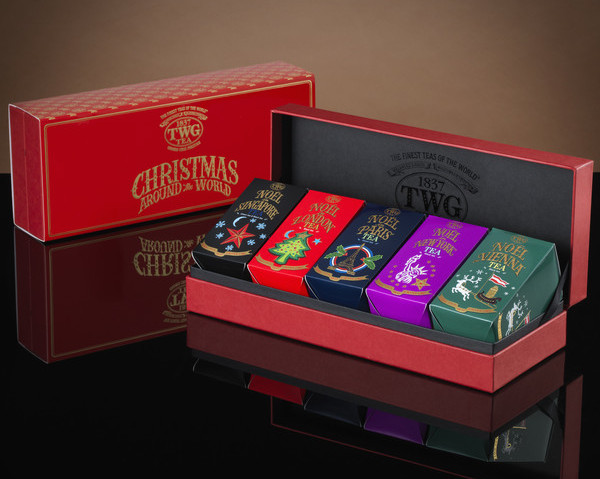 Content: 
Noel in Paris Tea – Green Tea (Decaffeinated)
Noel in London Tea – Black Tea (Decaffeinated)
Noel in Vienna Tea – Black Tea
Noel in New York Tea – Black Tea
Noel in Singapore Tea – Black Tea & Green Tea
Price:
P4,595
Give to:
Your best friend who loves tea
Where to buy:
TWG TEA SALON & BOUTIQUE (Newport Mall)
G/F Newport Mall, Resorts World Manila, 100 Andrews Ave., Domestic Airport, Pasay
+63 2 551-0925
10. Wagyu Sirloin Gift Box
Gift boxes available in small and large sizes. Wagyu japanese beef at A5 quality makes the best gift this Christmas.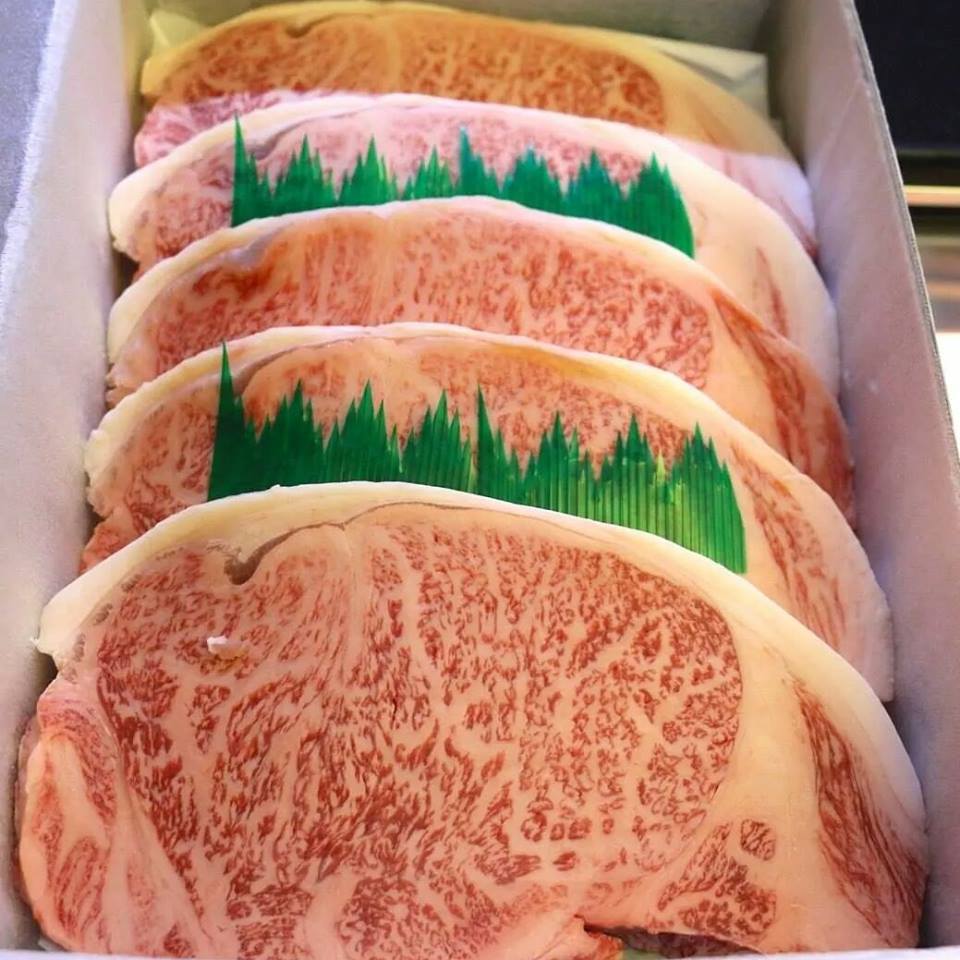 Content:
3 kilos of Wagyu Sirloin Beef A5
Price:
P22,500
Give to:
Bring to your grand Christmas family reunion
Where to buy:
WAGYU JAPANESE BEEF (Makati)
G-20 Sunvar Plaza, Amorsolo cor. Pasay Road, Makati
+63 2 808-9508
We hope this list saved you a little time and helped you with your last minute shopping. 5 days left 'til Christmas, happy holidays Booky friends!