Walang Tulugan KBBQ restaurants perfect for the #WalangTulogGang!
Let's all admit it, being a night owl or taking night shifts has its pros and cons. Albeit the major pro which is that you don't have to deal with the traffic during the morning commute, one major con is that most restaurants aren't open during the wee hours of the morning. If that's the case, how then can you satisfy your cravings for early morning Korean BBQ?
Craving for something else and you're not in the mood to go out? Check out #WalangTulugan: 7 Restaurants that Deliver 24/7
Luckily for you, there are restaurants – Korean BBQ restaurants – which are open 24/7, ready to offer you grilled meat you can wrap in lettuce, eat with rice, or devour alongside some banchan like kimchi, sweet potato, pickled onion and more.
Check out the list down below to know where you can find Korean BBQ restaurants which are perfect for you night owls or night-shift workers!
Are you just the right amount hungry right after all the tasks you've accomplished? Then, fill yourself with the quality meats from Da Rae Jung Korean Kitchen/Restaurant, a KBBQ restaurant that serves up seafood, set dishes, barbeque, haute cuisine, grilled pancakes, aged kimchi, and even Chinese dishes.
What they're known for: Sweet and Sour Pork, Kimchijeon, Grilled Bulgogi, and Tteokbokki
View menu
View their Facebook page
Macapagal, Pasay, City | 2F, The Fort Strip, 28th Street, BGC, Taguig City
(02) 836-0404 | (0917) 561-8282
A KBBQ restaurant located in little Korean of Poblacion Makati, if you find yourself looking for an all Korean experience to cap off your shift/evening, then don't forget to dine at Jumong Korean Restaurant. They offer an all you can eat Korean BBQ which you can eat with some basic banchans – tofu, sweet, potato, fish cake, kimchi – as well as Japanese and Korean staples.
What they're known for: Tempura, Pork Galbi, Kochujang Chicken, and Galbi Chim
View menu
View their Facebook page
5650 Don Pedro, Makati, Metro Manila
(02) 478-7077
A Korean BBQ restaurant that will make you thank the heavens for 24/7 restos, Samgyupsalamat which serves up a variety of pork and beef flavors for you to grill and enjoy as well as some appetizers and noodles.
What they're known for: Yangnyum Daepae, Gochugang Samgyupsal, Buljib Samgyupsal, and Beef Boolgogi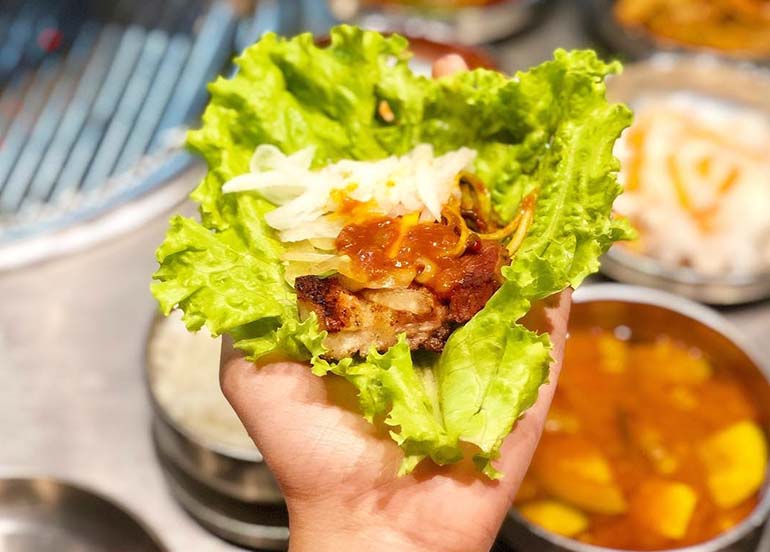 View menu
View their website
View their Instagram account
View their branches
One Park Drive, 11th corner 9th Avenue, Bonifacio Global City
Ogane – Tomas Morato
In the wee hours of the morning, right after you go bar hopping or right in between your shift, if you're looking for KBBQ spot to hit up then head on to Ogane. It's an authentic Korean restaurant that's known for its unlimited Samgyeopsal with unlimited side dishes.
What they're known for: Kimchi Jjigae, Dolsot Bibimbap, and Haemul Pajeon
View menu
View their Facebook page
303 Tomas Morato Ave., South Triangle, Diliman, Quezon City
(02) 410-7608
Go! Kizip – Tomas Morato & Manila
Want the ultimate wind down right after your shift or right after work? Head on to Go! Kizip – more specifically the one in Malate – for a unique experience that involves unlimited samgyupsal, unlimited shabu-shabu, and KTV themed rooms!
What they're known for: Alive Unagi, Spam Kimchi Fried Rice, and Rolled Omelet with Cheese
A KBBQ restaurant with intimate yet homey interiors, Dong Won Korean Garden is the home away from home you never thought you were looking for. Serving up ala carte KBBQ and familiar Korean dishes, at Don Won, you can surely satisfy your late-night cravings without going overboard!
What they're known for: Dolsot Bibimbap and Beef Stew
View menu
53 Polaris St., cor Jupiter St., Bel-Air, Makati
(02) 898-3558 | (02) 659-5160
Find yourself in the South finished with drinking the night away at Poblacion or right after your shift? Then Gangnam Style Korean Restaurant will be sure hit for you! It's a Korean restaurant that serves up staple Korean dishes as well as a fun KBBQ experience.
What they're known for: Their premium cut pork belly
View their Facebook page
5739 B1 Won Rest, P. Burgos St., Corner San Lucas St., Brgy. Poblacion, Makati
(0916) 369-3406
Want premier meat + service + experience? If you do, then Premier the Samgyupsal is the KBBQ spot for you. Get your grill on with their Unlimited BBQ and warm yourself up with their Unli Shabu Shabu as well!
Some notable dishes they offer: Wanggelanmari (King Size Egg Roll), Sagolbudaechige (Beef born based Korean Army Soup), and Wagyuchadolbagi (Wagyu Beef Brisket)
Note: The branches which are open are the ones in Tomas Morato, Talon Uno, and Malate. 
Malls and restaurants in the area closed down way before you've eaten lunch or dinner? Don't worry! At Songdowon – a Korean BBQ restaurant that features a wide variety of set meals, pork and beef choices, as well as haute cuisine dishes – you can get your fill without having to worry about closing hours.
What they're known for: Wagyu Beef Striploin, Alimango Chili, Grilled Bulgogi, and Stone Pot Bibimbap
View menu
View their Facebook page
HK Sun Plaza, Macapagal Blvd, Pasay
(02) 804-0757 | (0927) 744-9988
A student-friendly and night owl friendly Korean BBQ restaurant, Machang may have a limited menu but the meat they serve up are sure to be of good quality that you won't focus on anything else but the food.
View menu
1782 Adriatico St. cor Pedro Gil, Malate Manila
(02) 354-6294 | (0905) 316-9443
To check out more Korean BBQ Restaurants, simply type 'KOREAN' in the Booky App and find the one that fits your need. Or better yet, open up the Nearby Tab in your app to see if there's a spot near you!
Are you a restaurateur? If so, just send us your restaurant details such as name, menu, address, and contact details to support@phonebooky.com so that we can add you in our Booky directory!