Modern Japanese for the modern Filipino foodie.
Sundays are meant to be shared with loved ones and what makes every family day more special is food–particularly Japanese food.
READ MORE: Check out the Top 10 Most Loved Restaurants in Alabang this month! 
Japanese restaurants are a common choice for most Filipinos because it uses simple yet flavorful ingredients that's combined with our favorite mealtime companion, rice. Good thing, new Japanese restaurants in Manila keep finding new ways to keep our palates wanting more. Read on to find out more about this new Japanese joint in the South.
Louie and Rachelle Almario, the husband and wife team responsible for Aburi Manila, are longtime Japanese food lovers. Their love affair with Japanese cuisine dates back 25 years ago when they first met in Los Angeles–where the birth of the modern Japanese food movement started.
"We always choose to eat Japanese food when we go out to eat."
Aburi is the newest modern Japanese restaurant in Alabang. The restaurant's name is derived from the unique preparation of sushi where your usual nigiri sushi is torched to have that distinct grilled flavor.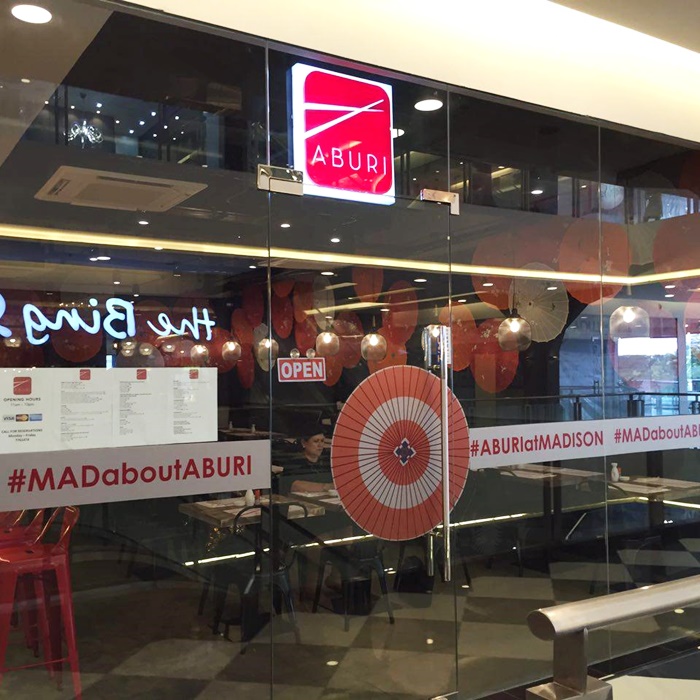 The foodie couple are seasoned restaurateurs. If you remember that popular steak place called Luigi's Restaurant in Tomas Morato, that was named after Louie. As for Rachelle, she's connected with the Relish group of restaurants. Louie and Rachelle wants to bring the Japanese dining experience back to the basics but with a mix of fresh ideas and techniques.
Fun Fact: Aburi's head chef was one of the pioneer chefs of classic homegrown restaurant, Kimpura.
If you're looking for your usual tempura or ramen bowls, this isn't the place for you. Aburi serves over the top sushi rolls, aburi sushi, and other grilled meat specialties. Here are some of their bestsellers:
Aburi (torched nigiri sushi, 2 pcs) P165-P325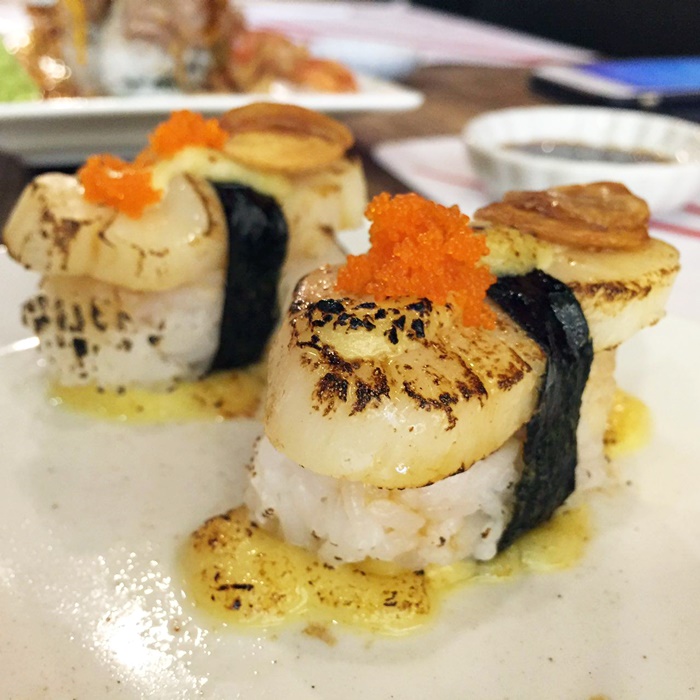 Rolls P195-P325
Craving for some quality sashimi? Try Aburi's:
Special Carpaccio (tuna or salmon)
Mad for yakitori? Order Aburi's special:
Wagyu Beef Cubes (P195/stick)
Choose from their hefty chirashi and rice bowls for your main course.
No news yet if they're expanding near your business district soon, so make the most out this new restaurant before other people do! Menu will be up soon.
If you spot a new restaurant near you, send us an email at support@phonebooky.com with all the details. Restaurant owner? Update your menu and other essential information through our support email as well.

View their Instagram account
2nd flr., Madison Galeries, 398 Don Jesus Blvd., Alabang
(02) 776-1474