Have you tried it yet?
For all of us carnivores, we can agree: Bacon is life.
Now KFC has made some pretty weird but cool choices – namely the Double Down, the Double Down Dog, Chicken Skin Cracklings and even the Chaco. But just like them, most of their creations started out as limited items that later turned into menu staples that we constantly wait to come back.
But now, the bacon lovers of the world get their fill with the new Baconized Zinger.
This new bacon dream is no joke. To add to the famous fried chicken sandwich, they not only added thick juicy bacon strips, but also a special bacon-flavored dressing the fondly call "baconaise" (so extra, we stan), and sweet and salty bacon relish!
Price: ₱150 for The Baconized Zinger a la carte, ₱199 for combo meal
But why let all this bacon go to just one burger? The Baconized Snacker is there if you want a taste of bacon but not a whole meal.
Price: ₱100 for The Baconized Snacker a la carte, ₱154 for combo meal, ₱154 for Fully Loaded meal
And for the fry-nal touch… Baconized Bucket Fries! Huge bacon chunks and the same bacon dressing, topped with all that cheese.
Price: ₱99 for The Baconized Bucket Fries
Available starting today for a limited time only!
Also read: The Only Metro Manila Food Delivery Guide (with Hotline Numbers) You'll Ever Need
Anything with bacon is better. We won't lie, it's quite an unhealthy addiction but we never hold back on our lists so everyone is in for a treat for this one: crazy bacon dishes. Whether it's a dessert, served with vegetables (?!!), or even inside a gyoza, we got you covered. Check out where our gluttonous thoughts led us with bacon on our minds.
Martin Place Social is a contemporary wine & sake bar with a modern Australian food menu. Its food is modelled on the fresh seafood halls of Australia and other Asian countries and steak houses in Australia.

View menu
View their Instagram account
The Plaza, Arya Residences, Mckinley Parkway, Fort Bonifacio, Taguig
(02) 245-8492
Formerly known as Chubs Steak at Manok, Chubs Chasers is the same casual Filipino-American diner serving their signature Divine Steak and Carvilicious Chicken, but with an expanded menu that includes ribs, burgers, pastas, desserts and other entrees. This is its second branch.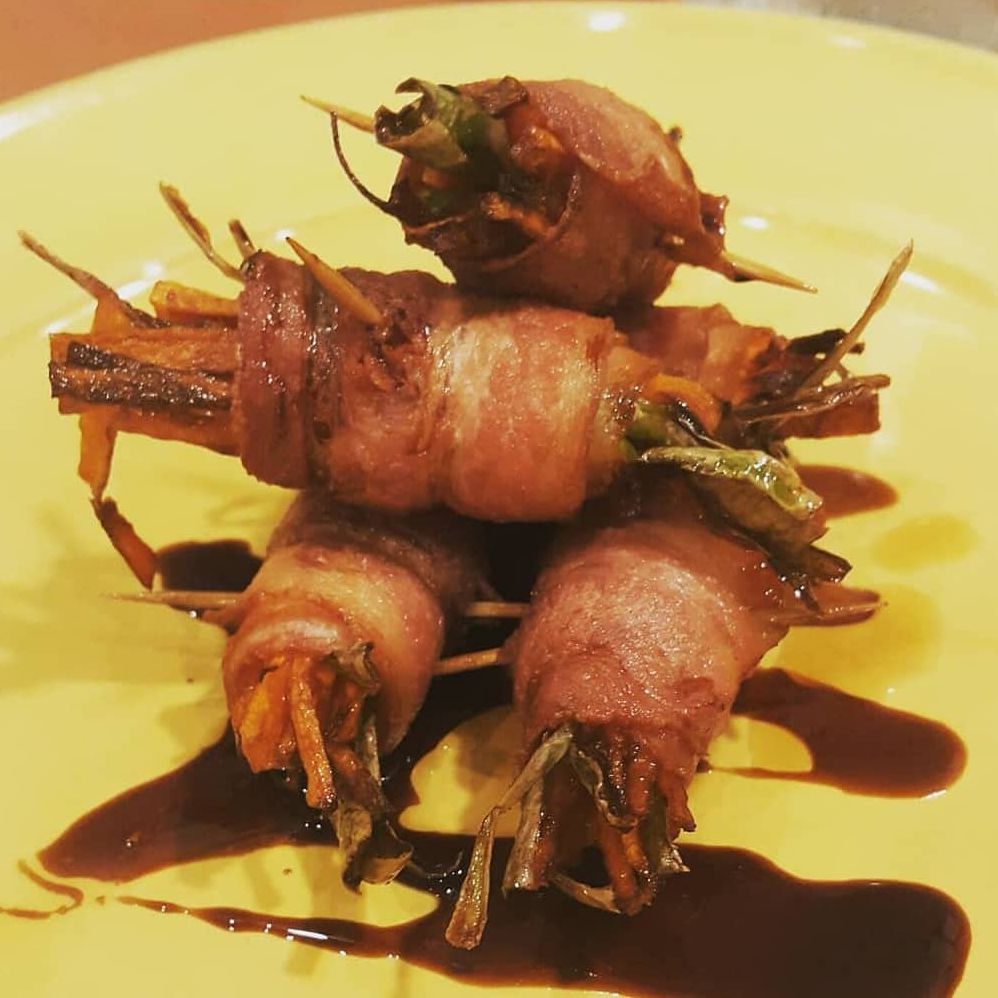 This restaurant is a go-to meeting place by day and a chill, after-work drinking spot by night. Make your next visit count by ordering their bestselling Bacon on Mud: Maplewood-bacon and Valrhona Chocolate dip on the side. For our favorite dishes at Single Origin, read this.
Also read: 13 Cafes with Beautiful Latte Art that Will Brighten Up Your Day
Osaka Ohsho prides itself as the #1 gyoza restaurant in Japan. What sets them apart from other Japanese restaurants is their extensive menu of gyoza flavors like curry, kimchi, and bacon and cheese gyoza.
Mushroom Rice, Bacon & Egg – Puzzles
Puzzles is a board game lounge and restaurant where friends and families come together to bond over fun board games, great food, and awesome drinks. Read our full feature here.
Locavore serves only locally grown and produced Filipino dishes with a French twist from Chef Mikel Zaguirre, former head chef of La Regalade. Aside from their bestelling Sizzling Sinigang, try out their underrated bacon appetizer. They recently opened a new branch in BGC.
Also read: 10 Insanely Delicious Chicken Dishes That'll Ruin Your Diet
This very hipster, New York-inspired cafe aims to serve good feelings all around with their unique home-cooked style dishes. Hate vegetables but you need to eat some greens? Order their Bacon Wrapped Vegetables: artisanal bacon, cherry tomatoes, and oyster mushrooms.
Also read: 14 New Hipster Coffee Shops in Metro Manila

View menu
View their Instagram account
Unit 1A, 319 Aguirre Ave, BF Homes, Parañaque
(02) 738-0085
This hidden coffee joint in Makati serves anything but your ordinary kuppa. Aside from their special spiked coffees, they also serve unique concoctions like their Chocolate Jalapeno and Bacon Milkshakes. For more outrageous milkshakes here (you know you want to).
No reservations accepted
View menu
View all branches
View their Instagram account
Sisig Society specializes in create-your-own sisig where guests can create and customize your their Sisig from a variety of meat, topping, sauce, and starch options at an affordable price.
Reservations are accepted
View menu
View all branches
Eastwood Citywalk 1, Libis, Quezon City
(02) 962 2244
Moonshine is a chill, pub-style bar located at one of Ortigas' buildings: the Sapphire Bloc. Enjoy your cold brews while snacking on their bestselling stack of bacon with Baconnaise.
No reservations accepted
View menu
View their Instagram account
Sapphire Bloc, Sapphire Road, Ortigas Center, 1605 Pasig, Ortigas, Pasig
(0927) 800-0920
Fat Daddy's serves anything carnivorous and grilled to perfection. It's no surprise that their s'mores dessert is topped with their homemade smoked bacon strips.
Also read: 21 New S'mores Desserts in Manila You Still Haven't Tried
No reservations accepted
View menu
View their Instagram account
Maple Candied Bacon & Lemon – Duck & Buvette
What used to be the classic Cafe Provençal in Shangri-la is now D&B. This French restaurant spices things up on their traditional menu with their Candied Bacon appetizer: glazed smoked bacon belly, drizzled with lemon.
Also read: 10 Unusual Food Combinations in Metro Manila That You Should Try
Reservations are accepted
View menu
View their Instagram account
2/F Shangri-La Plaza Mall, Mandaluyong
(02) 631-0675
Candied Bacon Ice Cream – Merry Moo
Merry Moo serves premium ice cream made with fresh ingredients, such as dairy sourced from Laguna. Are you looking for a flavor that's sweet and salty? They have Candied Bacon Ice Cream! It's made out of light cinnamon ice cream with bits of candied smoked bacon.
Insider tip: Enjoy Buy 1 Get 1 Mix & Match Ice Cream at Merry Moo with Booky!
Deep Fried Bacon Wrapped Burger – Zark's Burgers
Zark's Burgers is a popular university burger joint most known for serving greasy and jawbreaking burgers at student-friendly prices. Must-try: deep-fried bacon wrapped burger, Luther burger (double cheeseburger with two strips of bacon on honey glazed donuts), and the Tombstone.
No reservations accepted
View menu
View all branches
View their Instagram account
Dessert Kitchen is a restaurant franchise from Hong Kong that specializes in iced desserts and eggette waffles. Their Bacon Dracula is basically a freshly-made eggette with bacon and cheddar cheese. Think of it as your breakfast on the go. Full feature here.
No reservations accepted
View menu
View their Instagram account
3/F Power Plant Mall, Rockwell Center, Makati
(0995) 448-8233
We definitely went crazy over this list! Tag us on your food adventures on Instagram (@bookyapp) for a chance to be featured on our blog. If your favorite restaurant is not on our database, shoot us an email at support@phonebooky.com with all the details.
Bless you, Nick Jonas bacon.