A dining experience you'll never forget!
A beautiful escape away from home, Bale Dutung, which means, 'House of Wood' by Chef Claude Tayag, is located in Angeles City, Pampanga. This beautiful house doubles into a passion project by the Tayags to serve authentic Filipino food using local ingredients, cooked in innovative ways.
The place is huge and filled with lush greens and wooden structures on the outside, with homey and antique elements in the inside. It is one of the most highly acclaimed restaurants in Asia and was even visited by Anthony Bourdain!
You can't really classify this as a normal restaurant because they are not open for walk-ins and will only open their home once in a while, once prior reservations have been made.
Bale Dutung's goal is to make the young and old, locals and tourists, appreciate Filipino food at its finest state. They have three different venues inside where you can enjoy a degustation feast:
Almazen - an open-kitchen experience where you will see the chefs whip out their creations right in front of you

Silong - a 1900's al fresco setting where you will be surrounded with Philippine wooden antiques

Gallery - an air-conditioned private room that doubles as a mini art gallery
The Gallery
The Gallery is their newest dining venue at Bale Dutung. The concept is somewhat similar to a mini art museum where you will be surrounded by artworks of some of the most renowned artists in the Philippines such as BenCab, H.R. Ocampo, and many more.
It can accommodate a minimum of 8 adults and reservations here must be made at least 3 days in advance and will be subject to approval.
Here, they have three tasting menus to choose from: Co-op One, Co-op Two, and Eskinita. The first two will be focusing on a different take on the Filipino cuisine where they will be serving 6 courses that are all made from authentic and local ingredients; Eskinita is a 12-course tasting menu that was inspired by the Filipino street food that we all love. Since this is a tasting menu, all servings are of small portions but will guarantee you a filling experience that will tickle your taste buds.
Co-op One (A Collaboration of the 

Bale

 

Dutung

 Team, A Different Take on Filipino Cuisine) · 6 Course · Minimum 8 Adults · P1,490++

Co-op Two (A Collaboration of the 

Bale

 

Dutung

 Team, A Different Take on Filipino Cuisine) · 6 Course · Minimum 8 Adults · P1,490++

Eskinita (A Tasting Menu Inspired by the Street Food we all love) · 12 Course · Minimum of 8 Adults · P1,990++
To give you a sneak peek, here's what we had on our visit to Bale Dutung – a special 8-course menu that combined some of the courses from the first two tasting menus.
Before the first course, you'll be given these moringa shoots called 'Hagod' that are seasoned with olive oil and fish oil.
Insider Tip: If you know how to eat edamame, the process is quite similar as you'll just need to put the stalk inside your mouth and slide out the beans.
1st Course – BLTP,Chicken Inasal Tostadas, and Aromatic Duck
(BLTP- Kesong Puti. Basil. Tomatoes, Pili Nut Brittle), (Chicken Inasal Tostadas – Lemongrass Chicken Thighs. Corn Salsa. Avocado. Tortilla), (Aromatic Duck – Pulled Local Duck. Mango Salsa. Hoisin. Chinese Pancake)
2nd Course – Smoke Smoke Smoke
Round Scar "Galunggong". Tinapa Chowder. Guava-Smoked Tanigue. Smoked Red Bell Pepper Oil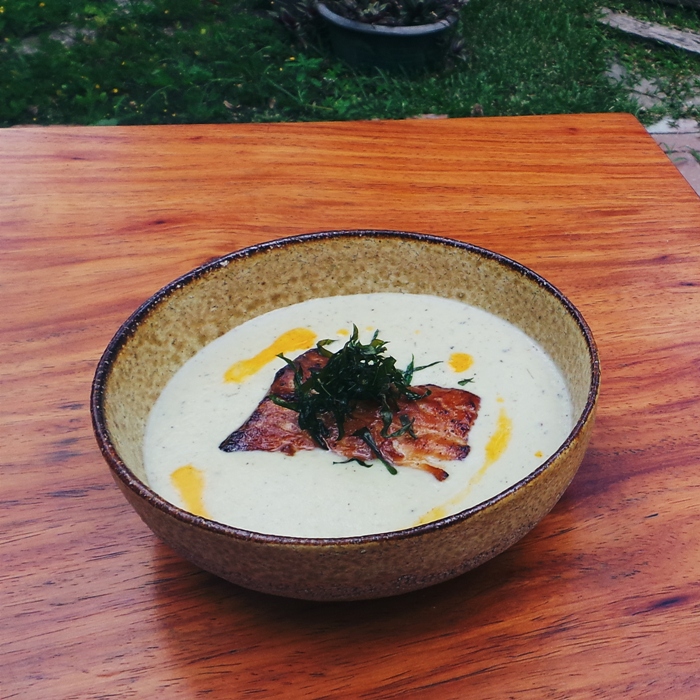 3rd Course – Gallery Summer Salad
Fresh Local Greens. Grapefruit. Mandarin. Dragon Fruit. Honey-Glazed Pili Nuts. Grilled Octopus
4th Course – Bringhe Rice Cakes
Heirloom Adlai. Mustard Leaves. Poached Blue Crab. Crab Fat Aioli. Fresh Kiwi.
5th Course – Sisig Bone In
Mahogany-Smoked Bone Marrow. Smoked Pork Jowl and Liver. Focaccia.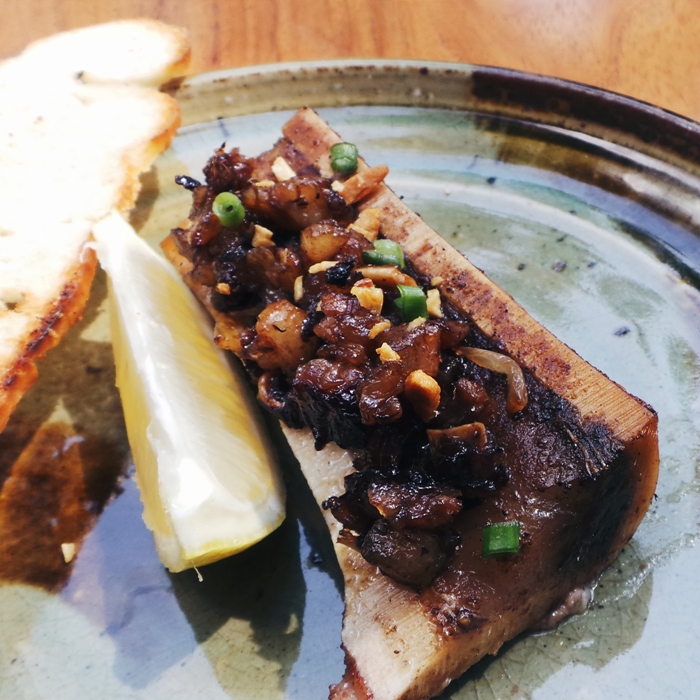 6th Course – Bifteck Tagalog
Slow-Roasted Beef Belly. Onion Au Jus. Potato Terrine. Caramelized Onion. Green Pea Puree
7th Course – Duck and Onion
Pan-Seared Duck Breast. Onion Puree. Pickled Onion
8th Course – Pastillas Cheesecake
Carabao's Milk. Pastilles. Orange Confit. Dulce De Leche
When making reservations, Bale Dutung will require a 50% downpayment to be deposited to their account, while the remaining balance can be settled in cash after you dine at the venue.
For walk-in's, you can check out their sit-down restaurant nearby called, 'Downtown Cafe' that also offers Filipino-Kapampangan favorites in a 50's diner setting.
Strictly by reservations only
Villa Gloria Subdivision, Angeles City, Pampanga
(045) 625-0169
Download Booky now to get up to P500 discount plus a free dessert on our 600 prime partner restaurants!