It's back!
Can't wait for the Sunday Sidcor Food Bazaar at Eton Centris? No worries! While you count down the days to Sunday, Eton Centris has another food bazaar where you can get your weekly food fix.
Ever since February 18, 2007, The Original Banchetto has been offering food in places like Taguig and Las Pinas. But recently, it has stayed at Eton Centris for the past few months.
Located right beside Starbucks at Edsa Corner Avenue, The Original Banchetto Centris is open every Thursday and Friday from 4 PM to 3 AM starting August 1 and 2. Every week, Banchetto provides opportunities for food merchants to be part of their food bazaars to provide a variety of dishes to those who visit.
Although Banchetto doesn't differ from the other food parks that have been and are popping up around the metro, it's worth taking a look at for those who want to attend a food bazaar during the weekdays and those who want something different and something new for their merienda or dinner.
Also check out: 20 Food Parks In and Out of Metro Manila to Try with Your Barkada
A few of the offerings of the food stalls they've invited are the following:
Takoyaki
Filled with squid, leeks and cabbages, the takoyaki offered by one of the food merchants is cooked upon order and portable. For only P45, you can get four pieces that can satisfy your need for a savory food fix.
Shawarma
Flavorful beef and a drizzle of the slightly sweet sauce is a match made in heaven meant to be eaten as soon as it's served. Whether you prefer it in a wrap or paired with rice, this offering is perfect for munching on while you scout the food bazaar.
Street Food
From isaw to barbeque, Filipinos are well versed with what Filipino street food is and the street food offered at this bazaar isn't any different. Smoky and affordable, this food stall's offering of familiar food is nonetheless appetizing.
Check out: 12 Isaw Photos that Prove it's the King of Filipino Street Food
Filipino Ulam
The perfect phrase to describe the offering of this food stall is "kulang nalang kanin". This food stall, with its variety of homemade Filipino dishes, can provide you with your homemade food fix.
Chilled Juices
After munching on food, there's nothing better than washing it all down with chilled juices. Offering a variety of different flavors, these juices are cold and refreshing for when the sun's beating down on a hot day.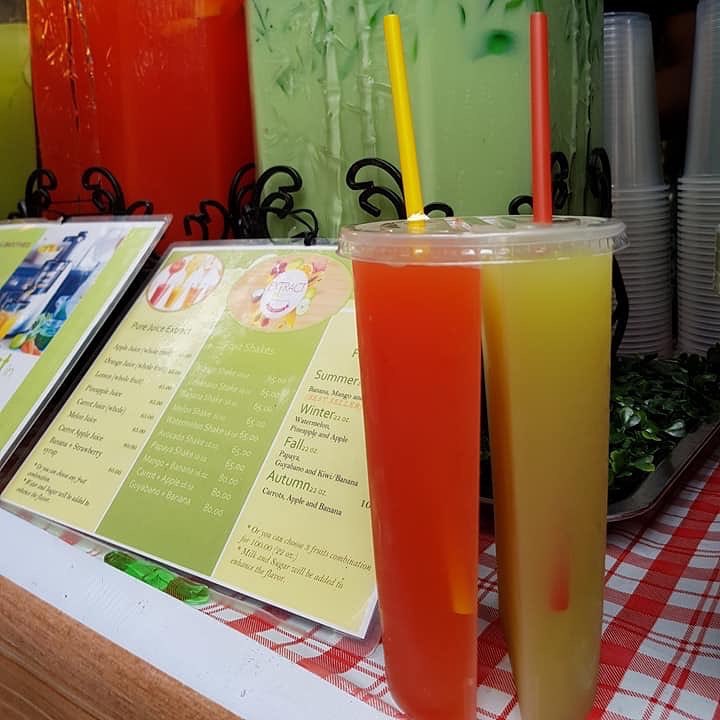 Because Banchetto is open to offering different food stalls every week, their menu constantly changes and it's up to you to figure out what they have to offer for the day.
To know more about Banchetto Philippines, you can visit their Instagram account or Facebook page.
View their Instagram
View their Facebook
Eton Centris Walk, Quezon City, Philippines
(0908) 893-7307
Think you know more food bazaars and food parks that we can feature? Comment down below! You can also tag us on Instagram @bookyapp and #bookymanila to show us photos of your food trips at food bazaars/parks.