They'll not just meat your expectation but exceed them!
Whether you're out with family or friends for a drink or a heavy lunch out, one thing's for sure, these restos serve up fall-of-the-bone ribs, juicy brisket, or smokey barbeque that can be perfectly paired with sides and a drink or two!
Update: Check out our new Buy 1 Get 1 deals this week!
Be sure to add these spots to your 'MUST-TRY' lists on the Booky app so you never miss a meaty bite!
Makati
Whether you find yourself at the drinking hubs or in one of the many office buildings in the area, one thing's for sure, if you're craving for barbecue, you've got to go to these restaurants that have a branch only Makati.
The brainchild of an internationally-trained pitmaster, Troy Conine, The Smokeyard is a classic American BBQ joint serving up low and slow smoked meats that are best enjoyed with homemade sauces.
Must-try: Pork Belly
View menu
View their Instagram account
5666 Don Pedro Street, Poblacion, Makati
(02) 771-1288
If there's one smoking joint you should go to, it's The Smoking Joint located in no other place than the South that serves up starters, salads, sides, and of course, smoked meats.
Recommended dish: Pulled Pork (comes with flat pan de sal and slaw)
View menu
View their Instagram account
Green Sun, 2285 Chino Roces Ave Extension, Makati
(02) 423- 5514
Holy Smokes BBQ serves authentic Texas-style barbecue that are all smoked using local fruit wood.
Must-try: Beef Brisket (Angus beef smoked between 12-16 hours
View menu
View their Instagram account
Matilde cor. Jacobo St., Poblacion, Makati
(02) 728-0405
Pasig
An area where you can enjoy after work dinners or post drinking munchies (where not a lot of people usually go to), Pasig's got it's own hidden BBQ gems that are worth the trip.
Tittos is a modern diner serving the best of Latin American and Filipino fusion dishes.
Must tries: 18-hour Gaucho Steak and Tittos Signature Steaks.

View menu
View their Instagram account
16 East Capitol Drive, Kapitolyo, Pasig
(02) 535-9212
Serving up hand rubbed, hand sliced, selected cuts of oak-smoked meats cooked slow n' low, Smoke and Barrel's surely got guns to show off to those who want simple yet flavorful ribs.
Recommended dish: Slow N' Low Smoked Beef Brisket (Tender slices of local beef wagyu brisket, smoked for 12 hours low and slow) served with Picked Vegetables and Rice
View menu
View their Instagram account
Madison Commons Food Park, #1 Brixton St., Kapitolyo, Pasig

A smokehouse utilizing the flavors of South America, Pitmaster's Smokehouse is the place to go to when you want customizable meats perfect for solo diners to huge groups.
Must try: Black Angus Brisket (15-hour smoked Angus beef brisket with your choice of BBQ glaze)
View menu
View their Instagram account
64 East Capitol Drive, Kapitolyo, Pasig
(02) 616-9719
Quezon City
Quezon City may be huge but instead of focusing on the negative, focus on the positive – a bigger area means more grill restaurants to go to!
Sear Steak Scullery is a Western-themed restaurant with Asian influences that offers a full-service semi-fine dining experience. Menu highlights include stone grilled steaks, seafood dishes, and crazy milkshakes.

View menu
2/F 238 Banawe cor Panalturan St, Manresa, Quezon City
(02) 351-3562
Offering all things Italian from it's roast chicken to its ribs and even it's sausage, Salta! by Pappare uses a charcoal-fired Rotisserie to serve you mouth-watering dishes that you surely won't forget.
Must try: BBQ Balsamic Beef Ribs

View menu
View their Instagram account
38 Mayaman St. UP Village, Diliman, Quezon City
(0917) 830 9290
Taguig
Housing a buffet resto that also serves quality BBQ, Taguig is surely a place where despite having many offices around, balances itself out with restos where you can de-stress.
NIU is Vikings 2.0 – an upgrade from its pioneer brand, Vikings Luxury Buffet. The interiors are modern and luxurious, and the buffet stations are grander and of top quality.

View menu
View their Instagram account
6/F SM Aura, Fort Bonifacio, Taguig
(02) 478 3888
San Juan
Known best for having malls in the area, the restaurant below which you can only find in San Juan, is a perfect place for after mall shopping meals.
FETA serves Mediterranean cuisine by Chef Beyto Koc. It's not uncommon to see Lebanese, Iranian, or other groups of Middle Eastern ethnicities dining here – a tell-tale sign of its authenticity!
Recommended dishes: Lamb Shank and Kebap on a Stick

View menu
View their Instagram account
G/F Intrawest, 33 Annapolis St, Greenhills, San Juan
(02) 705-7238
Mandaluyong
Sure, Mandaluyong has grill restaurants inside the mall in the area, but nothing beats hidden gems that serve quality food nonetheless.
Bricks & Copper is a casual Mediterranean restaurant serving authentic Turkish Cuisine including the first (and only) Charcoal-Grilled Doner (Shawarma), as well as traditional freshly baked breads like Pita, Pide and Lavash, and sauces made from fresh ingredients.
Must-try: Iskender, Pita Doner, and Kofte

View menu
View their Instagram account
304 Shaw Boulevard (near Dumlao Sports Center), Pleasant Hills, Mandaluyong
(02) 697-2007
All Around the Metro
No matter where you are, isn't it comforting to know that when cravings hit, there are BBQ restaurants you can go to just like the ones below?
Red Baron is an American steakhouse and a carwash eatery concept specializing in ribs and steaks sold at fairly affordable prices
Tajimaya – multiple branches
Tajimaya lets you experience a hands-on Japanese charcoal BBQ grill cooking with only the freshest and most authentic ingredients. They also offer a unique dishes with melt-in-your mouth Wagyu strips and Eat-All-You-Can Meals.
Must-try: Wagyu Atsugiri Karubi, Wagyu Tokujou Tan, Wagyu Jou Karubi, and Tsukune
Gringo – multiple branches
Gringo is a local concept from the Tokyo Bubble Tea group that specializes in Latin American and Tex-Mex specialties including chicken, ribs, and burritos.
Must-try: Full Rack of Baby Back Ribs, Gringo Original Chicken, and Crispy Catfish Salsa.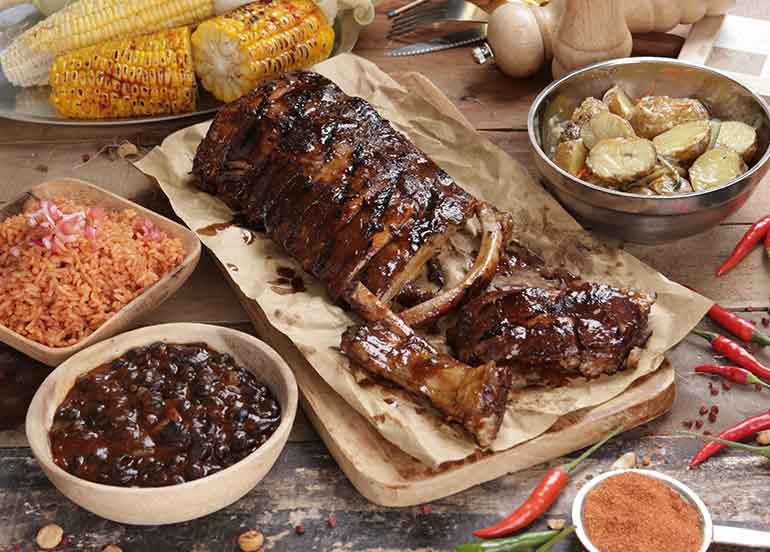 View menu
View their Instagram account
Avail a discount at 7 branches

RB CTY – multiple branches
RB CTY / Rib City is a fun and interactive restaurant specializing in ribs, but they also offer dishes like pasta, salads, and other mains. In line with their restaurant concept, they encourage guests to build lego while waiting for orders.
Must-try: Suburban (2 side eats, drink/Mix – ribs, 2 chicken, 2 side eats, drink)

View menu
View their Instagram account
Avail of a discount at their 2 branches

Blake's Wings & Steaks is an all-American diner that first opened in Marikina. It serves hefty portions of wings, ribs, and steaks for the entire family to enjoy.
What to order: T-Bone Steak and Porterhouse Steak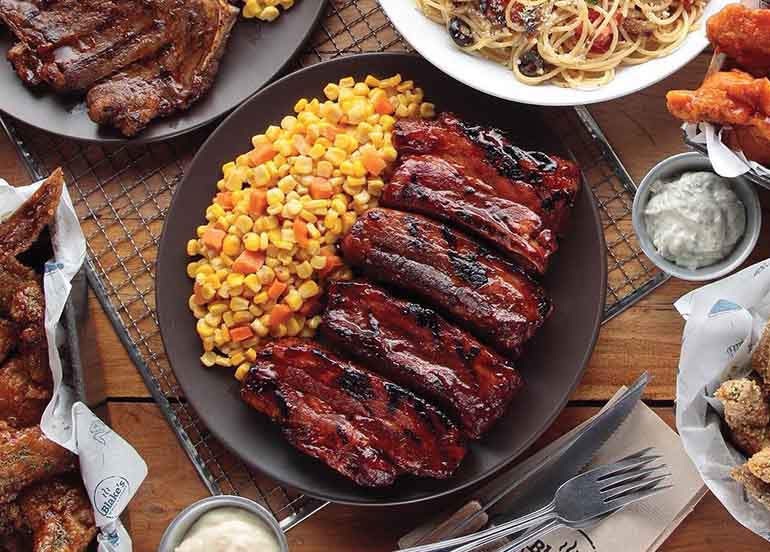 View menu
View their Instagram account
Avail of a discount at 2 branches

Offering up no-frill American grub with their ribs and sides of your choice as their specialty dish, RUB Ribs & BBQ's sure to satisfy both kids and adults who are looking for a fun experience and affordable comfort food.
Recommended dish: Raki's BBQ Ribs with Spiced Fried Rice

View menu
View their Instagram account
Avail of a discount at 3 branches
A Southern USA-inspired smokehouse and barbecue restaurant, Fat Daddy's Smokehouse serves up smokey, and delectable savory comfort food.
Recommended dishes: Smoked Pork Ribs, Smoked Beef Brisket, and Daddy's Burger
Named after their executive chef, Chef Dino, Big D's Smokehouse is the place to go to for South-American flavors which are all infused in their ribs, tacos, and even burgers.
Must-try: Sizzling Pulled Pork and Twice Fried Ribs.
A New Orleans themed restaurant that offers bar grubs to full heavy meals, Rue Bourbon is perfect for when you want to drink and dive into delicious savory dishes at night.
Must-try: Feast (Pan seared beef belly cooked in its own fat for 12 hours and served with Idaho potato puree and fresh vegetables)
Specializing in American style comfort food, The Rib Shack's sure to introduce you to mouthwatering ribs, cajun chicken, pizza, pasta, and more.
Must-try: Ribs and Roasted Cajun Chicken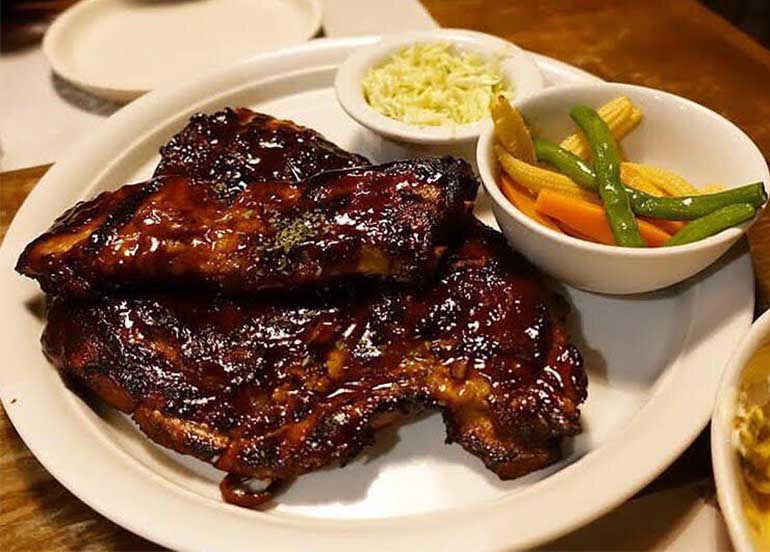 An award-winning barbeque joint from New York, Might Quinn is famous for its slow-smoked meats.
Recommended dishes: Brisket, Half Chicken and Brontosaurus Rib
A full-service bar and bistro serving drinks and comfort food, Bugsy's Bar and Bistro is the place to be for lunches out and even late night drinking sessions.
Must-try: Bugsy's Siegel and Grilled Porkchop
Insider tip: Get Buy 1 Get 1 Margaritas at their branch at Taguig and up to ₱400 off your bill at their Muntinlupa branch. 
Burgoo – multiple branches
Founded in 1999, Burgoo is a casual dining restaurant that specializes in American cuisine serving American comfort food favorites like ribs, wings, pastas, and shakes.
Recommended dishes: Shrimps and Ribs Platter
Did you know that you can get unlimited discounts on table bookings when you subscribe to Booky Prime?
Download the app today and see for yourself—there are over 1,000 restaurants in Metro Manila to choose from for your next food adventure!