Gone are the days of working on your own!
Coworking Spaces are getting more and more into the fad these days. Many companies tend to choose the most cowork-friendly interiors! (Just like how it is in Booky!)
Coworking spaces are self-directed to being more economically collaborative and flexible. It's based on the mutual understanding of each other's worth ethic and values! Lucky for us, there are a lot of these set up all over Metro Manila– we've listed down some of the best!
Keep the grind and the hustle going in a conducive workplace designed for freelancers, professionals, and even startups! Located in BGC, Clock In offers hotdesks, meeting rooms, private offices, and more for those in need of a space to get things done.
Individual seats go for P550/day while meeting rooms start at P750/hour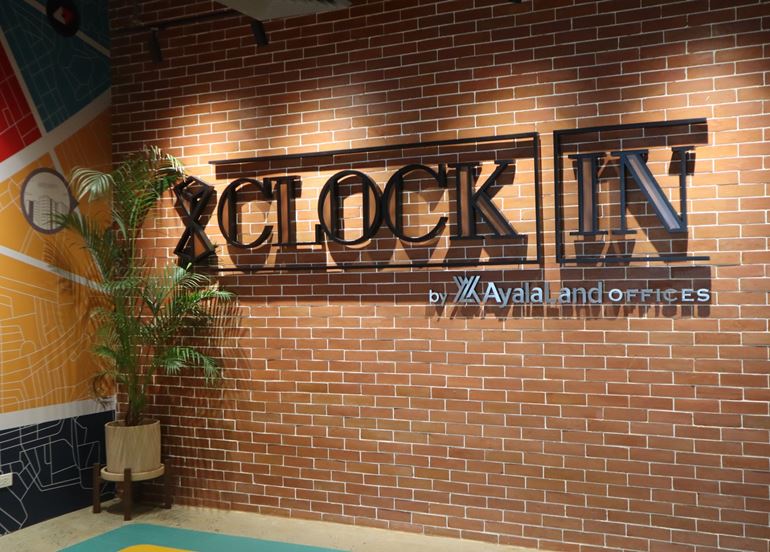 Grab a 4-Hour Hotdesk for One for only P620 P310!
View their Bonifacio High Street branch
View their Bonifacio Technology Center branch
View their Facebook page
View their Instagram account
Conveniently found at the Pergola Mall in Paranaque, The Common Space is the ideal co-working environment for business and creative-types alike. Featuring cozy interiors that offer enough personal space, you're sure to get the job done at The Common Space!
Singe Spaces start at P200 for 3 hours with meeting rooms, kiosks, and spaces getting cheaper when rented in bulk
View their website
View their Facebook page
View their Instagram account
Unit 203, The Pergola Mall, Aguirre Ave. Cor Gaches St,. BF Homes, Parañaque
FIRST Coworking Community – Manila
Located in the historic First United Building in Manila, FIRST Coworking Community is a unique mix of old, classic interiors re-purposed for modern working needs. Perfect for meetings and brainstorming, this is one co-working space that will definitely get your creative juices flowing.
Stay for a Full Day for P400 or rent the space out for P1200 per hour
View their Facebook page
5/F First United Building, Escolta St., Manila
(0915) 989 3678; (02) 7157896
The first co-working space setup in Marikina, Cofficina exists to give spaces to a diverse community of passionate individuals. Bianca Tolentino, Cofficina's owner, hopes to brew an environment of people who are open and collaborative.
The hourly rates start at ₱80, while a day pass costs ₱350 and lasts for 10 hours.
Insider Tip: Apart from their printing services and laptop rentals, meals are also available upon order! Re-energize yourself at their coffee bar! 
View their Facebook
View their Instagram
2/F unit 14 Thaddeus Arcade Pitpitan St. Cor. Gunting St. San Roque, Marikina City
(02) 739 5890
This serene and laid back cowork space will make anyone feel at ease! Their rustic interiors even showcases a bundle of greenery that's meant to help you relax. They also serve free flowing coffee!
Individual passes costs ₱250 on weekends, and ₱300 on weekdays.
Insider Tip: They allow you to bring your own bottle of wine! You're encouraged to share it with the community members!
View their website
View their Facebook
View their Instagram
12 June St, Project 8, Quezon City, 1106 Metro Manila
(02) 975 5911
Located in the heart of Tomas Morato, Bullish is the perfect cowork spot for those looking for a more minimalist design. Their forthright and unembellished interiors give any modern career-person the inspiration they need! Watch out for the different bull graffiti designs up on their walls!
Their daily rates costs ₱350, while their monthly costs ₱5,000.
Insider Tip: They have Fibr connection and free flowing brewed coffee!
View their website
View their Facebook
2nd Floor, F7, 49 Sct. Rallos, Quezon City, Philippines 1103
(02) 709 7869
Found in the heart of Ortigas, it's very obvious what you can expect out of A Clean Well-Lighted Place. Clean and easy-to-work-in interiors paired with a collaborative vibe and energy make this spot a must-try for anyone looking for a space to work at in Ortigas!
View their website
View their Facebook page
27th Floor Jollibee Plaza, F. Ortigas Jr. Rd., Ortigas Center, Pasig
(02) 637 2105
BoardRoom welcomes impact-driven teams who can connect ideas with each other! They've actually already collaborated with local brands like The Green House Projects and A. Garcia Crafts. Their spacious interiors make for a perfect meeting place, with view overlooking Meralco Ave.
Their hourly price starts at ₱70, while their monthly rate costs ₱7,500.
Insider Tip: All packages include unlimited coffee, local phone calls, & printing and copying services
View their website
View their Facebook
View their Instagram
Robins Design Center, Meralco Ave, Ortigas Center, Pasig
296-9912
Found just along Esteban Abada St. near Katipunan, 47 East is a great co-working space for students and professionals. Featuring modern interiors and a posh aesthetic, don't be surprised if you find yourself enjoying all the work you have to do in this sleek co-working space.
You can reserve a spot for either an hourly rate (up to 6 hours) or for the whole day
View their website
View their Facebook page
47 Esteban Abada St, Quezon City, Metro Manila
(02) 866 – 0415
Loft looks like your typical corporate setting, gray floor carpets and panoramic windows, only with a touch of spunk! You'll find yourself warming up to their funky wall designs and chic furniture. Their conference rooms give a beautiful view of the city skyline. Wondering about your coffee fix? Loft houses Ellipsis coffee!
Their day rate for 10hrs costs about ₱550, while their monthly is worth ₱10, 000.
Insider Tip: They also offer additional services like accounting and legal help!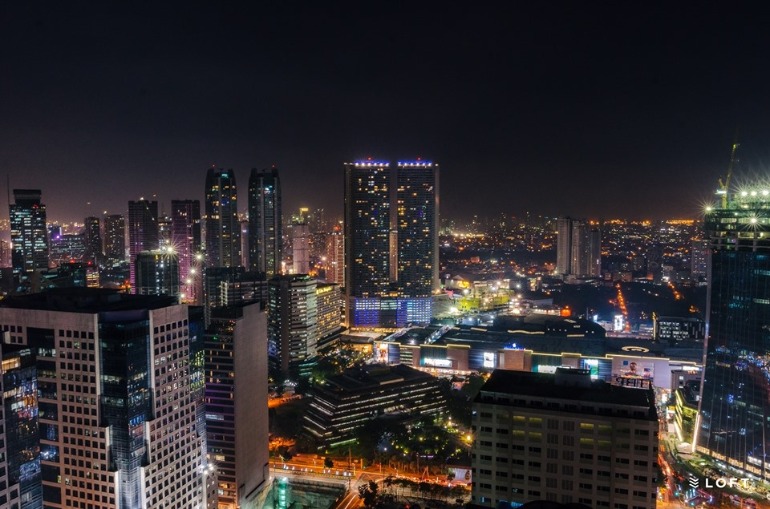 View their website
View their Facebook
View their Instagram
Penthouse 1, One Corporate Center, Meralco Ave. corner Julia Vargas Ave., Ortigas Center, Pasig 1605
(02) 284 8789
KMC is the largest serviced office and coworking space in the Philippines. Their spot measures about 85,000 sqm! That's a lot of space for creative thinking and collaborative discussions!
Check the prices and book here!
Insider Tip: They also have branches in Ortigas, Mandaluyong, and Alabang!  
View their website
View their Facebook
19th & 20th Floor, Robinson's Cyber Sigma, Lawton Ave, Taguig, Metro Manila
(02) 779 6540
Work.able might possibly be one of the coolest and most affordable coworking spaces out there! You'll fall in love with their funky interiors and colorful furniture pieces.
Prices start at ₱250!
Insider Tip: If you need to take a breather, they house their own foosball table! 
View their website
View their Facebook
View their Instagram
Robinsons Cyberspace Gamma, Topaz and Ruby Roads, Pasig, Metro Manila
888-2253
Set up by (yup, you've guessed it) Macao Imperial Tea, this coworking space gets its edge from one thing only: MILKTEA. Yes! You can enjoy your work while sipping on some good ol' boba! You can also get a 10% discount on tea drinks if you avail for daily membership. A monthly member, however, gets ₱500 worth of consumable drinks!
Daily membership costs ₱250, while monthly costs ₱3,500.
Insider Tip: Scanning and printing services are available. You also get a free cup of brewed coffee!
View their Facebook
View their Instagram
1218 Pacific Suites, Dapitan St., Sampaloc, Manila, Philippines 1008
02) 244 0855
Located in the central business district in Alabang, Launchpad offers private office spaces and even meeting rooms. Their 180 sqm, open coworking space welcomes anyone! They even hold their own member privilege card.
The hourly rate costs ₱200 and last for 3hrs. A whole day costs ₱500, while monthly costs ₱4,000.
Insider Tip: Apart from the free coffee/tea and printing services, they also offer locker rentals! The bigges plus is the free basement parking for 5hrs. 
View their website
View their Facebook
View their Instagram
2/F Commercenter Alabang, Commerce Avenue corner East Asia Drive, FIlinvest Corporate City, Muntinlupa City 1780
(02) 776 3321
Located in the La Fuerza compound, you'd expect a lot of art galleries– a space familiar to creative juices flowing! That's why sometimes Warehouse Eight even houses their own art exhibits and events. This cool co-working space echoes of creativity and unlimited collaboration.
You can get 6hrs of work done for the price of ₱600.
Insider Tip: You can even rent their pantry & bar for only ₱1,500!
View their website
View their Facebook
View their Instagram
2241 Don Chino Roces Ave. Warehouse 8-B, Makati
0917 537 9438
Work Folk's sleek and modern interiors will give you the zen you need, added with splash of color. Their wall art showcases geometric patterns and prints, paired into dynamic furniture. You can choose with either an Open Desk, a first-come-first-serve basis, or a Dedicated Desk that gives your own personal space and catered for the more routine-inclined individuals.
The Open Desk plan costs ₱600 daily, while a monthly Dedicated Desk plan costs ₱12,500.
Insider Tip: Lockers are available for your things! They also serve all-you-can-drink coffee and water. 
View their website
View their Facebook
View their Instagram
M1 Tower, H.V. Dela Costa, Makati, Metro Manilaa
(02) 250 9999
Boasting of art-filled lounges, sleek private offices, and stylish collaborative rooms– WeWork has over 425 coworking spaces around the world! Their branch in BGC takes up two full floors. They also offer memberships.
Their monthly rates start at ₱17,000.
Insider Tip: They have 4 branches all over BGC, and one in RCBC Plaza Makati.
View their website
View their Facebook
View their Instagram
View all their branches
400 820 8800
Expect to make genuine connections in Acceler8! This well-known coworking space can be found in Salcedo Village, Legazpi Village, and Rockwell Center. Their homespun, yet sophisticated interiors create a relaxing and creative atmosphere.
Their day pass costs ₱550, while their Gold Plan costs ₱4,450 and includes 10 visits for 3 months, 2hrs of meeting room usage, and more perks!
Insider Tip: They also cater to interesting events! Make sure to follow them on social media to know when the next one is!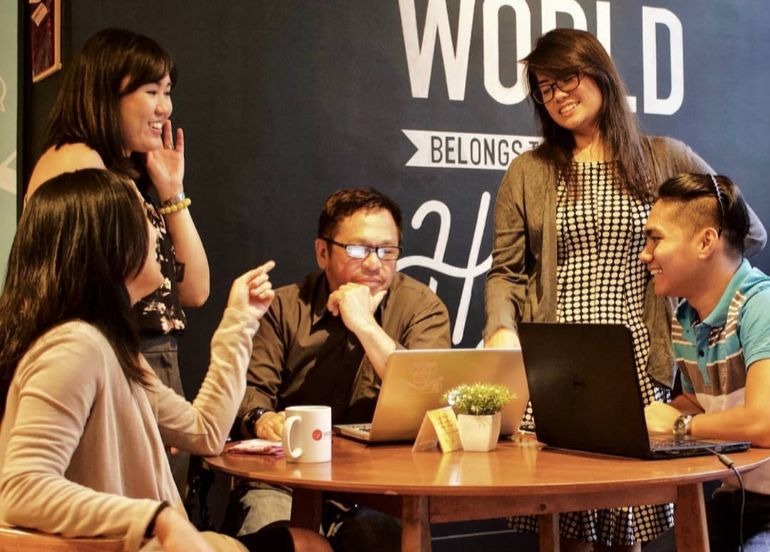 View their website
View their Facebook
View their Instagram
View all branches here
(02) 917 8118
We can give you the best spots for food, fitness, and beauty in Metro Manila! All you gotta do is download the Booky app, relax, and let us take care of everything! Discover the best places and get exclusive member offers with the Booky app today.
Cover photo solely belongs to WeWork co-working space.