Steaks, anyone?

Whether rubbed with just salt and pepper, or slathered in a variety of sauces and spices, we can all agree that steaks – when grilled to perfection – is unbeatable. There are numerous ways to cook a steak, from rare to medium to well-done; whatever your preference, steak is always a good idea. (Unless you're vegetarian, of course!)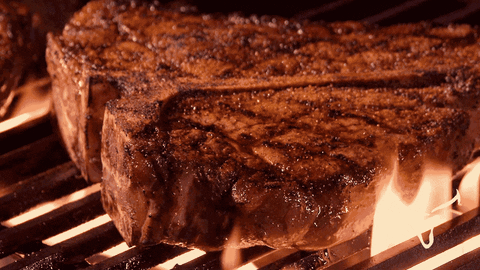 While it's not everyday that one would think about having steak for a meal (they can get pretty expensive!), this list might just change your mind. We've curated a list of underrated steak houses that are not mainstream, but serve tasty and yes, affordable steaks.
Vanderlust, named after how Germans pronounce the word 'wanderlust', is popular for their homegrown pastries especially the schneeballe, but what you probably didn't know is that they serve hot items too including the Bistecca Florentine. More about Vanderlust here.
What to try: Butcher's Steak with Blue Cheese & Potato Gratin
Brickfire is a fast casual diner serving affordable oven-roasted steaks and chops, which are certified local Batangas-farmed beef baked in brick oven.
Fun fact: One of their branches is in Antipolo.
No reservations accepted
View their Instagram account
View their branches
This steakhouse in Tomas Morato is definitely not a newbie when it comes to perfecting a slab of steak. The USDA CAB Sirloin and Rib-eye Steaks are to-die-for. They also have awesome ribs so you should check that out too!
Must-try: Porterhouse Steak (980 g) with choice of steak rice, mashed potato, and French fries
Reservations are accepted
View their Instagram account
32 Scout Borromeo St, South Triangle, Quezon City
(02) 738-6564
A new concept restaurant in Malate–it is a diner, a cafe and a spa in one. This is your ultimate go-to restaurant when you live around Taft and looking for a good and affordable steakhouse.
No reservations accepted
View their Instagram account
2226 Fidel Reyes St, Malate, Manila
(0999) 999-8590
Also read: 27 of the Meatiest Buy 1 Get 1 Treats You Could Ever Eat
This quaint cafe around Eastwood surely knows how to whip up a delicious Spanish meal. The Steak with Sofrito Butter (grilled tenderloin beef served with chimichurri, sofrito butter, creamed greens, mixed mushrooms and Enye rice is a must-try here! Did we mention that they also have Lechon Carbonara?
Reservations are accepted
View menu
View their Instagram account
Mezzanine Floor, Citi Plaza, 34th St, Fort Bonifacio, Taguig
(02) 581-1315
Hunting for a great and affordable steakhouse around Teacher's Village? Look no further because Empire Steaks sure knows their game when it comes to perfecting a steak! They also have steak gyros and pasta dishes for other options.
Reservations are accepted
View menu
View their Instagram account
4 Masinsinan Street, Teacher's Village, Quezon City
(0917) 612-2912
At Meat Depot, you get to choose your preferred meat to cook, or you can even buy them for take-out! If you want steak, just choose your meat of choice (they have Angus Beef, Lamb, Wagyu Beef and more!), your degree of cooking (Rare, Medium Rare, Medium Well, Well Done), sides and sauces.
No reservations accepted
View their Instagram account
283 Aguirre Ave, BF Homes, Sucat, Paranaque
(02) 501-0845
Frankensteak's serves 20-year old family recipes of German franks and steaks for less. Since the owner also manages his own meat shop, you can expect the best quality of thick cut of steaks without any extenders at affordable prices.
Insider tip: You can also ask for unlimited gravy.
Reservations are not accepted
View menu
View their Instagram account
Pazar Food Park, Block 43, Lot 14, Regalado Highway, North Fairview, Quezon City
(0917) 833-3127
Check out: 24 Must-Try Restos serving Mouth-Watering BBQ & Ribs!
Karnevore – multiple branches
Serving up a variety of steak cuts – from Prime Rib to Wagyu T-Bone – as well as everything else meaty from chicken to fish, Karnevore will surely please your inner carnivore.
Wanna splurge on steaks?

Let Booky Discounts Help You Save at these Steak Houses
Blake's Wings & Steaks is an all-American diner that first opened in Marikina. It serves hefty portions of wings, ribs and steaks for the entire family to enjoy.
Must try: Original Porterhouse Steak served with Mashed Potato, Corn, and Carrots
Insider tip: With Booky, you can get up to ₱100 off your bill at their branches at Katipunan and San Roque!
View menu
Avail of a discount at their 2 branches
View their Instagram account

Akrotiri – Commerce Center
Akrotiri, which means peninsula, is the fusion of coastal food cultures from all over the world. They have taken the best styles and dietary dialects found on coastlines to your plate. They offer a wide selection of wines, spirits and beer that reflect our coastal blending ethos.
What to try: Wagyu Skirt Steak with Spicy Chili Jam, Roasted Vegetable, Paprika Aiol
View menu
View their Instagram account
G/F Commerce Center, Commerce Ave cor Filinvest Ave, Alabang, Muntinlupa
(02) 851-5449
La Spezia is an Italian hole-in-the-wall that serves timeless pasta dishes and dessert standouts.
What to try: Bistecca alla Florentina
View menu
View their Instagram account
90 Scout Dr Lascano St, Laging Handa near Tomas Morato, Diliman, Quezon City
(02) 960 6903
Spoon Eat + Drink is a modern-industrial cafe (designed by Craftsmith Living) in the South. Their menu and overall vibe is inspired by Napa Valley. Here you can enjoy excellent dishes like Couscous salad, Chicken Periperi, and a lovely Grilled Rib-eye Steak with Buttered Vegetables.

View menu
View their Instagram account
Unit 1A, 319 Aguirre Ave., BF Homes, Parañaque
+63 2 738-0085
Melo's Steakhouse, the first restaurant to offer Certified Angus Beef, is known for their incredibly sumptuous and tender steaks.
View menu
View their Instagram account
Westgate Alabang – Zapote Rd., Alabang, Muntinlupa
(02) 771-3945
A steak house where you can cook your own steak on a 350-degree lava rock, Steak House is the place to be if you're looking to personalize the cook of your steak and if you're looking for rich, savory dishes like Wagyu Foie Gras Burger.
Recommended dish: Ribeye Steak
View menu
View their Instagram account
55 Sct Rallos St., Diliman, Quezon City
(02) 866- 3807
Hai Chix and Steaks, a restaurant where East meets West under one roof and where you can get your fix of the savory steak or Hainanese chicken.
Recommended dishes: US Angus Porterhouse
View menu
View their Instagram account
Avail of a discount at 3 branches
Did you know that you can easily search for restaurants serving a specific dish or cuisine that you're craving for in the Booky App? Just type in 'STEAKS' and you'll see the list of restaurants serving this slab of goodness! Subscribe to Booky Prime now and get up to P500 off when you dine at one of our 300 Prime Partner restaurants!
Comments
comments