A gallon of love.
2020 is in 6 months. Let that sink in. Life's too short to say no to the things we really want. To all the milk tea lovers out there, why waste time on a single order of your favorite milk tea when you can cut to the chase and get what you deserve.
From here on out, when someone says "Parang makakaubos ka ata ng isang galon ng milk tea," the appropriate answer is "Oo, bakit?"
One of the most beautiful and innovative things in the food scene, especially for us foodies, is when a new creation arises from an idea that was previously too good to be true. In this case, it's Black Scoop Café that dares to bring to life a GALLON OF MILK TEA.
Imagine… a gallon of milk tea to share with your family and friends (or all to yourself, no one will know). The available flavors for this huge offer will be Wintermelon, Okinawa, and Original Milk Tea. And while the serving is unlike any other, you'll still get to customize it to your liking! Feel free to adjust the sugar level of your gallon. No need to worry about soggy pearls or sinkers either, because it'll be packaged separately ensuring fresh sinkers!
Price: One gallon for ₱850! Good for 15 people!
Mark your calendars, because their One-Gallon Milk Teas will be available starting June 20 at their Maginhawa branch. But the rest of Metro Manila won't have to wait too long, because the other branches will follow in July!
The team behind Infinitea has created an expansive and inviting coffee shop that offers additions to their already impressive line up of milk tea. They have a variety of coffee based drinks, all day breakfast meals, and snacks.
Among Black Scoop Cafe's past creations are the first White Rabbit Soft Serve, Yakult Soft Serve, Cherry Blossom Soft Serve, and Melona Honeydew-Flavored Soft Serve.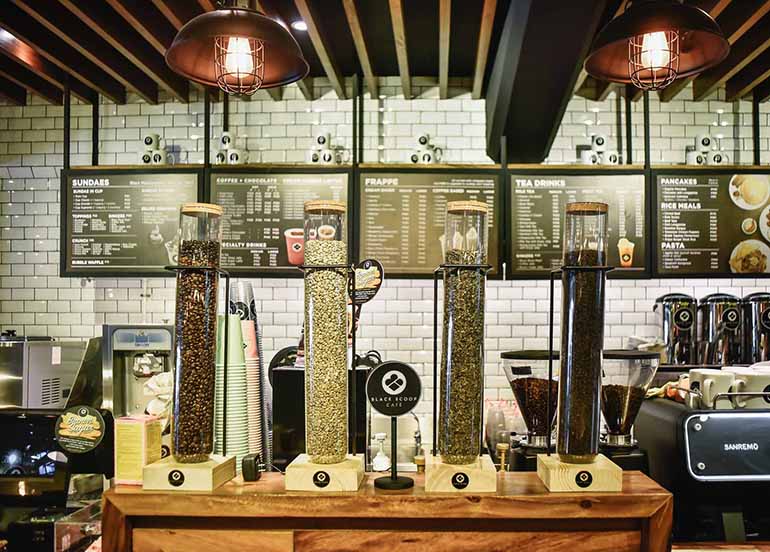 If the One-Gallon Milk Tea is too much, check this out:
Buy 1 Get 1 Wintermelon Milk Tea at Black Scoop
Treat yourself and/or a friend with Buy One Get One Wintermelon Milk Tea! Go on, you deserve more than just a pat on the back!

Price: Buy 1 Get 1 for ₱105!

To claim your BOGOs from Black Scoop Café just follow the steps below:
Download Booky's app and sign up for a free trial
Scan the QR code at the counter
Pick a coupon to avail
Guess what! Booky has more Buy One Get One promos waiting to be claimed! Just download the Booky app and go to the Buy 1 Get 1 tab to check out all the exciting food you can claim throughout the metro!

Remember to tag us in your photos with the hashtag #BookyTwinning to be featured!