They're back at it and we're not mad.
Black Scoop has been coming out with nostalgic flavors from childhood favorites like Nido, Swiss Miss, to Ovaltine. And while we've loved the major throwback, Black Scoop is bringing us something new and classic.
It's time to spread the word because Black Scoop's latest soft-serve ice cream is everyone's favorite spread. You might have already smeared it on some pancakes or maybe, you've eaten it straight out of the jar. Either way, you'll finally get to try out this popular chocolate-hazelnut spread in the form of indulgent soft-serve ice cream.
Introducing: Black Scoop's Nutella Swirl. Although the release date of their Nutella Swirl hasn't been announced, you'll be excited to know that you can try their classic flavor very soon.
We can't wait for this Nutella Swirl to be on our list of favorite Black Scoop soft-serves! For more updates, check out their Facebook page.
In case you missed it
Black Scoop won't stop and honestly, we're not mad. You might be thinking, "Another flavor?" and while we're thinking the same thing, we're still going to try it anyway. Mostly because their new and nostalgic ice cream flavors transport us back to our childhood days (and they're delicious).
This time around, Black Scoop is taking us back to when we'd have this chocolate malt snack after P.E. or after playing Chinese garter with the kids in our neighborhood (because our moms said they had vitamins). And while they do, that's not why we finished a whole pack in one sitting.
Any wild guesses, '90s kids? Black Scoop is serving up their latest Ovaltine Soft Serve, topped with the famous chocolate malt biscuit. If you enjoy your soft serve with some add-ons, Black Scoop provides a variety of sauces, candies for crunch, and sinkers, too!
Here's to all the 90s kids! For more on the latest scoop with Black Scoop's soft serve ice cream flavors, check out their Facebook page.
In case you missed it
Black Scoop's at it once again with their latest soft-serve ice cream flavor and honestly, it's taking us back. From White Rabbit to Nido, Black Scoop's been brewing up some nostalgic flavors reminiscent of our younger days.
And for anyone wondering which childhood snack (or perhaps, beverage) Black Scoop has up their sleeves, here's a hint: this one's usually topped with mini marshmallows, served warm, and perfect for Christmas mornings.
Got a guess? Well, Black Scoop's bringing out the big guns with one of our childhood favorites⁠— the popular hot cocoa mix, Swiss Miss! Since Christmas is right around the corner, we can't think of any other flavor better than Swiss Miss to fill us up with fond memories.
Price: ₱120 for Plain Cup
Add some marshmallows (+₱20) and Choco Fudge sauce (+₱20), and experience a blast to the past like no other. Don't Swiss Miss out on Black Scoop's new flavor (we tried). For more updates and new flavors, check out Black Scoop's Facebook page.
In case you missed it
What ties the milk tea experience together? The snacks, of course! And since milk tea hails from Taipei, Taiwan natives created a salty and savory snack that complements the sweet concoction perfectly— the very popular Taiwanese Chicken Poppers.
For those looking for a solid treat to pair with your milk tea, look no further, because a popular café in Metro Manila is serving up some Taiwanese chicken poppers to go with their classic milk tea selections.
You guessed it: There's no need to skip out on some bite-sized munchies, because Black Scoop Café has an innovative solution to your milk tea and snacking needs! The soft-serve and milk tea purveyor has created snack cups that you can place on top of your drink, so you can still sip on your milk tea while nibbling on chicken poppers.
P.S. It's the perfect treat for people on-the-go.
So, how about that? The milk tea experience has never been this great, especially if you need a quick pick-me-up. For more information, check out Black Scoop Café's Facebook page.
In case you missed it
When it comes to trendy but tasty soft-serve flavors, Black Scoop has changed the game for frozen desserts everywhere. With new and nostalgic ice cream flavors like Milk Tea, White Rabbit, Melona, and Yakult, and so much more, it's always an exciting time when a new one arrives.
But Black Scoop Cafe has outdone itself this time with the biggest throwback ever.
Nido Soft-Serve Ice Cream
Yup, Nestlé's Nido Powdered Milk! Anyone who grew up with this milk brand knows its simple but sweet and fragrant taste. While it's essentially "Nutritious Milk for Growing Kids," it doesn't mean adults can still enjoy it – and Black Scoop is here to prove that.
We're still waiting for more details, but you can find more information in their Facebook page. Get ready to pile on all their amazing toppings (or even boba) on this nostalgic treat!
In case you missed it
Ghirardelli Frozen Hot Cocoa Soft-Serve Ice Cream
With this ultra premium and sweet flavor, us Ghirardelli chocolate lovers can't deny that we're in love with the cocoa.
This is not a drill. Ghirardelli Chocolate graces the secret ice cream menu of Black Scoop. Available only at their Maginhawa branch for now!
The team behind Infinitea has created an expansive and inviting coffee shop that offers additions to their already impressive line up of milk tea. They have a variety of coffee based drinks, all day breakfast meals, and snacks.
Among Black Scoop Cafe's past creations are the first White Rabbit Soft Serve, Yakult Soft Serve, Cherry Blossom Soft Serve, and Melona Honeydew-Flavored Soft Serve, One-Gallon Milk Tea, Ghirardelli Chocolate!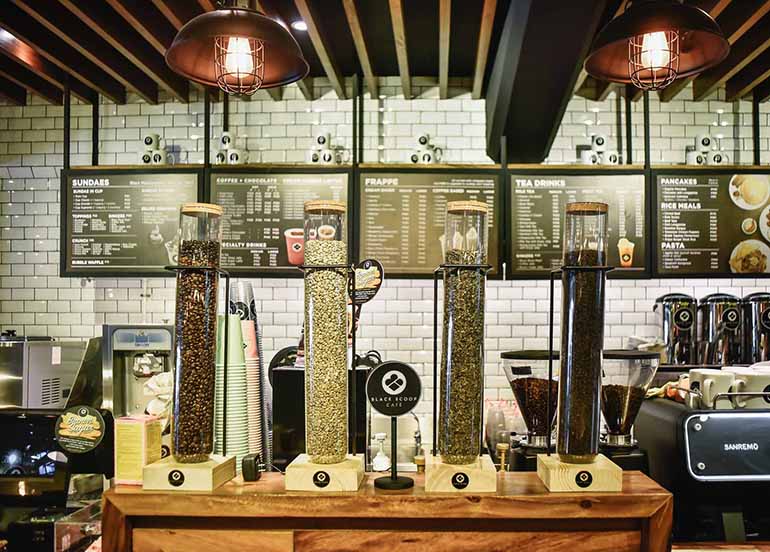 Looking for something sweet for you or for you and a friend? Check out their offers with Booky!
Classic Milk Tea Swirl with One Topping
Price: Buy 1 Get 1 for ₱135 ₱270!
Milk tea > Soft Serve for you? Check this out:
Taro Milk Tea
Price: Buy 1 Get 1 for ₱100 ₱100!
Iced Cherry Blossom
Price: Buy 1 Get 1 for ₱240 ₱120!
Large Hazelnut Milk Tea
Price: Two (2) orders for only ₱200 ₱140!
Large Okinawa Milk Tea
Price: Two (2) orders for only ₱240 ₱168!
Large Wintermelon Milk Tea
Price: Two (2) orders for only ₱240 ₱168!
Wintermelon Milk Tea
Price: Buy 1 Get 1 for ₱110 ₱220!
Thai Milk Tea
Price: ₱99 ₱110!
Tea/ Fruit Tea > Milk Tea for you? Check this out:
House Special Brew
Price: ₱90 ₱105!
Peach Lychee Fruit Tea
Price: ₱90 ₱105!
To claim your BOGOs from Black Scoop Café just follow the steps below:
Download Booky's app and sign up for a free trial
Pick a coupon to avail
Scan the QR code at the counter
View menu
Avail at participating branches
View their Instagram account
Guess what! Booky has more Buy One Get One promos waiting to be claimed! Just download the Booky app and go to the Buy 1 Get 1 tab to check out all the exciting food you can claim throughout the metro!
Remember to tag us in your photos with the hashtag #BookyTwinning to be featured!
Cover image originally from Let's Eat Pare®.