It's got brunch, heavy meals, and even cocktails!
Chickahan and catching up with your fellow millenial titas (or millenial titas at heart) may not be limited to certain times of the day. But, we bet, it's limited by certain places such as Makati and BGC; two cities littered with cafes and restaurants that serve up brunch, drinks, and looks for that post-chickahan group picture.
Also check out: 16 Beautiful Restaurants for Ladies Who Brunch
And though we may agree that these places are the quintessential tita spots, if you decide that you want someplace new or want to skip the traffic down south, we suggest you head to the north instead. More specifically, may we suggest that you try out BOA Kitchen and Socials – "the chickahan place for the millenial tita".
Book a table and get up to ₱300 off your bill!
More than just a Tomas Morato bar, BOA Kitchen and Socials is a restaurant with an ever-changing concept that performs intra-day transformations that'll give customers the experience of being in three restaurants without having to leave.
Fun fact: When asked about the inspirations behind BOA, the owner said that he was inspired by the boa and hat drawing from the Little Prince - the part where the kid sees a boa constrictor in his drawing and the adults see a hat - and the bakunawa from Philippine Mythology. 
If you decide to come in the morning or the afternoon, you'll be greeted with bright interiors and colorful walls that'll give your photos a sense of liveliness to match your youthful energy.
Tip: To see something cool in the photo below, tilt your head to the left and find the words "Always Change". These two words are related to their motto:  "Things Will Never Be the Same."
Come in or stay in the wee hours of the morning and be amazed at the sudden transformation of this restaurant from a brunch spot to a socials area where you can talk, drink and dine in a buzzing environment complete with bright neon lights and vivacious music.
Fun fact: If you plan to have events here, their place is customizable. You can go from having Toy Story themed baby showers to Game of Thrones-inspired bachelorette party. 
If you're already impressed, we suggest that you hold your breath 'cause BOA's got more up their sleeves.
Not only do their interiors shed like snakeskin when the moon comes out but their menu also transforms alongside their interiors.
Did you know? All of their dishes are prepared by Chef Julius Necor, a chef who worked for notable restaurants such as VASK, Galerie by Chele and BCN by Rambla. 
If you're planning to have brunch with your fellow titas, we suggest that you go to the restaurant from 9 AM to 6 PM. They serve up Australian brunch complete with your favorite easy comfort foods such as waffles, toasts, sandwiches, salads, wraps, pastas, rice bowls, and a dessert with familiar flavors.
Fun fact: If you want some brunch cocktails, the bar is open. 
Here are some of the best sellers and must-tries.
Waffle with Blueberries & Homemade Ricotta Cheese
Waffle, Blueberries, Ricotta, Honey
Full English Breakfast
2 pcs. Toast, 2 pcs. Breakfast Sausage Links, Roast Herbed Tomato, Potato Hash, 2 pcs. Bacon, 1 pc. Egg
Torched Salmon and Avocado Toast
Torched Smoked Salmon, Avocado Mash, Multi-Grain Bread
Note: This dish is seasonal. 
Sausage With Mashed Potato and Mushroom Gravy
Grilled Shueblig, Mushroom Gravy, Garlic Mashed Potato, Caramelized Onion
Cheese Burger
Grilled Beef Patty, Brioche Bun, Cheddar Cheese, Pickles, Fries
Crispy Chicken Sandwich
Crispy Chicken, Coleslaw, Pickled Cucumber, Sriracha Mayo
Shrimp Tostadas
Baby Shrimps, Corn Tortilla, Cucumber, Onions, Cherry Tomato, Lime-Aoili Dressing
Pulled Pork Adobo Rice
Pulled Pork Adobo, Garlic Rice, Fried or Sous Vide Egg, Pickled Veg
Cheesy Meatball Linguine
Cheese Stuffed Meat Ball,s Marinara Sauce
Deconstructed Banana Crumble Pie
Caramelized Banana, Crumbs, Vanilla Ice Cream
Grilled Octopus
Note: This is a new dish on their menu!
Don't fancy this cuisine? Then come in from 6 PM to 9 PM instead. They serve up Asian dishes inspired by Thai, Indonesian, and Japanese cuisine. You'll get heavier meals ranging from baos to Asian noodles, including a sweet twist on an Asian dessert.
Here are the two desserts you can avail during dinner.
Microwave Bibingka Cake
Bibingka Cake, Salted Egg Dulce De Leche, Arnibal, Melted Butter, Desicatted Coconut
Sticky Rice
Biko sa Gata, Mangoes, Tablea Sauce
Then, if you plan to stay later or want to pre-game before you go on your merry way to the nearby Tomas Morato bars, then come in at around 9 PM – 12 PM and witness the full exposition of BOA at night complete with cocktails you can enjoy.
Fun fact: On Saturdays from 7 PM to 12 MN, you can get 2 + 2 Sangrias and on Fridays, you can get either 1 + 1 Rose Wine glasses or 1 + 1 Rose Wing bottles. 
Here are some of the best-sellers:
Purple Potion
Sirena Butterfly Blue Gin & Tonic Water
Fun fact: It's said to be the cutest drink ever and possibly made with unicorn tears!
BOA Vice
Smirnoff Vodka, Monin Strawberry Puree, Fresh Lime, Pineapple & Coconut Cream
Cucumber & Basil Smash
Bombay Gin, Basil, Cucumber & Sour Mix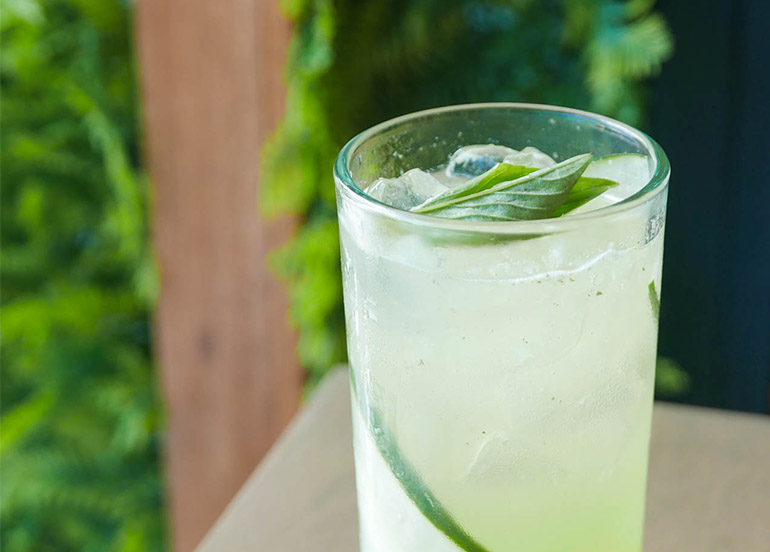 Margarita Spritz
Cazadores Tequila Reposado, Monin Agave Syrup, Fresh Lime, Orange Bitters, Guyabano Sorbet & Tonic Water
Fun fact: According to the owner, there are 8 ways to drink this cocktail. What those are, you just have to combine and experiment.
From morning till night, at BOA Kitchen and Socials you don't only get quality food but also hospitality no matter what skin it decides to show. Is there any better combination out there to spice up your chickahan session? Why don't you try out to know?
Head on to BOA Kitchen and Socials, book a table with Booky and get up to ₱300 off your bill!
View menu
View their Instagram account
ABDC Bldg, Sct Rallos St cor Sct Tuazon St., Laging Handa, Quezon City
(0928) 317-3772 | (0977) 707-8472
If you're not already enjoying the offline convenience of Booky, you can download the app for FREE! Whether you're on iPhone or Android, you get 1 month free on us. But why stop there? When you sign up for BOOKY PRIME, you can get up to ₱15,000 worth of Buy 1 Get 1 deals and unlimited discounts– all for just ₱199 a month. Your next bite is just a touch away.