You'd be K-razy not to try it!
When it comes to getting that satisfying, crispy, and flavorful bite of Korean fried chicken, no one can do it better than BonChon. An international chain that's grown into a household name, they're usually the first (and the last) place you think of when you're craving for some seriously good and crispy chicken.
Now flavorful inside and out, with perfectly fried chicken skin packing their signature crunch to tender and juicy meat- there's just something about Bonchon's fried chicken that hits the spot.
And if all of this talk about delicious Korean-style chicken has worked up your appetite, then your day is going to get a whole lot better!
We've been hard at work at Booky making sure that you get the best deals and offers in the Metro, and we're excited to announce our latest collaboration with Bonchon: Booky Prime members can enjoy BonChon's new flavor K-Classic Buffalo paired with Crunchy Garlic! Order 2pc K-Classic Buffalo Wings with Rice and 2pc Crunchy Garlic Drums with Rice combo for only P299!
2pc K-Classic Buffalo Wings + 2pc Crunchy Garlic Drums
That's right! Whether you're sharing this fried feast between friends or if you're really just that hungry, you get to enjoy a two-for-one combo of two pieces of wings, two pieces of drumstick, and two servings of rice!
Anyway you cut it- that's a lot of Korean-style fried chicken! So, let's break it down piece by crispy piece.
2pc K-Classic Buffalo Wings
Nothing beats a classic! Feast your eyes and fill your belly with BonChon's newest offering; the K-Classic Buffalo Wings! Made with hot and peppery Tabasco sauce, this mix of tangy, spicy flavors along with that BonChon crunch makes this dish one for the ages.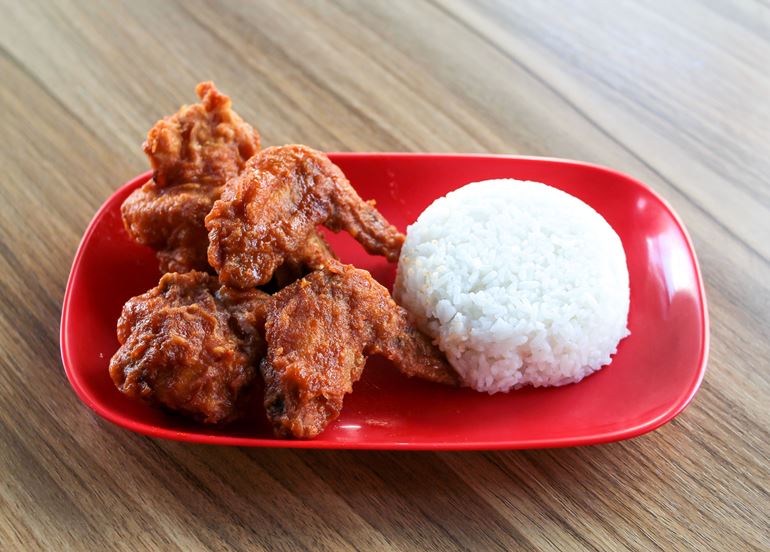 2pc Crunchy Garlic Drums
Bonchon's Crunchy Garlic Drums have been a fan favorite since the international Korean chain opened their doors – and it's easy to see why! Sweet and salty and with a taste that lasts, the Crunchy Garlic chicken is definitely a winner.
Ready to get your BonChon on? All you need to do is download the Booky app and enjoy this must-try two-for-one offer!
Get their K-Bundle offer for only P299!
Still k-raving some dessert?
If you find yourself craving something sweet after devouring that incredible promo from BonChon, then keep on reading!
This BonChon X Happy Lemon Collab is Bringing You Milk Tea Bingsu!
It comes as no surprise to many that if you're in need of a quick fix of milk tea, you can get it practically anywhere. But now, brands are changing the game and coming up with milk tea desserts like the Insta-famous boba milk tea cake, milk tea-infused popsicles, and even milk tea-flavored KitKat.
Now, two of the Philippines' well-loved brands have dropped a collaboration to give us a new milk tea dessert and we're freaking out. That's right. BonChon and Happy Lemon are bringing you their latest concoction, the Milk Tea Bingsu!
Bringing together BonChon's popular powder-fine Bingsu and Happy Lemon's famous Brown Sugar Pearl Milk Tea, we can't think of a collab much better than this. You can now get the Milk Tea Bingsu at a BonChon branch near you for only ₱99!
It's available now, so make sure to treat yourself. We definitely can't wait to try it! For more information, check out BonChon PH's Facebook page.
From international franchise to local favorite, BonChon Chicken has turned into a household name thanks to their signature Korean fried chicken, bibimbowls, and other explosive flavors. Easy, affordable, and downright delicious, take your tastebuds on a culinary trip at BonChon!
View menu
Avail at 137 branches
View their website
View their Facebook page
View their Instagram account