McRice Burger walked, so MOS could run.
Anyone remember McDonald's McRice Burger? Well, this famous Japanese burger joint is known for their own take on rice burgers and we're excited to say that they're coming to Metro Manila very soon.
Established in 1972, MOS Burger has been serving up a variety of savory burgers and eats as the second-largest burger chain in Japan. Over the years, they've started expanding their franchise in other countries such as Taiwan, Hong Kong, Thailand, Indonesia, China, Korea, and Australia.
Fun fact: 'MOS' stands for Mountain, Ocean, Sea
Set to open by March 2020 (according to Nikkei Asian Review), we've been excited for almost a year now and the wait may finally be over. MOS Burger will be opening a two-day pop-up store in Robinsons Galleria by January 2020.
While the dates are yet to be announced, we know that MOS Burgers will be offering two of their menu favorites: the Yakiniku Burger and the Signature MOS Burger. Their Yakiniku Burger is made with thinly sliced and marinated beef yakiniku, topped with lettuce, and sandwiched between two grilled rice buns.
On the other hand, their Signature MOS Burger is made with regular bread buns, a beef patty, lettuce, and their special sauce.
We're freaking out because this much-awaited burger joint is arriving sooner than we thought! For more information, check in soon. We'll make sure to update you on the dates of MOS Burger's two-day pop-up!
Craving for burgers now? Check out these Burgers for Every Budget in Manila!
What's great about a burger that is it's a delicious meal perfect for every occasion, and it's easy to carry around! You've got your protein, carbs, and veggies (ketchup is made from tomatoes, hence it is a vegetable). So whether it's the midnight munchies kicking in or you just think it's time for your weekly burger fix, make sure you're getting the most for your money!
If you've got P50
Jollibee is the country's largest fast food chain and the birthplace of the iconic Chickenjoy and Jolly Spaghetti. This take on the simple burger comes with cheese and the special Yum sauce.
P40.00
No reservations accepted
View their Instagram account
View their menu
See branches
McDonald's is a staple fast food chain all over the world. This classic comes with onions, pickles, ketchup, and American cheese.
P46.00
No reservations accepted
View their Instagram account
View their menu
See branches
If you've got P80
The Snack Shack is a favorite among the students of UP. When you're working with a school lunch budget, 100% beef grilled to perfection comes with tomatoes, onions, lettuce & condiments ain't half bad.
P90.00
No reservations accepted
View their menu
Area 2, Roces St cor JP Laurel Ave, Diliman, Quezon City
(0915) 259-2425
You've probably seen the Good Burgers sign on your stints in traffic around the city. They have vegetarian burgers that don't disappoint. Comes with good ol' mayo and ketchup.
P80.00
No reservations accepted
View their menu
Multiple branches
If you've got P150
Zark's Strike Out
Mushroom cheeseburger on a bed of fresh lettuce and tomato. Zark's Burgers is a popular university burger joint most known for serving greasy and jawbreaking burgers at student-friendly prices.
P139.00
No reservations accepted
View their Instagram account
View their menu
See branches
If you've got P200
Nothing like homemade brioche bun, B&B secret sauce for a simple yet oh so good burger! Come to Buns & Bros for the ultimate burger experience! Adventurous foodies and true connoisseurs alike will enjoy the black beer-bunned The Boss, the extremely spicy The Bomb, and other uniquely delicious handcrafted burgers.
Insider tip: Enjoy up to ₱200 off your bill!
View menu
View their Instagram account
2/F Ayala North Exchange, Ayala Ave cor Salcedo, Legazpi Village, Makati
(02) 7750-5377
House ground beef patty, tomato, iceberg lettuce, crispy onion, mustard relish, TE sauce, toasted homemade brioche bun. Pound is a spinoff of Todd English Food Hall's burger station. Everything is made in house from their beefy patties down to the toasted brioche buns.
P195.00
Insider tip: Enjoy Buy 1 Get 1 Secret Slider with 

Booky

! 

Read more here.
If you've got 275
1/4 lb Angus patty, bacon, pepperjack cheese, roasted tomato, grilled onion slab, BBQ sauce. The Great American Burger Joint is a fast casual restaurant serving handcrafted smashed burgers inspired by different regions of the US. They are also known for delicious wings, their best selling loaded nachos , hotdogs and amazing milkshakes.
P229.00
Reservations are not accepted
View their Instagram account
View menu
SM Supercenter Pasig, E Rodriguez Jr. Ave, Pasig
(0915) 389 7516
If you've got P350
8 Cut's Special Stacks
8 Cuts is a make-your-own burger joint serving handcrafted and 100% pure beef patty burgers. The name "8 cuts" is a reference to the 8 cuts of beef used in its custom burger blends.
P265.00 – 345.00
DNo reservations accepted
View their Instagram account
View their menu
Multiple branches
If you've got P400
Sweet Ecstasy, one of the most popular and hippest burger joints in Manila, serves 100% pure beef burgers in toasted brioche buns. It also serves wings, milkshakes and fries.
P370.00
No reservations accepted
View their Instagram account
View their menu
See branches
If you've got P450
Premium Kitayama beef patty topped with Refinery no-bean chili, smoked bacon, served on brioche buns, side of tiger slaw and wedge fries. Refinery is a third wave cafe but what sets it apart is that it also serves wine and cocktails.
P410.00
If you've got P550
Wildflour's California Burger
1/3 lb Australian wagyu beef, cheddar, caramelized onions, tomato. Wildflour Cafe + Bakery offers international fare and specialty breads and cakes. It's a bakery at heart and was the first purveyor of cronuts in Manila. It's for people who enjoy the feeling of slow Sunday mornings.
P520.00
If you've got P700
Grilled freshly ground grass-fed beef blend (short rib, chuck and brisket), with touch of bleu cheese butter, grilled brioche. Green Pastures is a farm-to-table concept restaurant by Chef Robby Goco of Cyma. It is one of the go-to places for clean, healthy and organic dishes.
P610.00
Lusso's Demi Pound Burger
US Beef, foie gras, cambozola bath Prosecco onions. Famous for their Foie Gras Burger, Lusso, which means 'luxury' in Italy, is a French-Italian restaurant, with charming and enticing interior that evokes the Old World elegance.
P625.00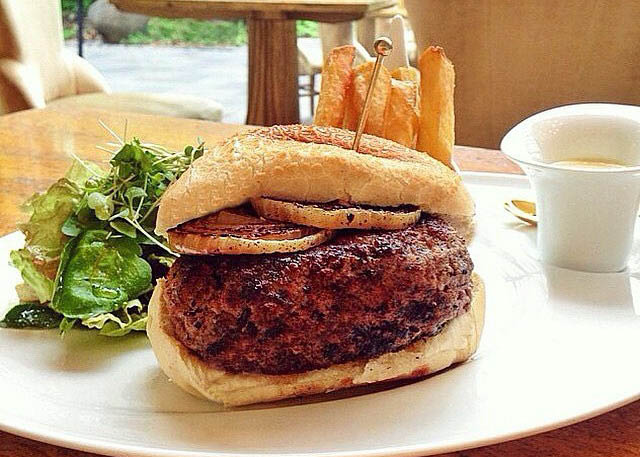 Reservations are accepted
View their Instagram account
View menu
G/F Greenbelt 5, Legaspi St, Legazpi Village, Makati
(02) 756-5893
Rambla's Foie & Wagyu Burger
Rambla is a Spanish-Mediterranean restaurant that applies modern techniques to create their well-loved specialties like the Beef Tenderloin with Foie Gras, Egg Bomb, Octopus Carpaccio and their signature paellas and cochinillo.
P695.00
View their Instagram account
View menu
G/F Joya building, Rockwell, Makati
(02) 823-6468
Found a burger that deserves to be on our sulit list? Tag us on Instagram @bookyapp #bookymanila so we can join your food trips around the city. We see you!
Download Booky and discover over 500 of the top restaurants in Metro Manila. Sign up for your account now on the web or in our app! You won't regret it.