"Let them eat cake!"
Let's admit it, celebrations aren't complete without cake! Whether that's a simple, one layer cake or a sophisticated tiered cake with unique flavors, cake is surely one of the things that'll make your day sweeter and o so much more special!
READ MORE: Check out the Top 10 Most Loved Restaurants in Metro Manila this month!
Craving for a piece now? Check out the list we've curated just for you of 20 of the Best Cakes in (and beyond) Metro Manila that'll surely satisfy your sweet tooth.
Chocolate Cakes
It may be the most basic of all cake flavors, but nothing beats a slice of a rich, moist chocolate cake.
If you're social media savvy, then you've probably stumbled upon Le Sucre Lab. Popular for creating the chocolate dreamcake – chocolate cake in a tin – they also serve dreamcakes in different flavors as well as truffles.
Must-try: Chocolate Dream Cake
Orders by reservation only
View their Instagram account
+63 995 775 7218 OR
+63 2 429-9784
A restaurant owned by Chef Baba Ibazeta-Benedicto – the chef also behind Classic Confection, Nono's serves modern Filipino comfort food. Get your fix of all-day breakfasts, big plates, pastas, and familiar main dishes.
Must try: Nono's Chocolate Oblivion Cake
Reservations are accepted
View menu
View their Instagram account
View their branches
If you love the desserts at Le Petit Souffle, you'll love Workshop. From the creative minds who gave us Scout's Honor and Poison Doughnuts, Chefs Miko Aspiras and Kristine Lotilla's bespoke bakery serves up desserts that'll surely satsify your sweet tooth!
Recommended dessert: 17 Layer Caramel Chocolate Cake
Reservations are not accepted
View menu
View their 2 branches
View their Instagram account
A popular home-based bakeshop located in the heart of Dasmarinas Village, Dimpy's treats no doubt proves that deliciousness can be a combination of the simplest ingredients.
Must-try: Chocolate Cake
View their Instagram account
1243 Acacia St., Dasmarinas Village, Makati
(02) 840-8086
Lava Cakes
A dessert with something sweet hiding within it's walls, Lava Cakes are perfect a bit warm and accompanied by a scoop of vanilla ice cream.
A large restaurant with an upscale food hall setting, The Food Hall by Todd English will take you around the world within 9 different food stations through their dishes inspired by international cuisines.
Must-try dessert: OMG Lava Cake
View menu
View their Instagram account
5/F SM Aura, 26th St cor McKinley Parkway, Fort Bonifacio, Taguig
(02) 621-4002
A go-to restaurant for comfort food, Cafe Shibuya will whet your appetite with their menu filled with a wide selection of dishes perfect for lunch and dinner as well as drinks and desserts!
Recommended dessert: Molten Cakes (in Original Dark cholate, Salted Caramel, Pistachio, and Strawberries and Cream)
Meet your match-a at Tsujiri, a Japanese matcha brand that serves up authentic, premium green tea drinks and matcha infused desserts.
Must-try cakes: Matcha Lava and Chocolate Lava Cakes
Insider tip: With Booky, you can get Buy 1 Get 1 Kuromitsu Jelly Latte for only ₱250!
Caramel Cakes
If you're looking for something that'll surely satisfy your sweet toothed friend, then we suggest that you get them a whole caramel cake.
A home-based cake supplier in Bel-Air, Makati, Costa Brava has been around for years now serving up nostalgic, comfort desserts.
Must-try cake: Caramel Cake
Online Orders/Powerplant's Weekend Bazaar
View menu
View their Instagram account
Polaris, Bel-Air, Makati
(02) 896-6872
Popular for selling pastries especially their luscious caramel cake, Estrel's has been there for every celebration for more than several decades.
Must-try: Caramel Cake
Online orders
View menu
54 Scout Tobias corner Scout Limbaga Street, Brgy. Laging Handa, 1103 Quezon City, Philippines
372-2965 | 371-7938 | 376-7317
A quaint, Japanese bakery and cafe, Kumori offers fresh and authentic Japanese bread and pastries that are light on the tongue and no doubt, satisfying.
Must-try cake: Caramel Crunch Cake
Tiramisu Cakes
If you want just the right amount of sweetness, then we suggest you get a Tiramisu Cake. It's perfect balance of sweet, bitter, and creamy are enough to give you exactly what you're looking for.
Straight from Seoul, Kiss the Tiramisu may be known for offering a dessert that combines tiramisu and ice cream, but they've got so much more to offer and by more we mean sweet treats perfect for breakfast, after lunch, and after dinner.
Must-try: Classic Tiramisu Cake
Insider tip: With Booky you can get Buy 1 Get 1 Fruit Drinks, Kissing Coffee, and Sikhye!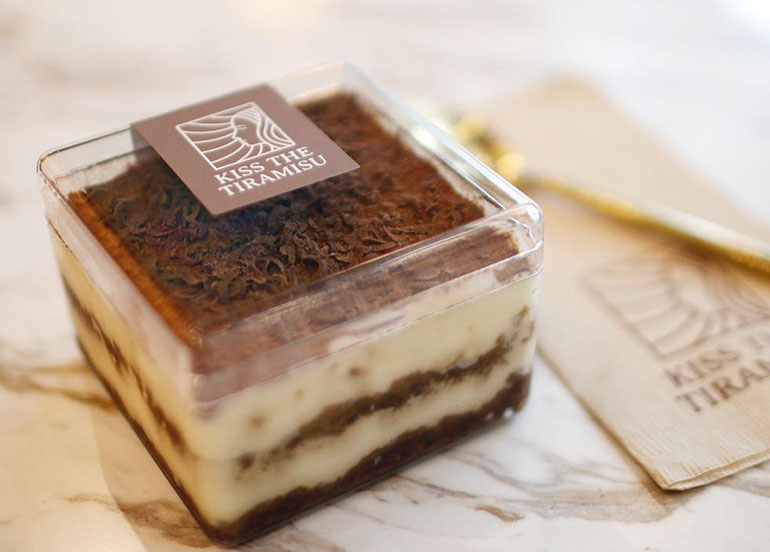 Get a taste of Paris at Bizu, a premier French patisserie offering signature Parisian-style pastries and desserts.
A casual wine and dine spot in Maginhawa, bring your friends at Grape Escape and you're sure to have a night of fun, honest, and straightforward dining.
Must-try dessert: Blueberry Tiramisu

View menu
View their Instagram account
99 Maginhawa Street, Teacher's Village, Quezon City
(02) 405-2546
Ice Cream Cakes
Sometimes one scoop of ice cream isn't enough to cool you down. So, instead, get a slice (or two) of a whole ice cream cake!
Offering frozen sweets and treats in a cup or in cake form, Cara Mia's Cakes and Gelato's sure to leave a smile on your face with every bite.
Must-try: Chocolate S'mores Ice Cream Cakes
Known best for serving up blizzards, Dairy Queen is the place to go-to when you want a simple yet exciting cold, sweet treat on a hot summer's day.
Recommended cake: Oreo Cake
Insider tip: With Booky you can get Buy 1 Get 1 Regular Oreo Blizzards which you can claim three times!
Serving up premium frozen desserts, beverages, and ice cream in 31 special and unique flavors for each day of the month, Baskin-Robbins has been serving these cold treats in nearly 50 countries, including, of course, the Philippines.
What to try: Ice Cream Cake
Insider tip: With Booky, you can enjoy Buy 1 Get 1 ice Cream Scoops on three flavors - Love Potion #31, Maui Brownie Madness, and Rainbow Sherbet Junior Scoop!
Frozen Brazo Cakes
They make look much but don't be fooled, Frozen Brazo Cakes are surprisingly light and have nostalgic Filipino flavors that every member of the family can enjoy.
A bakery that offers cookies, cupcakes, mini cakes, Bellefleur by Beatrix offers treats that can either have familiar flavors or out-of-the-box ones for the more adventurous of sweet tooths!
Must try: Frozen Ube Brazo
Offering up savory snacks to munch on as well as sweet treats to balance them out, have a sweeter life or at least end your day on a sweet note thanks to Sweet Life by Ange's desserts!
Recommended dessert: Sweet Surrender
View their website
View their Instagram account
Vernida I Condo, 120 Amorsolo Street, Makati
(0917) 823-8198
Other Notable Cakes
Not one to color in the lines? Check out these out-of-the-box, not-your-ordinary cake flavors that are just as unique as you are!
One of the most loved gourmet brands, Cupcakes by Sonja goes above and beyond by serving up various delectable desserts perfect for sweet tooths!
Must-try: Choco-Velvet Mash Up
Insider tip: With Booky you can get Buy 1 Get 1 Cake Slice for only ₱150!
A restaurant and cafe in Baguio, if you're planning to have weekend brunch or a heavy meal after finishing your weekend activities, might as well head on to Vizco's.
Must-try dessert: Strawberry Shortcake
View menu
Session Road, Baguio City
(074) 446-7085
You can now book a table via Booky and get up to 500 pesos off your bill at over 500 Prime restaurants across Metro Manila–that's money you could use for even more chocolate cake!
Don't forget to show us your own drool-worthy photos by tagging us on Instagram, @bookyapp.