'Cause let's admit it, chips are too small to satisfy our cravings.
Not all cookies are created equal? Want proof? Check out this Oxford cookie shop that serves up chocolate CHUNK cookies!
A shop that began as a small stall in Oxford Covered Market in 1983, Ben's Cookies is now an established cookie shop with stores in New York, London, Seoul, Tokyo, Bangkok, Dubai, Singapore, and as of July 16, the Philippines.
Fun fact: Ben's Cookies was founded by a cookery writer and chocoholic named Helge Rubenstein who named the business after her son, Ben. 
Known best for having cookies with chocolate chunks instead of chips, Ben's Cookies offers up a variety of cookie flavors that all have either white chocolate, milk chocolate, or dark chocolate cookie chunks. Among their popular and unique flavors are: Milk Chocolate Chunk, White Chocolate & Macadamia Chunk, Double Chocolate Chunk, and even Orange & Milk Chocolate.
Fun fact: Their cookies aren't only baked within the day but they are also soft, ooey, goeey, and no doubt, chocolate-y. 
Suddenly crave for some? Well, thanks to Ryan – the franchiser and fan of these cookies after his sister brought it home as pasalubong from Japan and after trying it freshly baked in Bangkok – you can finally satisfy your inner cookie monster by heading on to The Podium.
So, what are you waiting for? Treat yourself to one or a box of Ben's cookies! And if you're worried that you might not get the same experience you had in other countries, rest assured, the bakers straight from the Oxford Circus branch are here to ensure you get the same ooey, gooey, goodness you may have had at their other branches.
Are you a sweet tooth and love Instagram? Check out 11 Unique Instagram-Worth Dessert Spots to Try in Metro Manila
Who doesn't love cookies? Whether they're chewy, crunchy, moist, or fudgy, cookies are usually the go-to snack to satisfy one's sweet tooth. While chocolate chip is often the classic choice, we love it when the beloved comfort food is taken to new heights with unique ingredients like marshmallows, macadamias, matcha, and even miso.
Update: Enjoy unlimited discounts and monthly Buy 1 Get 1 coupons, subscribe to BOOKY PRIME for just ₱199 per month. Learn more here.
Keep reading to discover which restaurants, cafes, and bakeries serve the most decadent and delightful cookies. Don't forget to share with us your mouthwatering food shots by tagging us on Instagram @bookyapp and using the hashtag #bookymanila; your photo just might get featured in our next posts!
Known best for offering fried doughnuts, fried beignets, fried cookie dough, and recently, addictive, soft and chewy cookies, Overdoughs is the dessert shop to head on to for some small, and simple sweets that are sure to leave a smile on you and your friends' faces.
Aside from providing employment opportunities to people who are deaf, Overdough's also launched the GoOD project: Every time someone buys their cookies, a portion of the sales supports Deaf scholars of College of St. Benilde's School of The Deaf Education and Applied Studies.
Fun fact: Aside from their usual flavors - Cornflake Cookie, The OD Chocolate Chip, Ube White, and Choco Nutella - they've just released two new flavors that chocolate chunk cookie lovers will adore. 
Handled, made and done with love by Chef Kevin Ibert, Fluffly Yummy offers up cakes, financiers, and of course, ooey, gooey, luscious cookies that goes great with coffee, tea, milk, or ice cream.
Fun fact: These cookies are made with premium quality ingredients. And though they say that it must be consumed within 2 days at room temperature, trust us when we say, making it last that long is the least of your worries. 
The Wholesome Bakery can be found in all branches of The Wholesome Table. They have a full line of artisanal baked goods and pastries — some of which are nut-free, refined sugar-free, and vegan. Pair their delectable, gluten-free cookies with a glass of homemade cashew milk – call it a batch made in heaven!
Fun fact: With Booky, get up to ₱100 off your bill at their Salcedo Village and Bonifacio High Street branches. 
Reservations are accepted
View menu
View all branches
View their Instagram account
Flour Jar is a neighbourhood café + bakery in Las Piñas, specializing in many kinds of desserts such as cakes, cookies, and doughnuts. Their cookies are half baked giving them a soft, gooey center and a golden brown crunchy exterior. They're available in flavors like Chocolate Chip, Belgian Dark Chocolate, and Coco Mango.
View menu
View their Instagram
Unit C, Pilar Development Corporation, Rose Ave, Pilar Village, Las Piñas
(02) 824 31-52
Purple Oven is a bakery serving savory and decadent baked goods such as tarts, pies, and cakes. They have a number of cookie flavors, including: Reese's Peanut Butter Chip Cookie, Double Chocolate Chip Cookie, Chocolate Macadamia Cookies, Chocolate Dipped Cookies, Oatmeal Raisin Cookies, and Chocolate Crinkles!
Reservations are not accepted
View menu
View all branches
Chili's – multiple branches
One of the absolute best ways to improve a cookie? Baking it on a cast iron skillet, of course! This list would not be complete without Chili's famous chocolate chip skillet cookie is warm, gooey, and totally indulgent with it's topping of vanilla ice cream and a drizzle of fudge.
Reservations are accepted
View menu
View all branches
View their Instagram account
CookieBar is a pastry shop that specializes in all kinds of cookies! They are best known for their cookie shot glasses but they also make cookie cups, stuffed cookies, edible cookie dough, cookie cakes, and more. They are the official cookie supplier of Commune and Trufa Pasta Bar.
Orders are accepted
View their Instagram account
View website
Unit 1A RB&A Bldg, Kawilihan Lane, Brgy. Bagong Ilog, Pasig City
(02) 577-6838; (0917) 555-1228
Cy Ynares is the one-man team behind The Bald Baker. His home-based online bakeshop has a huge following thanks to his soft and chewy cookies. They come in a variety of flavors including Orange Miso, Milo Dinosaur, Black Sesame Matcha, and Ubae 22 – a fantastic ube cookie with hints of coconut that's made even more special with a topping of creamy vanilla bean cheesecake.
Orders are accepted
View menu
View their Instagram account
Order here
This online bakery is known for their incredibly thick cookies with badass names. Order their soft, chewy, and chocolatey Triple Threat; gooey, white chocolate-infused Adrenaline; and all-time favorite, cornflake marshmallow chocolate cookie Morphine. They are also the creators of the Campfire Cookie Bomb – a s'mores inspired chocolate chip cookie sandwich!
Orders are accepted
View their Instagram account
View website
(0915) 214-5737
Golden Cookie by Diane Gollon is an online shop that started specializing in premium soft baked cookies. Flavors include Red Velvet, Salted Caramel, S'mores, Brookie, Reese's Peanut Butter, and White Chocolate Almond among others. You can even call ahead for custom orders!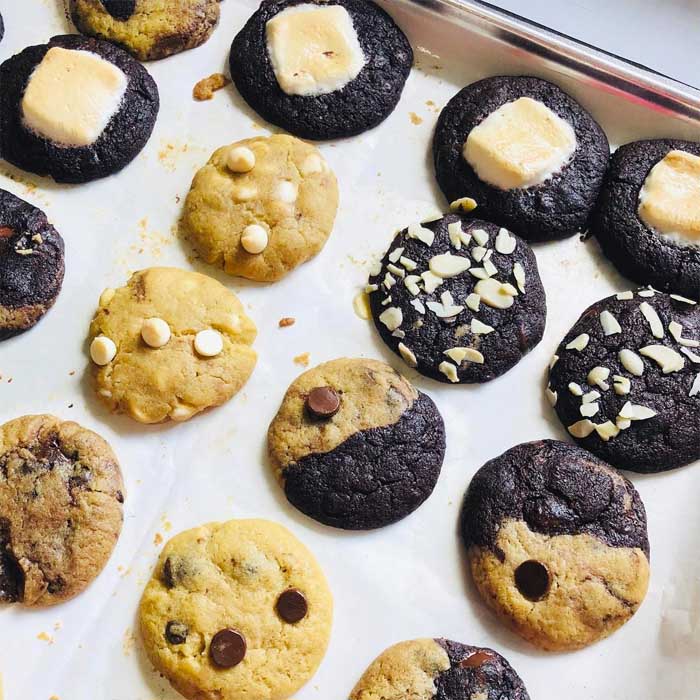 Orders are accepted
View their Instagram account
0917-886-0018
Tochi is the dessert shop inside Japanese restaurant, Ikomai. The Salcedo Village sweet stop offers cookies with flavors ranging from salted macadamia, espresso, matcha, peanut butter, and double chocolate chip.
Reservations are not accepted
View menu
View their Instagram account
G/F ACI Bldg., 147 H.V. Dela Costa St, Salcedo Village, Makati
(02) 816-4588; (0999) 887-0297
The French artisan boulangerie's chocolate chip cookies are fudgy and chewy with a crisp bite – you won't be able to stop at just one! They have them in white chocolate, milk chocolate, dark chocolate and dark chocolate oatmeal.
Fun fact: With Booky, you can get Buy 1 Get 1 Financiers for only ₱140!
Reservations are not accepted
View menu
View all branches
View their Instagram account
Scout's Honor is a craft-your-own cookie concept that takes a modern approach on the classic girl scout cookies. Their hot-off-the-oven signature cookies, monster cookies, cookie tarts are best paired with their homemade flavored milk.
Reservations are not accepted
View menu
View their Instagram account
Hole In The Wall, 4/F Century City Mall, Kalayaan Ave, Poblacion, Makati
(02) 887-2698
Known for offering bigger-than-your-palm chocolate chip cookies and other flavors of ooey, gooey cookies, at Mo's Cookies, you're sure to get your sweet tooth satisfied. Read our full feature on them here.
Fun fact: You can still get their cookies at the Mess Hall from Monday to Friday, 11 AM to 5 PM. 
View their website
Power Plant Mall
If you're not already enjoying the offline convenience of Booky, you can download the app for FREE! Whether you're on iPhone or Android, you get P1000 worth of savings on us. But why stop there? When you sign up for BOOKY PRIME, you can get up to P15,000 worth of Buy 1 Get 1 deals and unlimited discounts – all for just P199 a month. Your next bite is just a touch away.