Shut up and dance (with me)!
From frisky office parties to your local barangay halls, Filipinos just love to dance. And whether it's for fun or for fitness, it's hard to resist a good beat and a banging rhythm- so if you're on the prowl for a dance studio to learn more moves and get in shape, then you're in luck!
Booky has put together a list of some of the top dance studios all over the Metro! Whether you wanna represent your crew and work on your technical ability or if you just want a fun and stress-free way to workout, you don't have to go all the way to the 1 Million dance studio in Korea to find incredible dance studios fit for you!
Dance Studios in Quezon City
Groove to the music and share your passion for dance and fitness at a vibrant and dynamic hub in Araneta Center by the award-winning dance group, The Addlibs!
Try out One Dance Class Pass for only P350 P245!
Check them out here
2/F New Frontier Theater, General Malvar Ave, Araneta Center, Cubao, Quezon City
(0939) 904 2108
Elevate Dance and Fitness is a dance and fitness studio that guarantees to whip you into shape through various fun and challenging programs led by highly-trained dancers and instructors. Offering dance, yoga, and even circuit classes, each program is designed to enhance your cardio and flexibility, leaving your stronger and energized for more!
Get a Three-Class Pass to any class for only P1250 P850!
Reservations are accepted
Check them out here
View their Facebook page
2/F 148 D. Tuazon St, Lourdes, Quezon City
(0917) 731 8555
A staple of the Quezon City dance community, BP Dance Studio is one of the most trusted studios when it comes to teaching, living, and learning dance. From street dance to zumba, BP Dance Studio boasts a roster full of expert dance instructors that are sure to push your skill and fitness to the next level.
Check them out here
View their website
View their Instagram account
56 T.M. Kalaw St., Tierra Pura Homes, Culiat, Quezon City
(0917) 893 8191
If you've ever had a passion for dance and dreams of local stardom, then G-Force Dance Center might be the perfect fit for you! Learn the tricks of the trade from actual performers and dancers from A.S.A.P. and other ABS-CBN special projects and enjoy a crash course in Street Pop, Kids Class, Dance Hall, and more!
Check them out here
View their Facebook page
View their branches
Penthouse, IL Terrazzo, 305 Tomas Morato Ave Cor Scout Madriñan St., South Triangle, Quezon City
(0917) 843 6723; (0998) 523 6723
No matter what age you are, there's definitely a class for you at ACTS Dance and Arts Academy. A few of the classes that they offer are hip hop dance, ballet dance, lyrical hip hop, jazz funk, k-pop, and contemporary hip-hop. as well as their"company classes" which is a class that features dance groups who teach their signature style of dancing.
Check them out here
View their website
View their Instagram account
134 Timog Ave, Diliman, Quezon City
(02) 719 4062
Focused on offering choreography classes and special classes from the groups "Urban" and "Flow and Flava", ef. STUDIOS Dance Block gives you the chance to dance to your heart's desire while exercising and getting fit in the process. From beginners to experts, their classes are guaranteed to get everyone up and dancing.
Check them out here
View their Facebook page
View their Instagram account
Unit 301, 317 FBR Arcade, Katipunan Ave, Loyola Heights, Quezon City
(0915) 932 5717
If you're looking for workouts that are equal parts fun and challenging, Stardanz Fitness Studio is the place to go! They offer pole dance and fitness classes, aerial silk, and hoop classes at very affordable rates! Learn climbs, spins, tricks and dance routines while improving your core strength, balance and flexibility!
Get P200 off on Pole Spin, Stiletto, Aerial Silk classes and more!
Check them out here
G/F Landsdale Tower, 86 Mother Ignacia Ave, Diliman, Quezon City
(02) 921 8880
Dance Studios in Makati
One of the Metro's top dance schools, Steps Dance Studio has become renowned for creating a fun, challenging, and rewarding environment for students of dance to learn and grow. Aside from their dance classes, they also offer heart-pumping and sweat-inducing fitness classes such as Zumba and Pilates.
Try out their Zumba Class for only P500 P385!
Check them out here
View their website
View their Instagram account
8465 Kalayaan Ave., Poblacion, Makati
(02) 621 6186
Offering several varieties of classes, categorized under vigor dances, soiree dances, groves dances, and technical dances, M Studio has a ton of options for every skill level! One notable class that they offer, labeled "First Dance", is catered to couples who want to be able to dance well on their wedding day.
Check them out here
View their website
3/F 1012 San Antonio St., Oakridge Plaza, Paseo de Magallanes, Magallanes, Makati
(02) 772 8240
Dance Studios in Pasig / Mandaluyong
It's never too late or too early to cover the basics! Dance Basics is a ballet and modern movement studio that welcomes both kids and adults alike, proving that dance is for everyone and that everyone can dance.
Enjoy 50% off on Pre-Ballet and Children's Ballet Classes
Check them out here
View their Facebook page
3/F 69 West Capitol Drive, Kapitolyo, Pasig
(02) 671 2409
One of the Metro's foremost aerial arts and pole fitness studios, Polecats Manila has established itself as a premier destination for those who want to learn, move, and be empowered. From daring pole classes to breath-taking aerial silks, sign up for a Polecats class today and discover a stronger, more confident, and fearless version of yourself.
Get One Week of Unlimited Classes for only P1500!
Chem them out here
22/F Strata 100 Bldg, F. Ortigas Jr. Rd, Ortigas, Pasig
(02) 631 0818
Move to a better you! Movement Dance Studio is a modern studio that offers a comprehensive list of dance and movement classes for all ages. From ballet to belly dance, hip hop to aerial hoops, and everything in between, there's sure to be something for you at Movement Dance Studio.
Enjoy a Class Pass for Two for P1300 P650!
Check them out here
Unit 2008, 20/F AIC Burgundy Empire Tower, Garnet St cor ADB Ave, San Antonio, Pasig
(0918) 823 6588
Queen's Dance Studio offers more than their specialty of basic jazz. In fact, a few of the more unique classes that they've offered are dance classes instructed by a famous dance company in the Philippines called "The Addlib" as well as vogue workshops.
Check them out here
View their Facebook page
108 P Cruz St, Mandaluyong
Silver Pod Studios believes in the power of dance- no matter the situation! Aside from offering tap dance and yoga barre, Silver Pod Studios also offers dance classes for moms who want to carry their babies as they dance and movement classes for those diagnosed with Parkinson's disease.
Check them out here
View their Facebook page
View their Instagram account
91-C East Capitol Drive cor Sta. Clara, Kapitolyo, Pasig
(0917) 877 6435
Currently offering classes for classical ballet dance, jazz, hip-hop dance, and yoga barre, JNA Dance and Fitness Center has well-lit and spacious dance studios where you, your family, and your friends can have fun dancing and get fit in the process! The more the merrier right?
Check them out here
View their Facebook page
View their Instagram account
5/F Main Wing Shangri-La Plaza Mall Edsa cor Shaw Blvd., Mandaluyong
(02) 633-7871
Dance Studios in Paranaque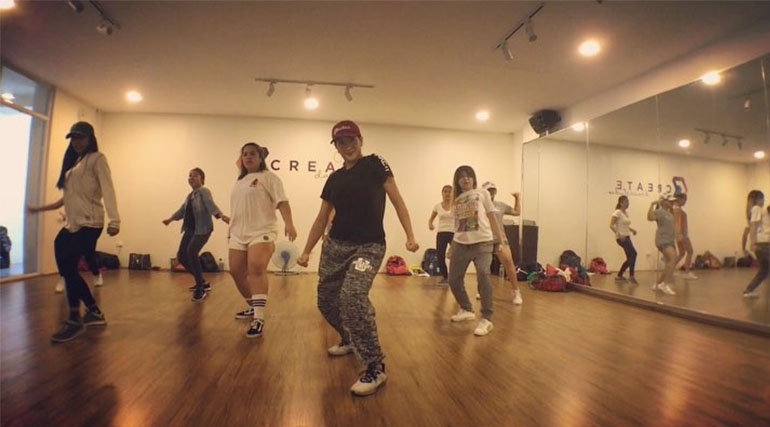 Nervous over having two left feet? Worry no further! Create Dance Studio has classes that'll guide you the steps of different dances. They offer several classes such as jazz funk, pop, hip-hop, dancehall, kpop, and even dances that are choreographed by their own team.
Check them out here
View their Instagram account
3/F, ALS Bldg, Aguirre Ave, BF Homes, Paranaque
(0949) 406 8071
If you're not sure if dancing is for you, you can jumpstart by taking a class in one of these studios. You'll do more than just get fit! You'll find yourself part of a dance community and movement that will last you for the rest of your life.
We're more than just food at Booky and we're here to give you the lo-down on the best things to do and discover all over Metro Manila—food, fitness, beauty, and more. Download the Booky app for FREE to discover today's best idea.