Escape the stresses of work or school with these offers!

A service, when done well, can feel like it can transport you to another world, one that's free of the worries that weigh you down every day. And with the demands nowadays for people to be present and always available for work, if you fail to avail of services that'll help you destress, burnouts will surely be inevitable.
So, detach for a while and take a break or two by having a personal pampering session. Whether that's on your nails or your whole body, take the opportunity to step into a world of comfort at no other place than Nailandia.
We decided over at Booky that it's high time to go beyond food and give you more. There's so to do and discover and we're opening up Metro Manila to help you find your flavor starting with fitness and beauty. The new and improved Booky is stronger and cuter than ever.
Offering services for men, women, and kids ranging from nail care to foot care and even hair care, Nailandia's perfect for when you and your whole family decide to spend the weekend simply relaxing.
Check out their discounted package and individual services down below!
Finest Enchanting Pleasure Package
Inclusive of a manicure, pedicure, whitening foot spa, and 1-hour massage (Shiatsu or Swedish)
Price: ₱1,050 instead of the original ₱1,550
Nailandia Women's Manicure + Pedicure
Price: ₱275 instead of the original ₱550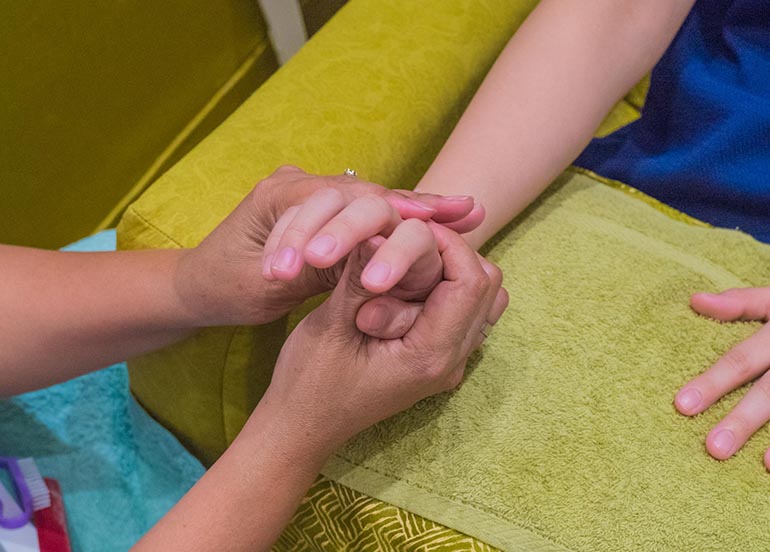 Nailandia Men's Manicure + Pedicure
Price: ₱289 instead of the original ₱595
Slimming Massage
Price: ₱299 instead of the original ₱600
Aromatherapy Massage
Price: ₱249 instead of the original ₱500
To claim your discount from Nailandia, just follow the steps below:
Download Booky's app and sign up for a free trial
Scan the QR code displayed at the branch
Pick a coupon to avail

View their service list
View their Instagram account
2/F Rockwell Business Center, Sheridan, Pasig
(02) 745-1559
Want to have more relaxing moments? You can type in "MASSAGE" or "WELLNESS" on the Booky app to discover the best places to unwind in Metro Manila.
We're more than just food at Booky and we're here to give you the lo-down on the best things to do and discover all over Metro Manila—food, fitness, beauty, and more. Download the Booky app for FREE to discover today's best idea.