Book a table and get ₱300 off!
Remember the time when chunky walkie-talkies were a thing, taking turns on the landline phone was on the daily, and meeting up with your friends after school to ride around the neighbourhood with your bikes was something you refused to pass up?
You can enjoy ₱300 off everyday at Derive Cafe with Booky!
Get ready for a surge of nostalgia as you step into this colourful and newly opened '80s themed cafe in the Muntinlupa.
The first '80s arcade cafe in the south, Derive Cafe, has all the childhood feels; from their classic arcade machines, board game selections, and walls filled with '80s icons, the cafe will make you feel like a kid again. If you're part of the younger generation, it might even make you wish you were born earlier… as what many say, the '80s was a time to be alive!
Step inside and be greeted by the cafe's brightly-coloured hues of pinks and blues paired with neon lights that'll take you back to that colourful era. If there was Instagram back then, we're pretty sure it'd be the golden age of Instagram aesthetics.
The owners chose the word, "derive", because they take inspiration from their interests and turn it into realty. They also plan on deriving other ideas for more concepts aside from their current '80s themed café.
The cafe is adorned with various '80s icons from well-known personalities to classic fictional characters; from superstars like Michael Jackson, Madonna, Freddie Mercury, and Nora Aunor to iconic characters such as Darna, Mega Man, Mario, Peach, and a special appearance by the Super Mario Piranha Plant. Lastly, you'll also notice a number of classic '80s films on their walls like Back to the Future and Star Wars.
Insider tip: There are 13 arcade games to choose from! They have Donkey Kong, Galaga, Pacman, and more!
Already falling in love with the place? You could actually reserve the whole cafe for just a minimum of 60 pax. They also have function rooms available if you're planning something more intimate.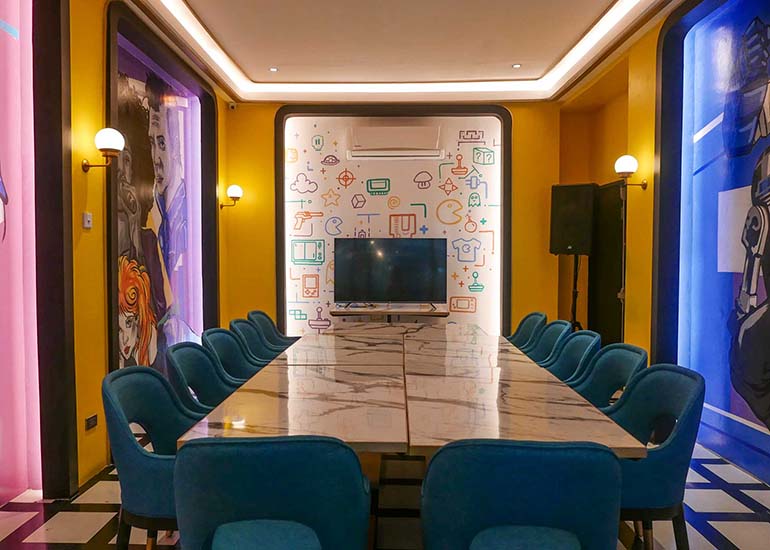 Fun fact: The toys in the claw machine come from Gawad Kalinga + Plush & Play and each toy helps Karaw Craftventures.
Derive Cafe's cuisine is American but with a Filipino twist that's centered in childhood favourites. You have dishes like their Laing Linguine Pesto, Luksong Baka Tapa Salpicao named after the popular street game, a Viva candy infused drink as Diva Viva Salted Caramel, and also a chocnut infused one as Mr. Chocnut Chocolate Frappe.
Ultimate Crossover Appetizer Sampler Set
Pork Sisig Tacos
Triple Cheese BurgerTime
Freeway Chicken Parmigiana & Fusilli
Bowser Adobo BBQ Ribs
Comes in either Plate, Half Slab, or Whole Slab
Mr. Chocnut Chocolate Frappe
Café Latte
Café Mocha

View menu
View their Instagram account
4/F Madison Galeries, 398 Don Jesus Blvd, Cupang, Muntinlupa City
(0917) 166-1073
So what are you waiting for? Derive Café invites you to, "Go back in time, sip, dine, and play at the Derive Café!" See you there!
Wanna get a head start on food, fitness, and beauty this 2019? Download the Booky app and enjoy even more amazing amazing offers and discounts from your favourite spots all over the Metro!