Get ready for #TheFilpinoOkonomiyakiExperience
Dohtonbori was established in Tokyo in 1990 and is hailed as the #1 okonomiyaki restaurant chain in Japan. With over 300 stores worldwide, including multiple locations in Thailand, Taiwan, and now, Manila – Dohtonbori has proven their okonomiyaki dishes to be out of this world.
Book a table here and get a discount!
Here on our turf, their grill is only starting to heat up! They are the first and only authentic Japanese restaurant in Manila that not only lets you cook-your-own okonomiyaki, but also offers affordable yakiniku platters!
While the chain has been embraced from the moment they arrived on our shores in November 2015 — a recent announcement from the brand has shown how we Filipinos have left an indelible mark on them as well. This is why, starting on Friday, August 17, Dohtonbori will be proudly launching #TheFilipinoOkonomiyakiExperience just in time for Buwan ng Wika!
The limited series pays homage to three local dishes we hold close to our hearts:
Kare Kare Okonomiyaki
You'll have to take our word on this, but — the flavors of okonomiyaki complemented the ingredients of kare-kare perfectly! Chunks of beef, eggplant, and stringbeans are tossed into okonomiyaki batter then coated generously with thick and savory kare-kare sauce. A sprinkle of peanuts and a dollop of bagoong completes the dish.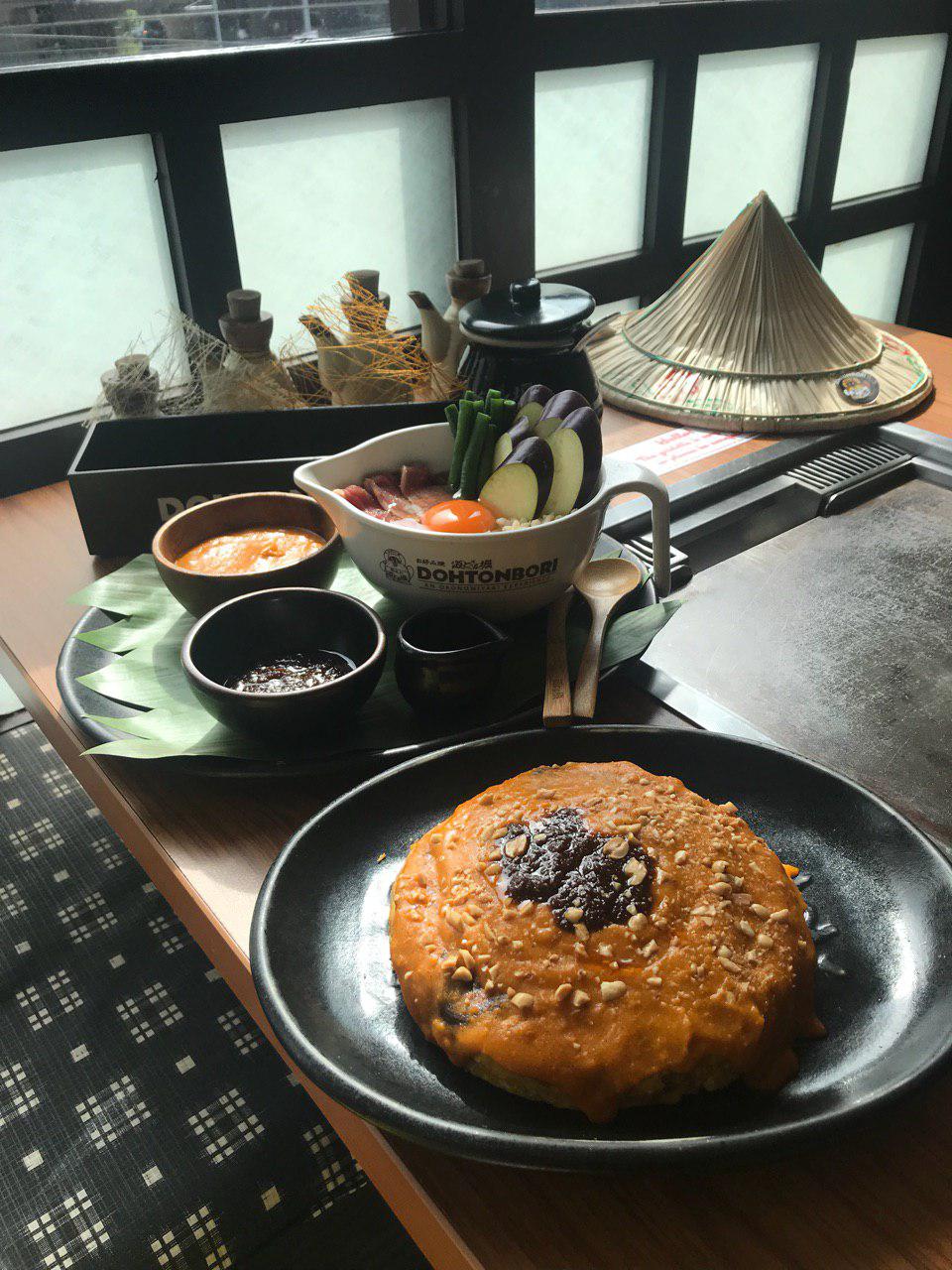 Bicol Express Okonomiyaki
This fusion okonomiyaki is sure to spice up your day — we mean that quite literally! Bicol Express is beloved for its combination of savory, sweet, and sour taste, but what makes this dish a hit is the milky coconut sauce which balances the fiery chili. This is a dish that bites and kicks back.
Sisig Okonomiyaki
If you thought okonomiyaki couldn't sizzle on the griddle more than it already does — you've probably never thought of marrying sisig with it. Thankfully, the brilliant (and evil) minds at Dohtonbori are determined to ruin your diet! This one is the most sinful – topped with crunchy chunks of pork, a fried egg, and that familiar drizzle of Japanese mayonnaise.
Fun fact: Okonomiyaki is derived from the world okonomi which means "what you like" and yaki which means "grill."
Plain and simple, from the name of the dish alone — there are no rules. Grill what you like! Skeptics may think it totally crazy and even a little foolish for a restaurant to tamper with their signature dish. Believe us, this is more than a gimmick! The flavors makes sense. You'll have to try it for yourself. The series will be available starting Saturday, August 17, 2019.
With this distinctly Filipino line up, Dohtonbori reimagines and pushes the boundaries of what the okonomiyaki can be.
---
If you're committed to turning Japanese though, you might as well go all the way. With their unique ambiance and design, you'll definitely get the full Japanese dining experience.
Insider tip: Check out their unique lantern room in their SM Megamall branch!
IN CASE YOU MISSED IT
The okonomiyaki masters are taking things to the next level as they offer unlimited okonomiyaki and yakiniku. Get your chopsticks and your stomachs ready because things are about to get hot! For their SM Megamall branch's first year, they're celebrating with loads on our plate.
Unlimited Okonomiyaki
Choose from Four Cheese Okonomiyaki, Pepper Kalbi BBQ, Veggie Supreme, and Butatama (Pork)!
Set your sushi and sashimi cravings aside for a meal and get ready for a fun and unique Japanese dining experience. With high-tech griddles built to maintain exactly 190° temperatures, your okonomiyaki is guaranteed to be grilled perfectly.
Unlimited Yakiniku
Choose from Kalbi Yakiniku (Kalbi Beef), Pork Yakiniku, and Chicken Shio!
The unlimited okonomiyaki and yakiniku is available from Monday to Sunday at the SM Megamall branch.
TERMS & CONDITIONS
1. Eat-all-you-can menu includes okonomiyaki (Butatama, Pepper Kalbi, Four Cheese, and Veggie Supreme) Yakiniku (Chicken Shio, Kalbi, and Pork), and rice
2. Maximum time is 2 hours per person.
3. Smaller customers get a special discount and only pay P299+, ask your buddy to measure their height and see if you are cool enough for this price!
4. Not valid in conjunction with other promos or discounts.
5. Additional ₱1,000.00 per 100 grams of leftovers and for not observing the no sharing policy, and any takeout is not allowed.
6. Promo Duration is until August 13.
In order to get okonomi or exactly what you want, you've got a wide array of savory options that will fill you up with the perfect pancake. But of course, there are other tasty options.
Okonomiyaki
They have over 8 choices for okonomiyaki including 3 Meat, Pepper Kalbi BBQ, Veggie Supreme, and more.
Insider tip: Don't worry because they have written instructions or you can also ask help from your dedicated server.
Fun Fact: Dohtonbori's Japanese mayo is especially formulated by Kewpie, a company famous for producing Japanese mayonnaise.
Sukiyaki
Butatama (Pork)
Quattro Formaggi Pizza
Yakiniku Party
Comprised of 3-Meat Yakiniku, Deluxe Seafood Yaki, and Premium Yaki Mix
Ramen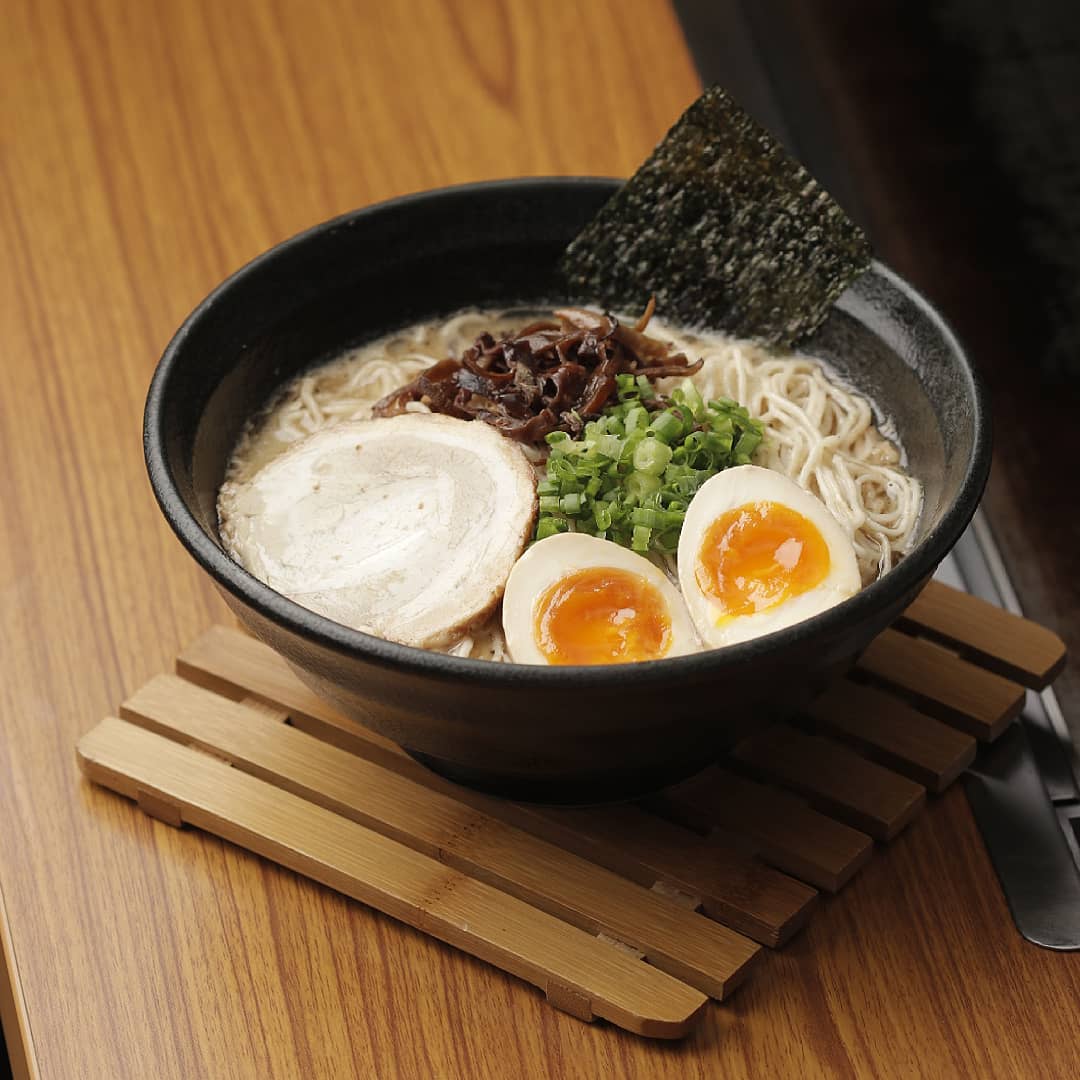 Katsudon
Radish Seaweed Salad
Garlic Angus Striploin
Omusoba
Wrapping up with a nightcap? The ambiance alone will want you to hang around longer and get a drink with friends and family, but with their beverages, you won't want to BEER anywhere else.
Alcoholic Chu-High
These shots will GET CHU-HIGH! Choose from Lemon, Lime, Green Apple, Yuzu, Mikan Orange, Strawberry, Apple.
Insider tip: A traditional Chūhai drink is often composed of Soju and carbonated water flavored with lemon.
Get your chopsticks ready and book via Booky to get up to ₱300 off plus FREE dessert!
View menu
Claim at 6 branches
View their Instagram account
3/F SM Megamall, Mega Fashion Hall, Ortigas, Mandaluyong
(0917) 702-3743
Watch out because The Booky Report is going to bring you more stories, lists, and news on all things edible!
For more food, food, food, download Booky and discover 900 of the top restaurants in Metro Manila and just watch as your foodiverse explodes!