Eggciting! *Restaurant is permanently closed*
Eggspresso is one of the newest cafes to open along J. Abad Santos. As the unique name would suggest, this Instagram worthy brunch spot serves egg-centric dishes and caffeinated beverages.
Also read: 15 New Beautiful Restaurants for Ladies Who Brunch
Don't be fooled by the restaurant's seemingly small exteriors! Step inside and you'll find that every nook, cranny and corner of this cafe deserves a place on your Instagram feed.
Read more: Check out the Top 10 Most Loved Restaurants in San Juan this month!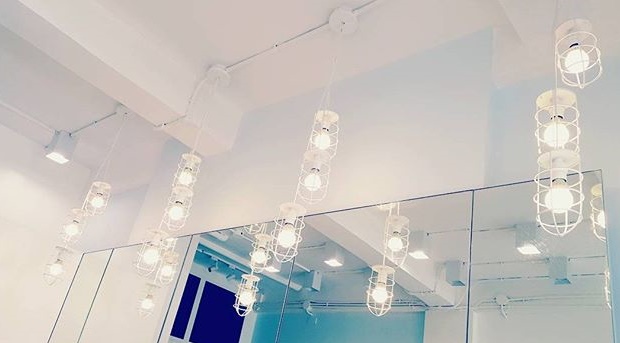 Eggspresso opens at 8AM from Monday to Friday, at 10AM on Saturdays and is closed on Sundays.
The 10 main course menu items all have one thing in common: eggs. Choose from a variety of hefty breakfast options, lunch plates, and pasta. Here are a few snaps of their specialties.
Protein Punch
German frank, smoked glazed bacon, creamy scrambled eggs, grilled tomato and toasted brioche – the ultimate platter, only for the hungry!
Rice With B.A.E.
Eggspresso's take on Gyudon – Beef stewed in a sweet broth topped with soft boiled egg on steamed rice
The Local
The Filipino favorites all in one dish – pork adobo fried rice topped with salted egg salsa
Eggsalada
Brioche toast, arugula and our special 6-minute egg salad served with grilled tomato
KSP Rice
Kimchi fried rice, caramelized Spam and mozzarella cheese topped with poached egg
Bangus Sisig
Eggs In Heaven
Two eggs baked in a bed of onions, spinach, mushroom and cream sauce topped with Parmesan cheese, served with toasted brioche (For Dine-in only)
Eggs In Hell
Two eggs baked in a bed of onions, bell pepper, chorizo and tomato sauce topped with crumbled feta cheese, served with toasted brioche (For Dine-in only)
Carbongga
Eggspresso's version of carbonara with homemade longganisa, sunny side up egg and alfalfa sprouts
Flip & Fluff
Crisp and soft French toast with a citrus kick, drizzled with mocha sauce and vanilla ice cream (contains a small amount of alcohol)
Insider tip: You can order your food to go if you're in a hurry.
Of course, this place wouldn't be complete without coffee. Eggspresso serves your usual coffee concoctions like cappuccinos, lattes, and iced blended beverages. They also have a special Eggspresso Iced Tea if you're not so big on coffee.
They even have salted egg chips in store if you're addicted to this trendy snack. Homemade cookies are also available.
They just opened early this month. Be one of the firsts to try it and don't forget to tag us on Instagram @bookyapp and hashtag #bookymanila so we can join your fun food adventures!
No reservations accepted
View their Instagram account
G/F G&L Building, J. Abad Santos cor V. Cruz St, Little Baguio, San Juan
(0977) 805-8990
You can also view this restaurant in the app; if you still haven't, download Booky for free on iOS and Android and enjoy the convenience of searching and booking restaurants OFFLINE!