It might sound crazy but these lasers ain't no lie, baby, bye bye bye [to those blemishes]
Laser treatments are the saving grace of our skin. They treat a whole lot of concerns such as how to remove scars, hyperpigmentation, large pores, sun spots, and many more that if you haven't tried it out yet, best believe you should consider giving them a go.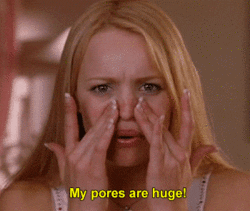 Whether you're looking for a scar treatment, how to get rid of acne marks, or diminish fine lines… these lasers are your best bet. We've created a run down of the most popular laser treatments so you could have an idea on what's right for you.
Fun Fact: LASER actually stands for Light Amplification by Stimulated Emission of Radiation
CARBON LASER PEEL
A Carbon Laser Peel is best for acne prone skin as it helps control excess oil, pigmentation, large pores, and overall brightening of the skin.
A layer of carbon is applied on the face and followed by the Q-Switched type of laser that will slowly but surely blast away the carbon removing blackheads and dead skin cells along with it.
LASER GENESIS
This type of laser treatment is perfect for those suffering from rosacea. Laser Genesis also doesn't have any downtime so you'll immediately leave the clinic looking better than when you entered.
The treatment boosts collagen production in order to address skin concerns like fine lines, wrinkles, light acne scarring, and of course redness.
FRACTIONAL LASER
There are two types of fractional laser treatments that we'd like to focus on, Fractional CO2 Laser and Fraxel.
The Fractional CO2 laser pokes tiny holes into your skin to help promote collagen growth. This type of laser is best for removing acne marks and scars. There is some downtime to this but rest assured you'll be glowing in no time!
The Fraxel laser treatment, on the other hand, can also treat acne scars and marks but it also works well for wrinkles, crow's feet, and sun damage. A type of numbing cream is applied all over the face minutes before the actual laser goes over your face. Similar to the Fractional CO2 laser, there will be some downtime but it depends per person how long as it can take 2-4 days. It can be quite expensive but the usual number of sessions only range from 3-5.
PULSED DYE LASER
The Pulsed Dyed Laser, also known as PDL, is perfect for those looking to treat visibly broken capillaries or broken blood vessels. It targets the blood vessels with heat and leaves the surrounding skin undamaged.
There is a bit of downtime that will last a bit more than five days and usually more than one session is required.
REVLITE
Revlite is a non-ablative laser that targets uneven discolouration of the skin like sun spots and acne marks, this treatment also has no downtime and takes around 15-20 minutes.
Some clinics also offer Revlite to brighten their underarms.
IPL
Popularly known for hair removal, IPL or also known as Intense Pulsed Light can also be used to treat sun damage as well as age spots and other skin blemishes.
Also read: The Ultimate Guide to Facial Spas Around Metro Manila
Topical creams just won't do especially for deep scars. They're now a thing of the past when it comes to these powerful lasers and many swear by them as their top scar treatment!
We know how these can get quite expensive so maybe you'd like to check out some of Booky's beauty offers to help you with your budget; below are some of the many offers you can enjoy, you could also check out other treatments here.
Looking for a safe and quick procedure to revitalize your skin? The Dermatology Suite is offering their effective Revlite Laser Toning treatment- a procedure that improves your face's complexion by increasing collagen levels! Say goodbye to acne scars and visible pores in an instant!
Price: ₱6,000 ₱4,200
Check them out here
Suite 539, 7th ave cor. Lane T, Avida Cityflex Soho Tower, Fort Bonifacio, Taguig
(02) 759-6368; (0917) 708-0168; (0917) 179-3762
Restore damaged skin with CLG'S Carbon Laser Peel! Treat your skin to their patented carbon peel and remove stubborn acne scars and blemishes while restoring your natural glow!
Price: ₱5,000 ₱3,500
Check them out here
View their Instagram account
592 J P Rizal St., Concepcion Uno, Marikina
(02) 918-7951; (0956) 403-2200
Do you want that red carpet worthy skin? Achieve clearer, glass-like, celebrity skin with Skin Society's Hollywood Carbon Laser Peel! It is a complete deep-cleansing facial with laser carbon peel that targets acne, improves pigmentation and evens out the skin tone, leaving a glowing complexion!
Price: ₱6,000 ₱3,000
Check them out here
G/F The Pearl Building, Almond Nut St. cor Gil Fernando Ave., San Roque, Marikina
(02) 982-1012; (0917) 335-3353
Beauty Full HD – Black Doll / Carbon Laser with Free Facial
Experience innovative skincare with Beauty Full HD. Try out the Black Doll carbon laser facial and diminish skin imperfections, tighten pores, and eliminate impurities for younger and healthier skin!
Price: ₱1,200 ₱800
Check them out here
View their Instagram account
2/F Jacinto Plaza, Amang Rodriguez Ave., Santolan, Pasig
(02) 919-7069; (0921) 702-5426
Meraki Beauty Station helps you achieve the skin your deserve with their Carbon Laser Therapy. Enjoy a revolutionary painless laser treatment that cleanses, exfoliates, and rejuvenates skin while targeting acne and excess oil.
Price: ₱2,500 ₱1,500
Check them out here
View their Instagram account
76 STG Corporate Center Bldg, Timog Ave., Sacred Heart Quezon City
(0917) 794-1308
Levana Dermatology – One Session of Fractional Laser Treatment
Turn back time with Levana Dermatology's Fractional Laser treatment, which uses a high-precision powered laser to remove skin imperfections such as sagging skin, acne scars, and visible pores. Try it now and achieve smoother, healthier, and younger looking skin even after one session!
Price: ₱7,500 ₱5,625
Check them out here
View their Instagram account
7/F Eastwood Cyber & Fashion Mall, 10 Eastwood Ave., Bagumbayan, Quezon City
(02) 633-3106
Dermstrata – Fractional Laser for Acne Scars
Experience the cutting-edge of skin treatment with Dermstrata. Clear up old acne scars and improve your look with the help Fractional Laser for Acne Scars.
Price: ₱14,999 ₱10,500
Check them out here
Avail at 1 branch
View their Instagram account
2/F SM Mall of Asia, Pasay
(0927) 175-2994
Give your skin a fresh start with Skin Philosophie's Laser Genesis. Enjoy a brighter glow & tighter skin and top it all off with a free electronic scrub facial!
Price: ₱4,000 ₱2,000
Check them out here
View their Instagram account
3/F B3 Bonifacio High Street, 9th Ave cor Lane P., Fort Bonifacio, Taguig
(0917) 890-6800; (0999) 994-8250; (0933) 863-7595; (02) 856-7451
Be confident in your glow! Get youthful and glowing skin with the Coquille Peel and make sure acne is never an issue with Luminisce Holistic Skin Innovation's effective Acne Cure Program.
Price: ₱8,000 ₱6,400
Check them out here
View their Instagram account
Avail at 2 branches
Blast those skin blemishes away! Achieve true skin aesthetic with Clinique Esthetique's safe and effective acne laser therapy and say goodbye to stubborn acne.
Price: ₱3,000 ₱1,500
Check them out here
View their Instagram account
1670 UG/F Victoria One Bldg, Quezon Ave., South Triangle, Quezon City
(02) 374-7068; (0998) 598-1588
Let Avignon Laser Dermatology shine a light on your fresh, new glow! Experience their innovative laser treatment that uses pulsating beams of light to exfoliate your skin, revealing the young, smooth, and healthy complexion underneath.
Price: ₱10,000 ₱8,000
Check them out here
View their Instagram account
G/F Fort Victoria Condo, 4th Ave & 23rd St., Fort Bonifacio, Taguig
(0917) 636-8732
You could also download the Booky app and enjoy even more amazing offers and discounts from your favourite spots all over the Metro! Whether it be food, fitness, or beauty, we got you!