Get up to ₱500 off your bill + a free dessert with Booky!
Behind every dish is a story from the family who prepared it or inspired by the rich history of the people who are proud to serve it.
Bricks and Copper, a Filipino family-owned restaurant that serves authentic Turkish food, doesn't only serve tale filled delights but in the process, also give others the chance to make memories while bonding over delicious food.
Book a table and get a discount!
A home away from your actual home, Bricks and Copper's interiors has a  sense of warmth and wonderfully fuses both the classic and the modern with their decors and pieces of furniture.
Fun fact: Their name is inspired by their brick walls and oven and copper utensils.
Their food isn't only authenticated by those who are familiar with the cuisine or grew up eating Turkish food but also perfect for the health conscious because it's yogurt-based, made with fresh ingredients, and grilled to perfection.
Their specialty, the charcoal-grilled shawarma which is the first and so far, only one in the Philippines has that smokey and savory flavor that can satisfy your cravings.
Don't leave their restaurant without trying at least one dish that offers it. A few of the options you can try are the Pita Doner, Beef Doner, Chicken and Beef Mixed Grill, as well as Kofte Rice Meal. 
Pita Doner
Beef Doner
Chicken and Beef Mixed Grill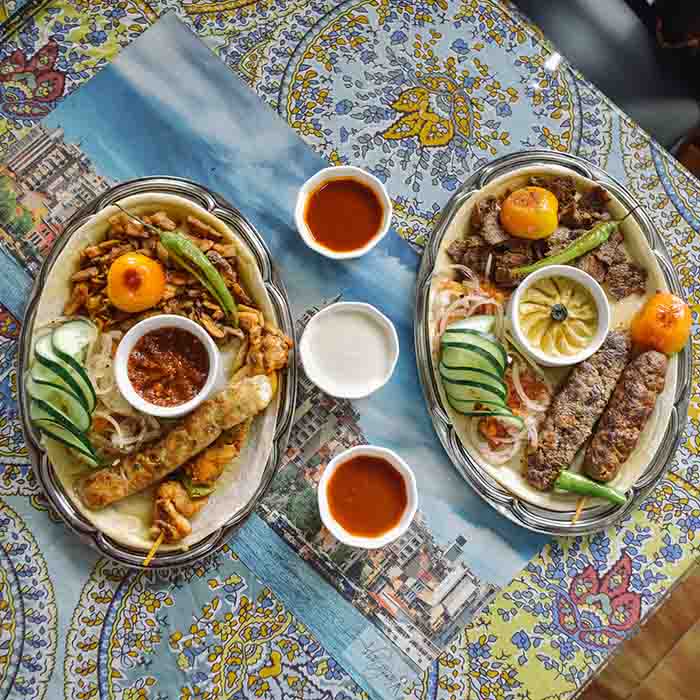 Kofte
Fun Fact: They use Halal Meats.
Their personal favorite is the Cheese Pide which is a Turkish oven-baked, boat-shaped cheese pizza.
Cheese Pide
Speaking of tale filled food, their Ezo Gelin or Turkish Spicy Red Lentil Soup is also called the "Bride Soup".
Ezo Gelin
Insider Story: The "Bride Soup" is based on the history of Ezo Gelin, a real Turkish girl, and her tragic married life. The soup made by the girl herself is dedicated to all young women for inspiration and hope. Hence, after Ezo passed away, it's said that the brides must have this soup before marrying.
If you're vegan, they also have dishes you can try like the Meze Platter.
Meze Platter
A meal isn't complete without dessert or drinks and Bricks and Copper also offers some of their specialties such as Baklava, Turkish Coffee, and Turkish Aryan.
Baklava and Turkish Coffee
Turkish Aryan
Don't miss out on dishes that'll take you to Turkey without having to leave the Philippines. Catch up with friends here or treat yourself for a post workout meal (after you exercise at the nearby gym), you'll surely be delighted with both their family-friendly dishes and the memorable history behind every single one of them.
Go ahead and book a table now for you and your friends or family at Bricks and Copper!

View menu
304 Shaw Boulevard, near Dumlao Sports Center, Pleasant Hills, Mandaluyong
(02) 697-2007
If you're not already enjoying the offline convenience of Booky, you can download the app for FREE! Whether you're on iPhone or Android, you get P1000 worth of savings on us. But why stop there? When you sign up for BOOKY PRIME, you can get up to P16,000 worth of Buy 1 Get 1 deals and unlimited discounts – all for just P199 a month. Your next bite is just a touch away.
Comments
comments