Travel the world through their burgers! *Restaurant is permanently closed*

Traveling is a hobby for some people but it's a luxury for most people who are lucky enough to save up for a trip every once in a while. It's a good thing that there are more homegrown restaurants that are opening in Manila that specialize in different cuisines so you can get a taste of the world, minus the plane ticket. This restaurant in San Juan aims to take you on a gastronomic magic carpet ride around the world with their country-inspired burgers and homemade onion strings.
International Burger Co is the newest burger joint in San Juan that serves different country-inspired burgers. The theme was derived from the owners' shared passion for travel and food. One of the owners is award-winning chef, Justin Tee, who went to culinary school in Korea.
Update: Check out the Top 10 Most Loved Restaurants in San Juan this month!
You can expect a variety of flavors as each burger is made with popular ingredients from a particular destination. As of now, International Burger Co is serving eight unique specialty burgers inspired from USA, Philippines, Japan, Italy, France, Mexico, Korea. If you're looking for something familiar, order their Classic burger.
IBC burgers are freshly prepared in the store everyday and have a fixed price of P280!
Each plate is made with love starting with their standard 1/3 lb. patty, which is cooked medium, while the buns are custom ordered from a local bakery and are toasted to buttery perfection. Each order comes with a side of twister fries or onion strings.
Fun fact: IBC's homemade onion strings take up to two days to prepare; the secret is in IBC's secret milk marinade that makes the onions sweet and highly addicting.
Hungry? Here are some snaps and details on International Burger's carnivorous treats. Don't worry, there's also a little something for chicken, fish, and rice lovers as well.
Classic
Cheddar cheese, caramelized onions, fresh tomatoes, lettuce. Good for old timers who just want a no-frills type of burger.
Mexican
Beer braised Mexican pulled pork cheddar cheese, salsa, corn, cilantro garlic dressing. Ideal for meat lovers and cilantro connoisseurs. 
French
A croque madame burger: bechamel sauce, gruyere cheese, ham, dijon mustard, sunny side egg. This beautiful-looking burger is like your favorite hangover burger–only with class.
American
Cheddar cheese, crispy onion strings, barbecue sauce. The American dream.
Italian
Special marinara sauce, prosciutto, mozzarella cheese, fresh basil. It's like a burger and pizza in one.
Korean
Tender bulgogi, lettuce, mayonnaise, homemade kimchi. This juicy burger packs a hint of spice in every bite.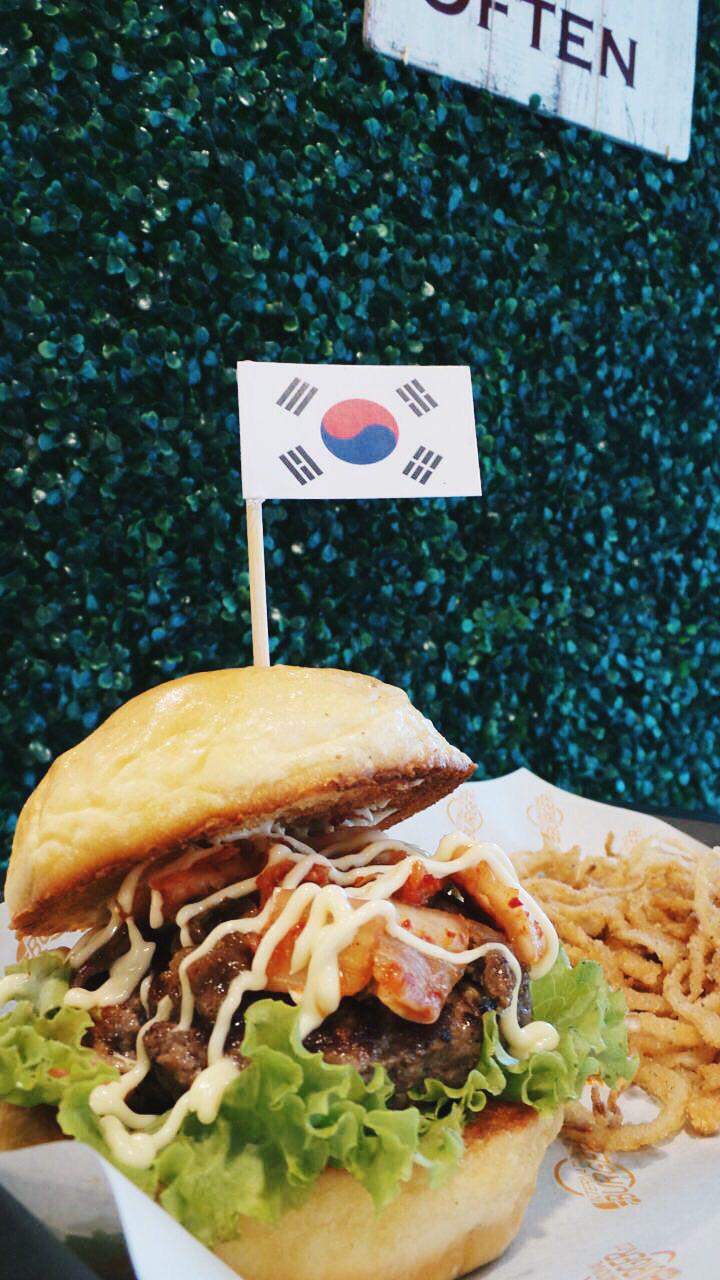 Filipino
Freshly made sisig, cucumber, tomatoes. IBC's sisig is made crispy until the last piece of meat–this is favorite among foodies who enjoy a sinful  treat every now and then.
Japanese
Grilled shitake mushrooms, special teriyaki sauce, Japanese mayonnaise, nori. Now who said sushi lovers can't be burger lovers?
IBC's other dishes include their Chicken Karaage, Fish Poppers, and Burger Steak with rice.
Chicken Karaage (P220)
Boneless chicken thighs, marinated in a soy ginger sauce and fried to crisp savoury perfection

Fish Poppers (P250)
Bite sized beer battered fish fillet with tartar sauce.

Burger Steak (P250)
1/3 lb pure beef patty served with rice, mushroom gravy and crispy onion rings

Kimchi Fried Rice (P250)
Kimchi fried rice served with slices of grilled bulgogi and fried egg
Can't wait to try them all? Open your Booky app and book a table to get UP TO P300 OFF your total bill plus a little dessert surprise on your next visit.

View their Instagram account
Unit 6 Citiplace Bldg. J.Abad Santos St. cor. Lopez Jaena St, Little Baguio, San Juan
(0995) 489-5641
Don't forget to tag us on Instagram (@bookyapp) and use the hashtag #bookymanila for a chance to be featured on our lists. Like and follow us on Facebook for the latest food news and exclusive promos from our restaurant partners.
Comments
comments