Tea-numan time!
A craze and a dire craving even before the enhanced community quarantine, milk tea is a drink we can't get enough of! And even if there are a number of milk tea shops open for delivery, sometimes, one cup isn't enough to satisfy our thirst for this sweet, caffeinated drink.
One cup > one gallon? Check out: Your Guide to Milk Tea Shops Available for Delivery
If you're one of those who can't get enough of milk tea and want more than one cup, here's where you can get a gallon of milk tea to share or to keep to yourself for rationing during rest of the ECQ.
Obvious in their name, Gallontea offers a variety of milk tea flavors in one-gallon jugs which will surely beat the heat these days. Here's a list of the milk tea flavors and sinkers that are available for delivery:
1 Gallon Classic Milk Tea – ₱500
1 Gallon Wintermelon Milk Tea – ₱600
1 Gallon Chocolate Milk Tea – ₱600
1 Container of Tapioca Pearls – ₱100
1 Container of Nata Crystals – ₱100
1 Container of Egg Pudding – ₱100
Having a tea-numan or tea party at home and you want a gallon of Gallontea's milk tea? Here are instructions on how to order:
Note: They only deliver within Metro Manila
Currently accepting pre-orders for delivery on April 28-May 1, Tipsy Beans offers a gallon of milk tea and tea – inclusive of 350 g of tapicoa pearls – for delivery. The available flavors are: classic milk tea, wintermelon milk tea, yakult lemon, and yakult lychee.
Tempted to buy? Here are the instructions on how to order: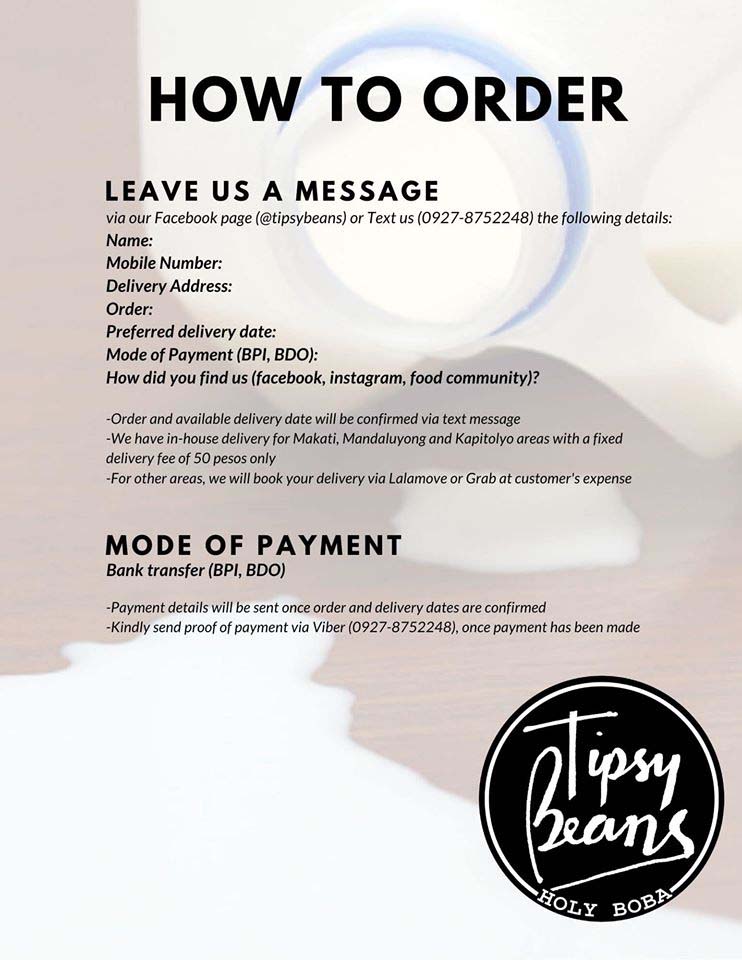 In case you're hungry and thirsty, here's Tipsy Beans' delivery menu.
To know more about when they'll accept pre-orders again for delivery dates after May 1, we suggest you follow their social media accounts.
There's no time to waste! Take advantage before they run out and get ready for an exciting tea-numan with friends, family, or with your favorite Netflix series.
We know you loved using the Booky app for discovering the newest places in your city. Given these extraordinary times, we want to continue being helpful during the ECQ so check out our updated food delivery guide, restaurants that just reopened, and where to shop for groceries online, and more.