Grill it real good.

Gen is a popular Korean restaurant chain from Los Angeles, California. The word "GEN" means "the beginning" and is actually an open invitation to the art of Korean BBQ. If you've been to LA, then chances are you've seen the long lines outside this popular resto.
Also read: Korean Barbecue Restaurants in Metro Manila with UNLIMITED Samgyupsal!
It's best known for its grand grill all you can experience where diners can feast on premium samgyupsal (pork belly), chadol (beef brisket), seafood, and so much more. 
Each set meal comes with a variety of traditional Korean banchan (side-dishes) to complete your ultimate Korean BBQ spread. Unlike other buffet-style barbecue place, guests can relax while staff recommend and deliver orders to their tables.
Ever since flying to Manila 2 years ago, Gen Korean BBQ has been at the top of every samgyupsal lover's mind!
From 12 noon everyday, it's open until 11PM on Mondays and Tuesdays, but until 4AM from Wednesday to Sunday, so it's the perfect pre-game dinner for party goers. But with its ambience, hours, and its bottomless wine and cocktails option, it may as well be the main event of the night.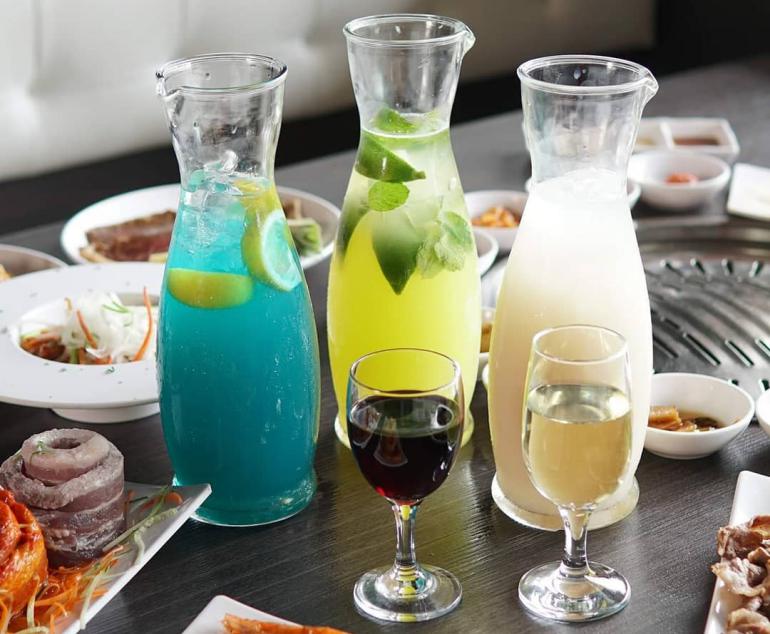 There are over 20 meat options to choose from so choose wisely because the clock is ticking!
Most people start off with an order of the pork belly to beautifully coat the grill with sinful pork grease. Other favorites include black angus and of course, bacon!
100% Imported Unlimited Korean BBQ
Price: ₱3,992 instead of ₱5,392!
With Booky, get Unlimited Korean BBQ for 3 pax and get 1 buffet entry for free! If you do the math, that's ₱998 per person for a group of 4!
What you get: Unlimited orders of All Imported Premium Steaks, Beef, Pork, Chicken, Seafood, Calamari Steak, Hawaiian Bacon, Garlic Bacon | Woo Beasal, Premium Steak, Cajun Samgyupsal (Cajun Pork Belly), Garlic Samgyupsal (Garlic Pork Belly), Cajun Chicken, Garlic Chicken, Spicy Chicken, Daechang (Marinated Large Intestine), Gobchang (Marinated Small Intestine), Premium Steak, Calamari Steak, Sweet and Spicy Chicken Popcorn, Cajun Calamari (Marinated Calamari with a bold and zesty sauce), Soondooboo Soup, Dwenjang Soup, Sweet and Spicy Rice Cake, Japchae, Assorted Vegetables, Woo Beasal (Thinly Sliced Beef), Yangyung Galbi, Spicy Pork Bulgogi
Good samgyeopsal, steaks, and banchan only needs one thing: good drinks.
3 Carafes of Cocktails for 1
Price: ₱448 instead of ₱1,344!
Get the party started with not one, not two, but 3 pitchers of flavorful, freshly made alcoholic drinks for the price of one!
Reservations are recommended
View menu
View their Instagram account
Bldg. J, Unit 1-16, SM By the Bay, Seaside Blvd, Mall of Asia Complex, Pasay
(0917) 621-8249
If you're not already enjoying the offline convenience of Booky, you can download the app for FREE! Whether you're on iPhone or Android, sign up for Booky Prime and get up to ₱15,000 worth of Buy 1 Get 1 deals and unlimited discounts – all for just ₱199 a month. Your next bite is just a touch away.