This is as authentic as you can get!
Located in the busy Poblacion neighborhood, Il Fiore is a homegrown earth kitchen and a gelateria serving quick healthy meals and artisanal gelato using locally sourced ingredients.
Fun fact: Il Fiore means 'the flower' in Italian.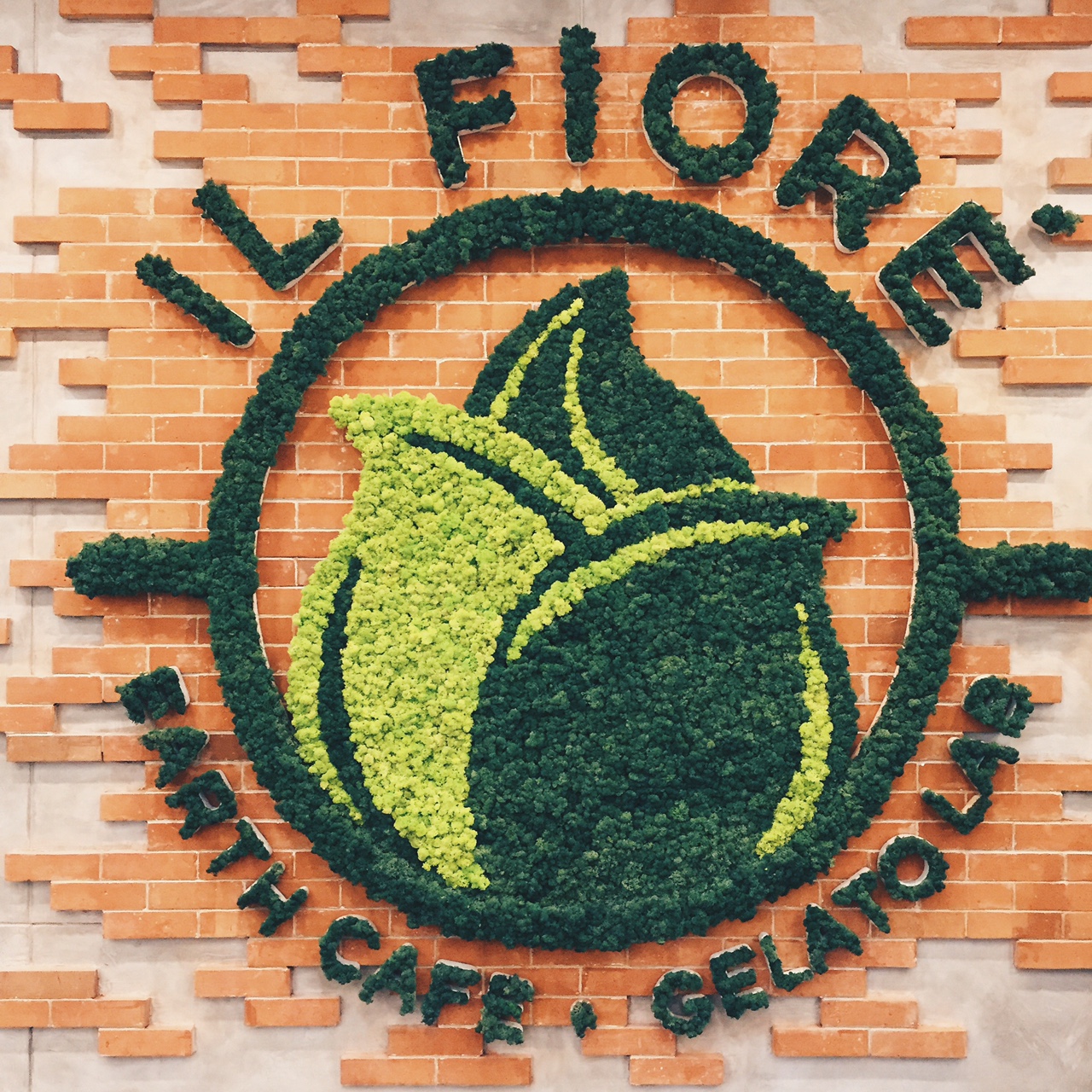 The wall art is made of real moss. Feel it, but don't pull it out!
Earth Kitchen
Il Fiore is an earth-friendly and vegetarian-friendly cafe; it is a passion project by owner, Hazel Que, who is a new vegetarian. Being the only vegetarian at home, Hazel had to find and prepare her own food everyday, and so the dishes here are her own homemade recipes and creations.
KOFTA SPAGHETTI POMODORO
Spaghetti pasta served with light and fresh tomato sauce and topped with three crispy vegetarian kofta balls.
Insider tip: The serving size is huge and can be shared by two people.
PORTOBELLO MOZZA BURGER
Deep fried portobello mushroom burger with mozzarella cheese filling, served with alfalfa sprouts, tomato and lettuce. Order it solo, with a side (sweet potato fries) or bunless (comes with a choice of salad: Thai Peanut Salad or Quinoa Kale with Vegannaise).
SALAD BOX
Other main dishes you can try include sandwiches, Spinach and Squash Lasagna, Mushroom Penne Pasta and the Garden Burger. There's even Mushroom Chips & Dip, Loaded Nachos (served with homemade salsa) and salad boxes.
Fun fact: All their dishes are served in eco-friendly take out boxes.
Gelato
Hazel flew to Italy to learn the art and science of gelato making. Everything is handcrafted in-house (personally by Hazel) using fresh ingredients and zero preservatives. They also serve vegan flavors.
Il Fiore currently serves 13 über rich and addicting flavors: Fior di Latte, Cashew Cream, Cappuccino, Pistachio Flan, Matcha, Green Yoghurt with Honey, Black Sesame, Hazelnut Stracciatella, Milk Chocolate and Pecan Pumpkin Pie. Their vegan flavors include: Dark Chocolate Ganache, Lemon Lime and the Mango Dragonfruit.
Il Fiore gelatos are available in 4-oz cups and in pint-sized takeaway tubs. For takeaways, it is best to consume within two weeks. Taste before you order and if you can't decide on one, you can get two flavors in one cup!
FIOR DI LATTE + DARK CHOCOLATE GANACHE
Fun fact: Hazel is proud of her Fior di Latte, which she says is the base for all gelato flavors. So if you want to know if a gelateria is authentic and preservative-free, taste this flavor first.
BLACK SESAME + MANGO DRAGONFRUIT
For drinks, pair your meals with coffee, tea, yoghurt shakes, and/or fresh juices.
Fun fact: Il Fiore's coffee is a house blend by Department of Coffee, a roaster cafe in Quezon City.
PLAIN YOGHURT
Even the yoghurt is made in house!
Excited to try this new authentic gelato cafe in Makati? Search for "IL FIORE" on Booky and tap our Waze-integrated Navigate button to help you find its exact location. The menu is already up too!
No reservations are accepted
View their Instagram account
4740 Salamanca cor Eduque, Poblacion, Makati (in front of Trump Tower)

Download Booky and search for over 15,000 restaurants in and out of Metro Manila even without internet. Subscribe to Booky Prime to experience the convenience of booking tables and getting discounts at 500 top partner restaurants.