For all the feeling songbirds of the Philippines.
There are certain traditions very Filipino to its core that we all share. One thing that starts with every Filipino family is the existence of family reunions: where you meet a number of titos and titas and cousins you've literally never seen in your life. Two things come with reunions aside from these unfamiliar faces, and that's a lot of food and a KTV machine.
Whether we like it or not, those traditions stick with us even when we're out for a good time with our friends. A very valid option aside from the regular dinner or drinking binge is karaoke night, because it includes all of it plus x hours of singing your go-to karaoke songs – face it, everyone has theirs (an added bonus is memorizing the weird dances and scenes we all know from the videoke).
On the off chance that you don't have a favorite KTV bar to hit with the barkada, we've made a list of the premium karaoke bars around Metro Manila for you to discover!
A four-level roof deck restobar and KTV spot, Chill Top is an easy pick for somewhere fun, simple, and affordable. With over 26 family KTV rooms, a stunning view of Metro Manila, and a truly chill vibe, this roof top bar should definitely be on your list of must-try places in Cubao!
View menu
View their Facebook page
(02) 8283 9238; (0928) 797 6656
121 Grille and Restaurant is known for both delectable Filipino cuisine and casual ambiance at value-for-money prices. They are innovator of Manila nightlife, introducing and repackaging concepts such as Quiz Night, Beer Pong and Drinkeoke, among others.
No reservations accepted
View menu
View all branches
View their Instagram account
One of the most-enduring and well-known KTV chains in the country, Music 21 Plaza definitely knows what it takes to help make a fun and memorable karaoke night. With branches from Alabang to Quezon City, Music 21 Plaza is a great pick for any and every KTV situation!
Check them out here
View all branches
View their official website
Primarily known for their water spas, Pasig's ACE Water Spa branch is part of a large hotel & suites establishment- which features numerous, premium KTV rooms. Easy to get to with many accessible and affordable packages, ACE Hotel & Suites is definitely an option worth considering for your next KTV night!
Check out ACE Water Spa here!
View their Facebook page
View their official website
United St., cor. Brixton St. near Pioneer, Pasig City
Trunkline: (6 32) 628-1888 loc. 5101-5103
Customer Hotline: (6 32) 404-9995
It's time for you to take the center stage and sing your heart out at Centerstage Family KTV! Stocked with the latest hits, incredible food, and your favorite drinks, Centerstage Family is sure to deliver a truly fun and unforgettable experience that you and your friends will enjoy!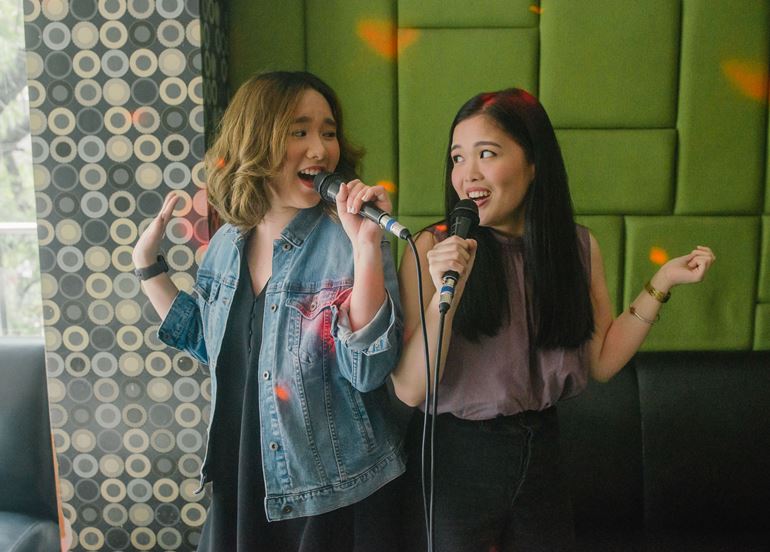 Fun fact: You can record your own karaoke performance on CD! 10 songs for only ₱199!
Check them out here!
View all branches
View their website
View their Facebook page
View their Instagram account
Party like a rock star and have a fun and unforgettable time at Rockstar KTV! Conveniently located in SM Aura, you're guaranteed to enjoy great food, attentive service, and a modern KTV experience that will have you singing, dancing, and enjoying your hearts out.
Check them out here!
View their Instagram account
5/F Skypark Garden, SM Aura, 8 Mckinley Parkway, Fort Bonifacio, Taguig
(0923) 454-6310; (02) 838-4292; (02) 838-4128
Offering over 400 board games, a giant chess board, a giant Snakes and Ladders board, and many more, Snacks and Ladders Board Game cafe is a go-to place for when you're craving Filipino American fusion snacks and meals as well as a good time. Who knew closets had good acoustics? Harry Potter did. This board game cafe also features a karaoke room styled after Harry's famous Cupboard Under the Stairs!
Enjoy P300 off your food bill!
View menu
View their Instagram account
188A Maginhawa Street, Teacher's Village, Diliman, Quezon City
(02) 990-5675
Being the youngest in the entertainment industry, Karaoke Republic offers a technology-powered KTV system that enables its customers to have a hassle-free and superb entertainment experience (no system downtime). With 21 rooms each uniquely designed derived from different countries, guests who come in will surely enjoy each moment they spend at Karaoke Republic. Serving appetizers, rice, and Filipino classics like sisig and pancit, it's also one of the very few karaoke places you can buy bottles of tequila and vodka!
Check them out here!
View their Facebook page
View their Instagram account
35 Timog Avenue, Quezon City, Philippines
(02) 352-1290
Turtles Family KTV is a popular family KTV joint ideal for both small parties as many as 2 pax up and big groups! They update their songs every month (and for regulars, you can even request your favorite jams), you can be sure to have a good time. You can get sizzling plates and meals, pika-pika appetizers, and drinks! Fun fact: all their group packages make sure you have more than enough beer per person!
Check them out here!
View menu and branches
View their Instagram account
Though K-Pub BBQ may be better known for cooking up some of the best unlimited KBBQ in Metro Manila, this Korean joint also offers up the chance for some great KTV! For only P150/ head, you can enjoy Karaeoke Nights held at The Green Room!
Reservations accepted
View menu
The Fort Strip, Fort Bonifacio, Taguig
(02) 847-1961
Feel like your own popstar at Celebrity Lounge Family KTV with the best equipment and a wide selection of songs that'll turn up the party. Feel like an A-Lister and eat like one, too! Aside from the typical bar chow, you can also get baked seafood, shrimp cocktail and sushi for an unforgettable experience.
Check them out here!
View their Facebook page
View their Instagram account
431 Shaw Boulevard corner Ideal St. Mandaluyong, Philippines
(0915) 440-5398
What goes better with a karaoke night than unlimited food for two hours? MegaPro Family KTV offers unlimited barbecue and shabu-shabu, that comes with unli pork, beef, yang chow rice, side dishes, desserts, and drinks! You can even hold any and all types of occasions for affordable prices!
Check them out here!
View their Facebook page
9595 Kamagong St., San Antonio Village, Makati
(0939) 651-9643
KTV is always a good idea and if you're an extra large group, you're in luck as they have rooms that can accommodate up to thirty persons!
Check them out here
Check out their Facebook page
View all branches
If incredible offers and big discounts sound like music to your ears, then download the Booky app today and enjoy our best offers on food, beauty, fitness, and more!