Frankie's who?
Our love for chicken wings is long-standing, which is clear based on how often we end up at the nearest wings joint any given chance.
For all wing lovers out there, you'll be happy to know that one of the pioneers of chicken are coming out with a new recipe for chicken wings. That's right, Colonel Sanders himself.
Wicked Wings – KFC
KFC was definitely cooking up something over the holidays: chicken wings. Going back to basics, their Wicked Wings come in two saucy flavors, Garlic Parmesan and Classic Buffalo.
Prices:
A la carte
2 pcs. with rice - ₱99
4 pcs. with rice - ₱170
Meal
2 pcs. with rice and drink - ₱109
4 pcs. with rice and drink - ₱180
2 pcs. with rice, drink, and mushroom soup - ₱125
KFC's Wicked Wings are available nationwide, for a limited time!
In Case You Missed It:
You Can Get an Extra Large Bucket of KFC's Fried Chicken Skin!
Raise your hand if you're a chicken skin fan! For a lot of us, chicken skin is considered the tastiest part of fried chicken that deserves to be savored. Actually, we know it's the best part of fried chicken, so don't @ us. In some cases, it's so good that it can even cause break-ups (ehem, Popoy and Basha).
KFC's been pushing out some delicious snacks and their Original Recipe Cracklings is definitely one of them. By popular demand, KFC has launched the XL Original Recipe Cracklings, so you can get the crunch you crave in a bigger bucket.
You can now get their XL Original Recipe Cracklings for a generous 100-gram serving for just ₱95. Bonus: It comes with a side of gravy and you can get it delivered to your doorstep, too!
Take your Oktoberfest celebration to a whole 'nother level and visit the nearest KFC branch to get your fried chicken skin fix! For more updates, check out KFC Philippines' Facebook page.
An international fast food chain that needs no introduction, KFC is one of the first places you think of when you want some seriously good fried chicken. From their classic recipe chicken to their limited edition items and more, KFC continues to prove that- even after all these years -they're still finger lickin' good!
KFC Zinger Steak
KFC did it again. Our favorite Zinger meal just got an update (and only a month after launching their Baconized Zinger)!
Their Zinger Steak features their signature hot and spicy chicken fillet, topped with their famous Ala King sauce! Get ready for your mind to be blown, because this Zinger meal comes with rice *queue the Filipino mind, body, soul, and stomach to grumble*.
And not just plain white rice. BUTTER rice. Served with corn and a drink!
Price:
Zinger Steak Ala Carte ₱99
Zinger Steak Meal (with drink) ₱109
Zinger Steak Combo (side and drink) ₱120 
Another option is to switch the corn for the big guns – mashed potatoes. Mark your calendars, because this is hitting the KFC menu on September 16!
KFC MENU
Fried Chicken Meals
1-pc. Chicken Meal
This tried-and-true favorite from KFC is guaranteed to satisfy those fried chicken cravings; the one-piece chicken meal comes in original recipe or spicy and with a serving of rice and drink of your choice.
1-pc. Chicken Meal with Mushroom Soup or Mashed Potato
A budget-friendly option that provides maximum flavor on minimal spending, you get one piece of chicken (O.R. or spicy), a serving of rice, the drink of your choice, and either mushroom soup or mashed potatoes.
Flavor Shots with Mushroom Soup or Mashed Potato
Serving up the same goodness as the one-piece chicken meal with mushroom soup or mashed potato, this meal comes with satisfying and easy-to-eat Flavor Shots instead of the usual chicken.
KFC Bucket Meals
8-pc. Regular Bucket Meal
It doesn't get any bigger or better than this! Eight crispy pieces in your preferred combination of original recipe or spicy chicken.
8-pc. Bucket Meal with Pasta
The classic 8-piece bucket meal comes with two serving of satisfying Filipino-style spaghetti and an extra serving of creamy, white sauce pasta.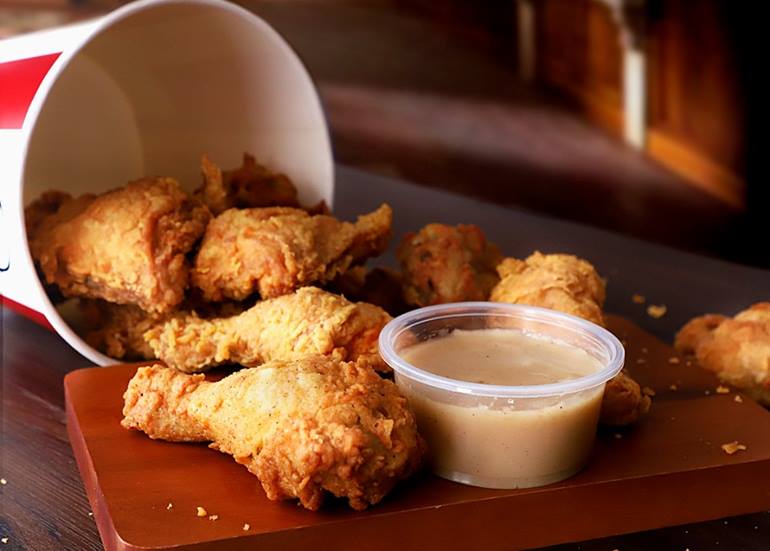 6-pc. Streetwise Bucket Meal
A smart choice for hungry bellies on a budget! This six-piece bucket comes complete with 3 fixin's, 3 servings of rice, and 3 drinks.
Fully Loaded Meals
1-pc. Fully Loaded Box
Load up your lunch with this complete meal in a box! Enjoy your one-piece chicken with mushroom soup and mashed potato complete with rice and a drink
1-pc. Fully Loaded Box with Famous Bowl
Pair up two favorites in one sulit box with this filling one-piece chicken with mushroom soup and rice together with a classic famous bowl combo.
Baconized Snacker Fully Loaded Meal
The Fully Loaded Meal comes packing something new with this combination with the limited-time Baconized Snacker!
Rice Bowls
Sisig Rice Bowl Combo
KFC's Sisig Rice Bowl just works! Bite into an explosion of flavor as KFC hot shots are drizzled with their signature chicken sisig sauce, combined with chicken skin, mayo leeks, egg, and sisig rice.
Ala King Rice Bowl Combo
This rice bowl is king! Enjoy the classic KFC chicken done ala king style with a side of corn, complete with a drink of your choice.
Sandwiches and Snacks
Baconized Zinger
The classic Zinger with a twist! This limited-time offer baconizes the chicken sandwich with bacon strips, bacon relish, and even a baconnaise sauce.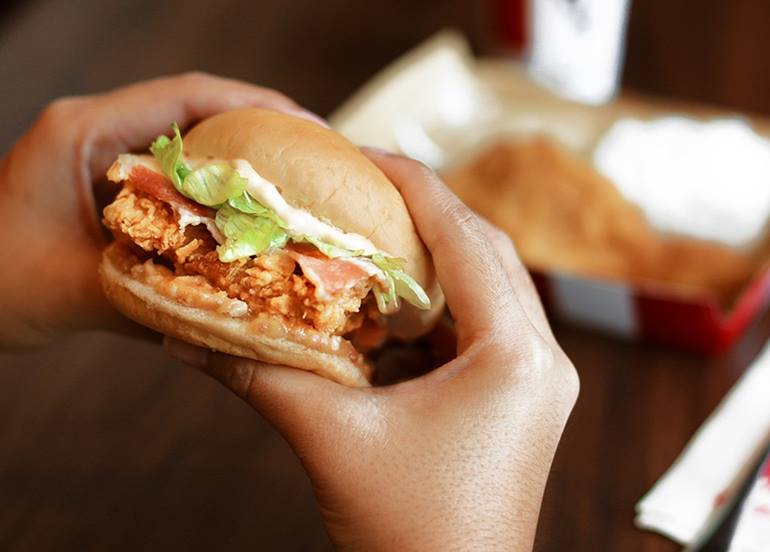 Zinger
The one chicken sandwich to beat them all! The original Zinger is made with a crunchy chicken fillet paired with lettuce and mayo, in a fluffy Kaiser bun.
Twister
An unexpected favorite, the Twister combines crunchy chicken strips, Japanese mayo, mango, and cucumber in a toasted tortilla wrap for a satisfying Asian-inspired treat.
KFC Shots
A surefire favorite, KFC's shots are bite-sized pieces of their chicken fillet that make for perfect snacks. Comes in regular or large.
Famous Bowl
All of your favorites come together in one convenient package with the KFC Famous Bowl! Enjoy an easy-to-eat bowl of shots, corn, and mashed potato held together with KFC's signature gravy.
Extras and Sides
Bucket of Fries
KFC's thick cut and flavorful fries can give any other fastfood chain a run for their money! Perfect for a much-deserved snack or to go along with some great chicken, you can't go wrong with this bucket of fries.
Mashed Potatoes
A classic side, who doesn't love a filling and creamy serving of mashed potatoes? Pairing perfectly with the KFC gravy, adding a helping of mashed potatoes is sure to make any belly happy.
Mushroom Soup
A surprisingly great partner to their fried chicken, the mushroom soup is a fresh and tasty addition to any meal!
Coleslaw
Keep it fresh with a side of coleslaw! Enjoy a healthy mix of carrots, cabbage, and onions topped off with a tangy, home-style dressing!
Buttered Corn
Nothing's wrong with being just a little corny! KFC's buttered corn is a sweet and rich boost that goes great with KFC's savory or spicy chicken.
Desserts
Kreamball
Get the dessert your deserve at KFC! Enjoy a sweet, creamy, and refreshing ball of soft-serve ice cream topped off with your choice of add-ons.
Brownie
A take home favorite, the reliable brownie is a sure way to end your meal on a sweet note. Bite into some baked chocolate-y goodness and don't be surprised if you end up getting more than one!
View menu
View branches
View their Facebook page
View their Instagram account
Be sure to follow Booky on Twitter (@bookymanila) and Instagram (@bookyapp) to stay on top of foodie news! If you're not already enjoying the offline convenience of Booky, you can download the app for FREE on iPhone or Android. Discover over 900 of the top restaurants in Metro Manila and just watch as your foodiverse explodes!