Serve some serious mani-pedi looks!
Everyone deserves a mani-pedi session every so often. But, when it comes to getting your nails cut, cleaned, and painted, waiting can definitely be a drag. It's time for you to enjoy yourself while still being pampered!
Like apples with peanut butter or french fries with ice cream, Kitchenails' concept is an odd combination that certainly works and is a whole lot of fun. Get the best out of a mani-pedi while feeding your food fantasies with this kitchen-themed nail salon.
The first of its kind, Kitchenails goes all-in with their theme; from walls lined up with pots and pans, and mason jars filled with all sorts of lotions and scrubs, you'll feel like you've stepped into an actual culinary kitchen.
Fun fact: The Kitchenails' staff wears chef hats and uniforms!
To spice up your nail care treatment, the Kitchenails' nail servers also use cooking equipment like spatulas and pastry brushes to slather lotion on your feet and hands, making them feel velvety smooth!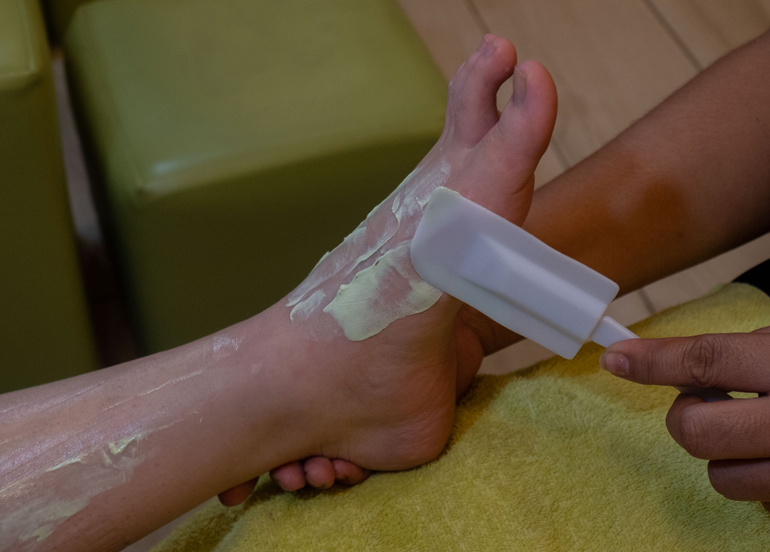 Foot Spa + Honey Glaze
Let Kitchenail's highly trained massage experts give your feet the care they deserve while soaking them in a pan!
Price: ₱900 ₱450
Manicure with Gel + Pedicure with Regular Polish
Treat yourself to a soothing manicure and pedicure package and finish off your nails with a vibrant and long-lasting polish.
Price: ₱1,315 ₱921
Acrylic Nail with Dip Powder
Take your nail art to the next level with a little help from Kitchenails. Enjoy an acrylic and dip powder polish that gives a long-lasting luster to your nails while strengthening and reinforcing them.
Price: ₱2,700 ₱1,890
Check them out here
View all branches
View their Instagram account
If you're looking for a fun spin on your typical self-care routine, Kitchenails will cook you up a pampering session you'll never forget!
Want to know all things food, fitness, and beauty in the Metro? Booky has got you covered with tons of offers waiting to be claimed. Just download the Booky app and discover new trends, places, and services around the city!