The crunch and crisp with that K-twist.
There's a certain crispness and flavor that comes with Korean Chicken, and we're willing to bet that we aren't the only ones who crave for it on a regular basis.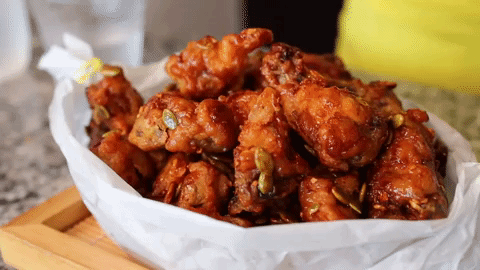 Also read: 25 Korean Restaurants To Satisfy Your Korean Cravings
Korean chicken is what it is… always filling and forever satisfying. Whether you're into the chicken and beer combo or downing your meal with a bottle of soju, here are Korean restaurants to help you satisfy those Korean chicken cravings.
Bonchon – multiple branches
Bonchon lets you enjoy Korean and American flavors in dishes like bibimbowl, Korean beef stew, and of course, their K-style chicken. Take your pick as to where you're getting your Soy Garlic, Spicy, Honey Citrus, or Crunchy Garlic chicken!
Get their K-Bundle offer (2pc K-Classic Buffalo Wings + 2pc Crunchy Garlic Drums) for only P299!
No reservations accepted
View Menu
View branches
View their Instagram
Kko Kko – multiple branches
Kko Kko is a modern Korean chicken restaurant that uses traditional and contemporary recipes. Live the fantasy of walking into a good ol' Korean chicken house in Manila with their full Korean Fried Chicken menu, with sweet, soy, or garlic options, and last but not the least, the chicken cheese fondue.
Gaja is one of the exciting new Korean restaurants in Manila. They aim to take a centuries old cuisine rooted in tradition, and reintroduce it to the Filipino palate by adapting it with modern techniques to suit evolving tastes. Try their Honey Butter Chicken – twice fried beer battered thigh fillets with honey butter sauce, almonds, pickled raddish, and rice puff.
View menu
View their Instagram account
8445 Kalayaan Ave., Poblacion, Makati
(0906) 493-0799
Sibyullee – Ayala Malls The 30th
Sibyullee serves modern Seoul BBQ and street food dishes like the Volcano Kimchi Fried Rice, Galbi Cheese Barbecue, Tornado Potato. Try their Ultimate Chicken Bap, it's caramelized fried chicken mixed with rice and assorted vegetables with fried egg all in a sizzling bowl.
Reservations are accepted
View menu
View their Instagram account
G/F Ayala Malls The 30th, 30 Meralco Ave, Ortigas, Pasig
(02) 958-6986
Kyochon – multiple branches
Kyochon, which first started in 1991, is now one of the fastest growing brands worldwide. No one is safe from the fried chicken craze. Every piece of chicken they serve is guaranteed fresh, fried to order, and hand-brushed with their special sauces including their Honey series, Red series (hottest chili peppers), and Soonsal series (cooked in a rice batter with honey mustand and jambalaya dips)!
No reservations accepted
View menu
View branches
View their Instagram

Soban K-Town Grill is modern Korean joint inspired by the different "K-Town" communities in L.A, New York, and Hong Kong. Try unique items like Korean tapsilog, kimchi fries, and 6-Flavor Samgyupsal Set that comes with 540 grams of pork belly in six different marinades. Another favorite is their Dak Ganjeong or boneless double-fried chicken.
No reservations accepted
View menu
View branches
View their Instagram account

French fries, burgers, pasta, pizza, and steaks – all classics you think you're prepared for, until you get them with a Korean twist. Get chicken wings in original, Yang Nyum, spicy, honey, and smoked, coupled along with a cold bottle of beer.
Reservations are not accepted
View menu
View branches
At 24 Chicken, you can enjoy 8 different flavors of Korean fried chicken like garlic, spring onions, spicy BBQ grilled, Jack Daniels, and other unique flavors.
Big Mama Korean Restaurant serves delectable Korean food that makes you feel like you're at home – only with a wide range of options offered a room away. So whether you're in the mood for samgyupsal or some good fried chicken, feast away, but make sure to try their sweet and spicy Yang Nyum.
Tell them what you want, what you really really want, and you'll get it. With a wide variety of original, soy, spicy original, sweet and spicy, or sweet and hot spicy, you're going to get exactly what you came for at Gangnam Wings.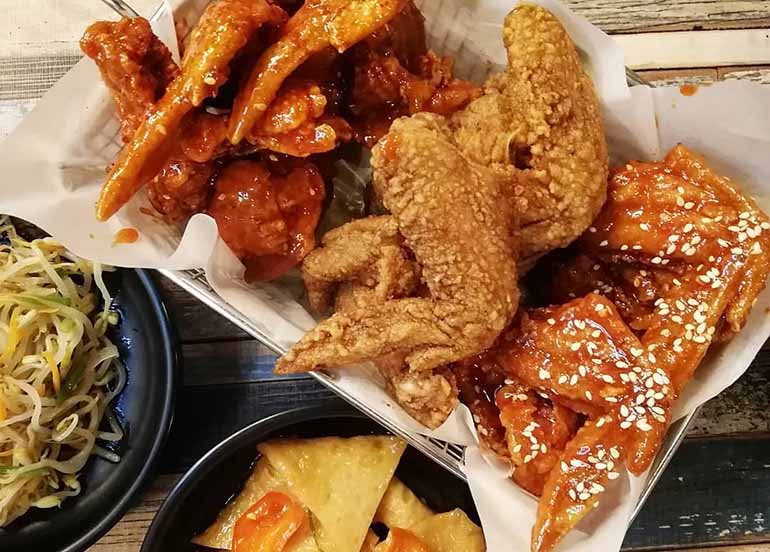 View menu
View their Instagram
UG/F SM Megamall, Bldg. A, Ortigas, Mandaluyong
(0917) 130 0034
Feel right at home with a choice of breast, wings, and thighs in any sauce you'd like, and if you're feeling frisky, go ahead and get yourself an order of spicy chicken feet that would go well as pulutan.
215 Aguirre Ave, BF Homes, Parañaque
(02) 842 2020
You better be in the mood for different kinds of chicken, because Oppa Chicken's got a variety of flavors ready for you. The Ganjang Soy Garlic, Yang Nyum, Salt and Pepper, Snowing Cheese, Crispy Baked, Oven Roasted, Chicken Fillet, and their Atomic Bomb fillet.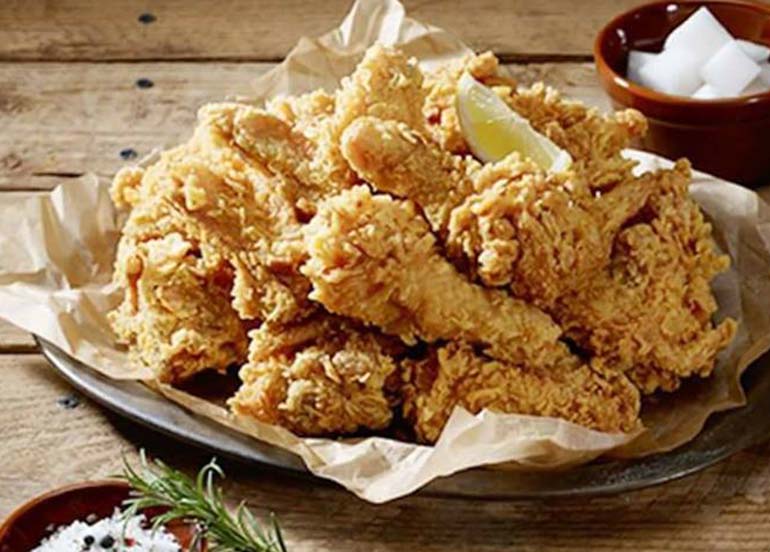 If you're not already enjoying the offline convenience of Booky, you can download the app for FREE! Get P1000 worth of savings on us. But why stop there? When you sign up for BOOKY PRIME, you can get up to P15,000 worth of Buy 1 Get 1 deals and unlimited discounts. Your next bite is just a touch away.