An iconic dish from an iconic film!
If you've been up to date with the recent happenings, you'll know that Bong Joon Ho's Parasite swept the Oscars by taking home the Academy's most prestigious award. Considered a pivotal moment in Oscars history, Parasite is the first non-English film to win 'Best Picture'— a film about classism and culture in South Korea, no less. 
And since Parasite depicts South Korean culture, much of its storytelling brings emphasis to food. One of the most iconic dishes in cinema to date is Parasite's Ram-Don or Jjapaguri, a humble instant-noodle dish. If you've been craving Mrs. Kim's Ram-Don, here's a local spot that serves the cinematic meal!
In honor of Parasite's historic win at the Oscars, Seoul Station in Bulacan presents Jjapaguri with Wagyu Cubes (₱299), their own version of Mrs. Kim's Jjapaguri with Steak. Once you overcome the one-hour long traffic to Bulacan, then you'll be introduced to so many more amazing dishes like this. (Just kidding, it will probably take you way longer).
Either way, head on over to Seoul Station Korean Barbeque and have a taste of their signature Jjapaguri / Ram-Don dish! For more information, check out their Facebook page.
View their Facebook page
2nd Floor Eco Commercial Complex, MacArthur Highway, Malolos, Bulacan
0977 322-5344
Here's Your Ultimate List of Korean Restaurants in the Metro
There's no denying that Korean culture has had a huge influence here in our country; from K-Pop to 10-step skincare and of course, their delicious cuisine which makes our hearts (and bellies) go bi-bim-bap!
Speaking of their cuisine, throughout the years we've been blessed with more KBBQ's than ever before! More branches and more brands means they're now more accessible so our K-cravings can be satisfied in no time.
The fact that you're now reading this, we know you've been having that K-Craving which is why we've come up with this ultimate list of Korean restaurants so all you have to do is choose! We made sure to include those that aren't as popular as the go-to Samgypusalamat or Romantic Baboy to give you more variety! What are you waiting for? Let's get those bellies filled!
MAKATI
One of the best things of Makati is their melting pot of cuisines so you're sure to find a number of Korean restaurants and some of them are even open late at night. Traffic can get terrible in the area but the food here definitely makes up for it.
Gaja – Poblacion
Gaja Korean Kitchen offers a contemporary take on traditional South Korean recipes. This is their first branch in the Metro.
View menu
View their Instagram account
8445 Kalayaan Ave., Poblacion, Makati
(0906) 493-0799
RJ's Korean Bowl-Gogi serves Korean favorites like beef bulgogi, ramyeon, bibimbap, samgyeopsal, and many more at affordable prices.
Buendia Food by the Court, Sen. G. Puyat Ave cor Bautista & Finlandia St., Makati
An underrated Poblacion find, Min Sok is owned by a Korean couple and serves authentic Korean specialties. Meals start with the traditional banchan appetizers and a bulk of it is their delicious grilled meats.
View menu
5655 Don Pedro Street, Poblacion, Makati
(02) 895-9586
Unlike most KBBQ restaurants which are known for all-you-can-eat promos, Dong Won is the ideal restaurant for those with a smaller appetite. You can order ala carte and although the portions here are smaller than average, don't be fooled. They do not fall short on quality and authenticity.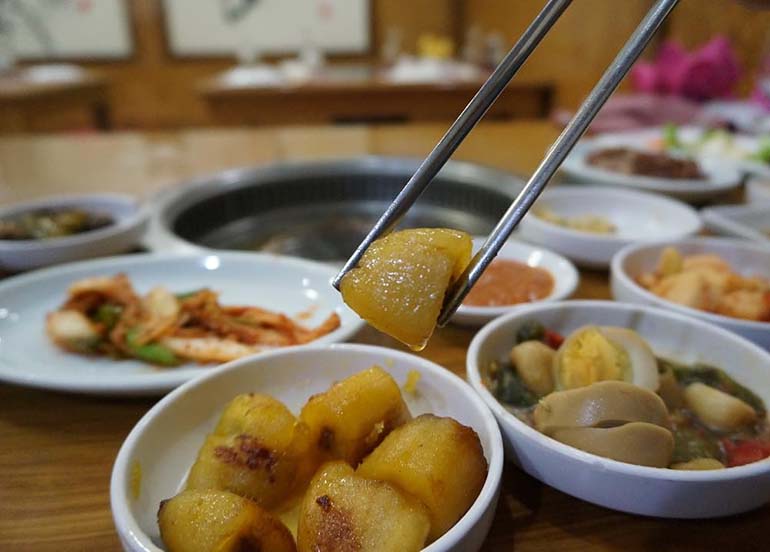 View menu
53 Polaris St. cor Jupiter St., Bel-Air, Makati
(02) 898-3558;(02) 659-5160
Bornga – Alphaland Makati Place
Far away from the mall-crowd, Bornga is not your usual Korean restaurant. They don't serve buffet but instead focus on the quality of their ingredients— they have an impressive variety of greens and generous cuts of the meat.
View menu
Alphaland Makati Place, Ayala Ave., Bel-Air, Makati
(02) 519-6980;(0905) 318-8282;(0928) 678-8282
Korea Garden is one of the longest standing Korean restaurants in Makati, if not the whole Metro Manila. If you notice, their parking is always full so it's best to arrive a bit earlier than usual.
View menu
128 Jupiter St., Bel-Air, Makati
(02) 895-5443
TAGUIG
Taguig is slowly but surely growing its arsenal of restaurants and now already has a number of Korean restaurants up their sleeve from barbecues to fusions, you'll be surprised to see what Taguig has in store.
Namoo House is the local franchise of Maple Tree House, a popular Korean BBQ restaurant from Seoul, Korea. It offers value-for-money premium meat cooked on charcoal grill.
View menu
View their Instagram account
G/F Uptown Parade, 38th Street Corner 9th Avenue, Fort Bonifacio, Taguig
(02) 946-3733; (0917) 527-3898

The Cook is a new restaurant concept serving Korean-Italian fusion dishes like Bacon Carbonara, Spicy Chicken Steak Salad, Seafood Olive Spaghetti and more.
View menu
View all branches
View their Instagram account
G/F Forum South Global, Federacion Drive cor 7th Ave., Fort Bonifacio, Taguig
(0917) 562-5273
Yoree is famous for their state-of-the-art Korean barbeque. They also serve set meals and Korean bingsu dessert.
View menu
View all branches
View their Instagram account
U 1-6 The Forum South Global, 7th Ave cor Federacion Drive, Fort Bonifacio, Taguig
(02) 461-1968; (0929) 466-0032
Sariwon – Bonifacio High Street Central
Awarded "The Best Korean Restaurant" by the Seoul Metropolitan Government. Sariwon is also famed for its Legendary Bulgogi and Galbi or Barbecued Beef Short Ribs, with the New York Times proclaiming it as the "The Most Tender Succulent in Seoul."
View menu
View all branches
View their Instagram account
UG/F Bonifacio High Street Central, West Superblock, 7th Ave cor 29th St, Fort Bonifacio, Taguig
(02) 621-3205
PASAY
Pasay is home to one of the best known Korean restaurants chains such as Gen Korean BBQ House. Whether you want to grill-all-you-can or have bibimbap, you can find it at Pasay.
Craving for Bibimbap? Japchae? Or some samgyupsal? You can get all that at reasonable prices at BibimHaru Korean Restaurant! They have different kinds of Bibimbap to choose from such as the Seafood Bibimbap, Beef Bulgogi Bibimbap, Fish Fillet Bibimbap and of course Classic Bibimbap that started it all. So say haru to the bibimbap of your choice!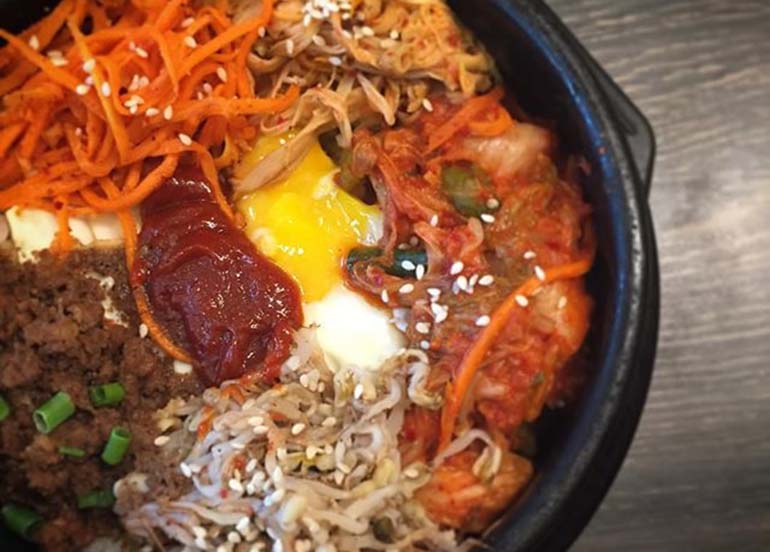 View menu
G/F Two E-Com Center, Mall of Asia Complex, Pasay
(02) 208-3333
Gen is a popular Korean restaurant chain from Los Angeles, California. Best known for its grand grill-all-you-can experience, you can feast on premium samgyupsal (pork belly), chadol (beef brisket), seafood, and more, because you've got 20 meat options to choose from!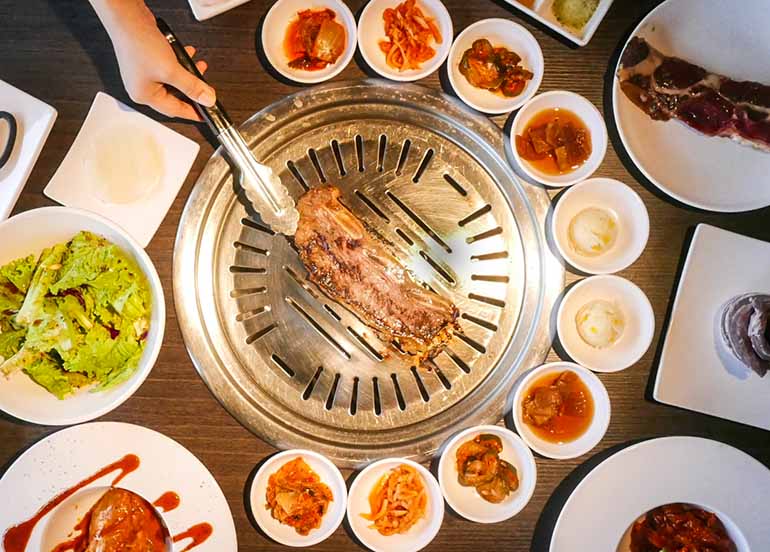 View menu
View their Instagram account
Bldg. J, Unit 1-16, SM By the Bay, Seaside Blvd, Mall of Asia Complex, Pasay
(02) 541-2766; (0917) 621-8249
Jin Joo is a restaurant that's ready to bring something fresh to the table. When you're finished taking photos of their industrial interiors, neon-lit signs, and pastel furniture, feast your eyes on their famous Jin Joo 8 Flavors with samgyeoupsal in Honey Garlic, Wine, Curry, Herb Soybean, Red Pepper, Nutty, and Smokey BBQ!
View menu
View all branches
View their Instagram account
2/F SM Mall of Asia, Seaside Drive, Pasay
(02) 640-2032
PARAÑAQUE
Parañaque has a number of Korean places that are quite unique compared to the usual unlimited grills. They do have our favourite grill-all-you-cans but if you want a breather to try something new, Parañaque's got it.
Shabunoki cooks up an unforgettable buffet experience by serving up two all-time all-you-can-eat favorites! Whether you want to enjoy a classic Korean barbecue meal or a hit the spot with a satisfying Shabu-Shabu hotpot, you're sure to get your fill at Shabunoki!
View menu
View their Instagram account
Check out their Facebook page
283 Aguirre Ave., BF Homes, Parañaque
(02) 8962-0654; (0915) 934-2379
As their name suggests, Fusion offers a fusion of cuisines; you get Korean, Japanese, and Vietnamese, all with an unlimited buffet and Shabu Shabu.
Check them out here
335 Aguirre St. Bf Homes Parañaque City
553 3003
Far from your usual Korean dining experience, Kiwa Korean Grill is more of an upscale version, serving some of finest traditional Korean dishes and other artisan creations by their world-class Korean chefs.
View menu
View their Instagram account
Solaire Resort & Casino, 1 Aseana Ave., Parañaque
(02) 888-8888
Big Mama Korean Restaurant serves delectable Korean food that makes you feel like you're at home – only with a wide range of options offered a room away. So whether you're in the mood for samgyupsal or some good fried chicken… feast away!
View menu
View all branches
179 Aguirre Ave., BF Homes, Parañaque
(02) 945-0798
MUNTINLUPA
If you're in the area, you don't need to go far to satisfy your Korean cravings. Muntinlupa has a bunch of Korean restaurants just waiting for you to try.
True to its name, Meat Here Unlimited Korean BBQ offers a no-fuss unlimited Korean dining experience at affordable rates.
Weidmann's Plaza, 94 National Road, Muntinlupa
(0905) 213-2056
Soga Miga – Festival Supermall
People from the South have been raving non-stop about this Korean restaurant in Alabang and we heard that they serve some of the best Korean beef stew they've ever tasted!
Festival Supermall, Filinvest Corporate City, Commerce Ave., Alabang, Muntinlupa
(02) 807-3008;(0917) 807-3008
PASIG
Pasig is probably the city with the most Korean restaurants and some are even at close proximity with each other. If you're still not sure on where to eat, you could just walk around Pasig and see an abundance of choices right in front of you.
Kko Kko – Sapphire Bloc
Owned by Grace Lee, Kko Kko is a modern restaurant that serves authentic and reinvented Korean favorites such as their Dosirak, Cheese Fondue, and Snow Chicken.
View menu
View all branches
View their Instagram account
North Tower, The Sapphire Bloc Building, Sapphire Road cor Onyx and Garnet St., Ortigas, Pasig
(02) 535-7689

Ye Dang – Meralco Ave.
Ye Dang serves some of the most delicious marinated grilled meats in the city. Each meat platter comes with bountiful banchan and your choice of lettuce or rice, so full bellies are a guarantee.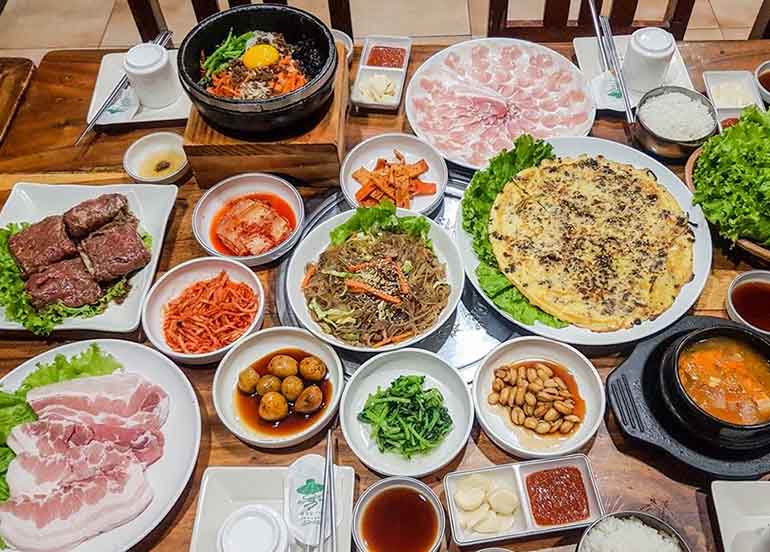 View menu
88 Meralco Ave., Ortigas, Pasig
(02) 631-9086;(0916) 671-3830
Lee Hak is an affordable Korean buffet that offers DIY Korean BBQ as well as around 100 different ready-made meals and appetizers. The smokey aroma of samgyupsal and chadolbagi will welcome you as you enter, so make sure you have a spare change of clothes or don't have other plans after eating.
View menu
View all branches
Pioneer Center, 8006 Pioneer St cor United and Brixton St., Kaptiolyo, Pasig
(02) 508-7808; (02) 584-3279; (0917) 857-9896

QUEZON CITY
Quezon City is vast so you can be sure to expect this list to keep growing. The city has many pockets of food-filled areas such as Tomas Morato and Maginhawa that it's impossible not to spot a good Korean restaurant.
Seoul Train Korean Barbecue is a locomotive train-themed Korean restaurant that serves fresh OMI chateaubriand, A5 Saga, Kagoshima beef, and USDA beef. They also have 5-6 red wines on pouring to match with their grilled meat and other classic Korean dishes.
View menu
View their Instagram account
#28 Sergeant Esguerra Ave, near Tomas Morato, South Triangle, Diliman, Quezon City
(0917) 772-2203; (02) 287-2446; (0918) 841-3197
MOKJA – Maginhawa
It's almost impossible to talk about food in Quezon City without mentioning the Maginhawa area, and MOKJA has got Korean cuisine covered! This Maginhawa restaurant has become beloved by the neighborhood because of its authentic and affordable Korean buffet that keeps people coming back for more. They now also have a branch in Banawe.
View menu
View all branches
3/F Unit 3A #80 Maginhawa Street, UP Village, Diliman, Quezon City
(0926) 696-4855
SAN JUAN
San Juan is bustling with new eats and classic restaurants way beyond the Greenhills area. It's also home to some of the most well loved restaurants such as Sodam which is almost synonymous already with "Korean" if you're from around the area.
Sodam – Little Baguio
Sodam is an authentic Korean buffet best known for its all-you-can-eat grilled meat dishes and other cuisine staples.
View menu
17 Jose Abad Santos, Little Baguio, San Juan
(02) 238-3593; (0905) 393-4190
MULTIPLE BRANCHES
PASIG | SAN JUAN | MUNTINLUPA | PARAÑAQUE
Sibyullee, being the third concept of the Happy Foods Group and award-winning Korean restaurateurs Mr. Sung Rah and wife, Mrs. Yoo Chang, They serves modern Seoul BBQ and street food dishes.
QUEZON CITY | MUNTINLUPA | MAKATI | MANILA | TAGUIG
Inspired by "K-Town" communities in L.A, New York, and Hong Kong, Soban offers unique Korean-Mexican fusion dishes.
Soban K-Town serves a variety of unique dishes like their K-Tacos (Korean tacos), Kimchi Fries, Korilog (Korean tapsilog), and the Korrito (Korean burrito).
Even their best-selling samgyupsal set is not what you would expect. Soban's 6-Flavor Samgyupsal Set is the specialty of the house and it comes with 540 grams of pork belly flavored in six different marinades: fresh, fruity, soy garlic, black pepper, honey spiced, and gochujang!
You could bookmark this article as we'll continue to keep updating this list to give you the latest on Korean restaurants around the metro.
Did you know that with the Booky app, you can type "PASIG" and other locations to search over 100 restaurants in the area. If you spotted a new restaurant near you, shoot us an email at support@phonebooky.com with all the details.