Get your Greek on! 

When it comes to Greek food, people always think of gyros and souvlaki, or the rustic dishes associated to its popular islands like Santorini or Mykonos. But more than the simple, bucolic feel to the cuisine, what Greek food really comes down to is its freshness.

Book a table now and get a discount!
KOS Greek Ouzeri is little piece of the Mediterranean in the north. The restaurant stays true to Greek tradition, making everything fresh and from scratch.
Trivia: Ouzeri is a Greek word which means "tavern that serves ouzo (a kind of liquor) and mezedes (finger food)."
Start your Grecian escape with a Mezedes sampler. Mezedes are small plates of appetizers usually served to accompany alcoholic drinks. In the Philippines, we call it "pulutan".
Mezedes
The dip sampler comes with a basket of unlimited breads and pita 
Tzatziki – Yogurt cucumber dip flavoured with garlic, dill, olive oil, and lemon juice.
Hummus – Mashed cooked chickpeas blended with tahini, olive oil, lemon juice and garlic
Roasted Cauliflower & Garlic Spread – Blended cauliflower and garlic with mixed herbs and spices
Tyrokafteri – Whipped Greek feta cheese and hot red peppers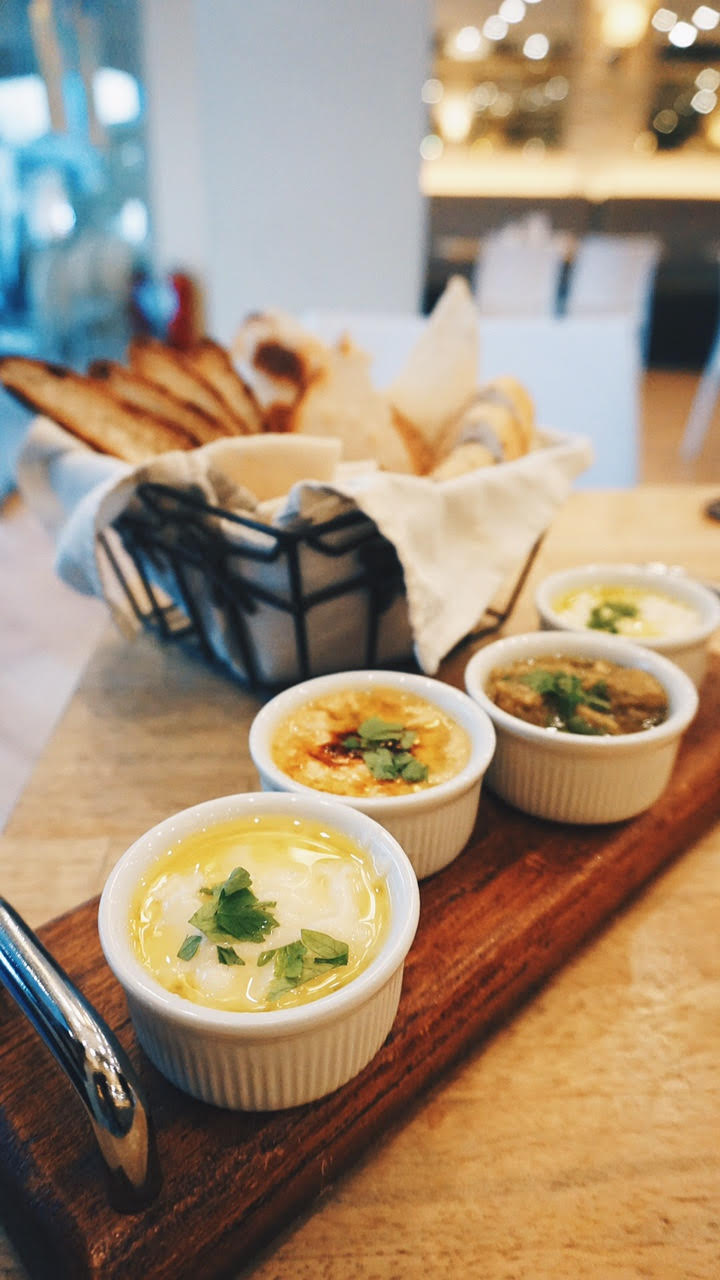 Don't miss out on the Kalamaria Toursi (squid marinated in vinegar with herbs and spices), Garides Saganaki (shrimps in tomato sauce baked with feta cheese), and Soutzoukakia Smyrneika (sausage shaped meatballs cooked in spiced tomato sauce)
Insider Tip: Talk about authentic! KOS keeps the original Greek name of the dish so be sure to read the English subs written on the menu.
Spanakopita 
Spinach pie made with layers of phyllo, spinach, onion, and feta cheese
Another good thing about Greek food— it's healthy! A Greek table is never complete without a big bowl of greens.
Kos Salata
Mixed green lettuce with sun-dried tomatoes, dried figs, caramelized nuts, cheese, and grapes tossed with honey grape vinaigrette.
For those who like more protein in the salad, try the Tono Salata made with seared tuna.
Briami
Fried and baked zucchini, onions, tomatoes, potatoes, eggplants and extra-virgin olive oil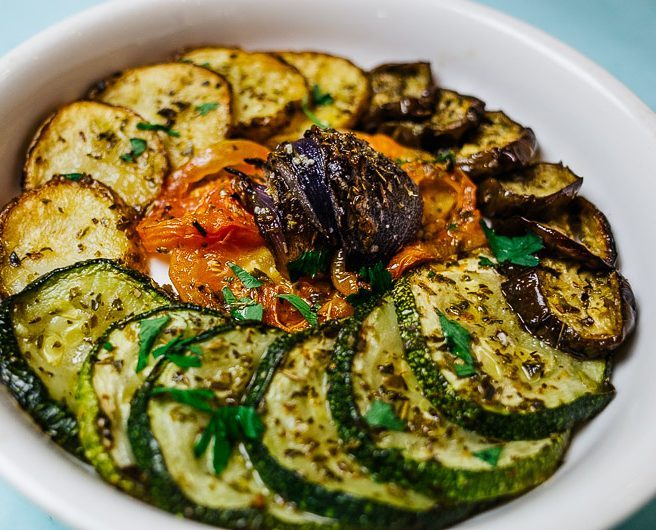 Pasta is also served at the restaurant and the crowd favorite seems to be the Arni Me Kritharkia. You can also try the Greek Pasta and the Pastitsio.
Arni Me Kritharkia 
Lamb meatballs served with orzo pasta cooked in tomato sauce. This is a must-try for those who have yet to try the rice-like pasta.
Greek Pasta
Tube pasta with roasted cherry tomatoes, feta cheese, and fresh herbs
Pastitsio
Layered tube pasta with meat and tomato sauce, topped with béchamel sauce
Of course an authentic Greek tavern will serve the usuals like Gyros (pronounced as jiro, which means "to turn" in English) and Souvlaki, but keep in mind— there's more to protein than skewered meats! Don't miss their Hirini (grilled pork chop), Arnisia (lamb chop), Kotopoulo (roast chicken), and Solomos (grilled salmon)
Souvlaki
Skewered pork or chicken served with roasted vegetables, yogurt garlic sauce and red bell pepper sauce, marinated with fresh herbs and flame grilled to perfection.
Kotopoulo
Roasted half-chicken marinated in Greek herbs and organic Extra Virgin Olive Oil. Served with roasted vegetables and red bell pepper sauce.
Solomos
Salmon fillet is grilled after being marinated in Greek herbs. They serve the fish with roasted vegetables and a healthy sauce made of tomato concasse, lemon juice and extra virgin olive oil.
When it comes to dessert, the Greeks still keep it light and healthy with their famous Baklava, a sweet square-shaped treat made of layers of phyllo filled with chopped nuts and sweetened with a little syrup.
If you're looking for something good for sharing, order the Greek Yogurt with honey. Kos serves theirs sprinkled with nuts and fruit preserves on the side.
Their desserts go perfectly with coffee which Kos prepares in the traditional way: with a briki. A briki is a steel pot with a long handle in which they put the coffee and water over a gas burner. The coffee is stirred in the briki until dissolved.
If you prefer a non-caffeinated and non-alcoholic drink, then go for one of their refreshing coolers— Orange Lemonade with Ouzo, Greek Cardamom Iced Tea and Tarragon Lemonade.
You don't have to go far to get authentic Mediterranean cuisine, just head up to Katipunan! Be sure to bring family or friends because servings are big enough for sharing.

View menu
View their Instagram account
G/F UP Town Center, Katipunan Ave, Diliman, Quezon City
(02) 287-1558
You can also view this restaurant, together with its menu, contact details and location, on your Booky app!
If you're not already enjoying the offline convenience of Booky, you can download the app for FREE on iPhone or Android. Discover over 900 of the top restaurants in Metro Manila and just watch as your foodiverse explodes!
Why stop there? Sign up for BOOKY PRIME, and enjoy unlimited BUY 1 GET 1 DEALS and DISCOUNTS – all for just ₱199 a month.
Don't forget to keep tag us on Instagram @bookyapp #bookymanila so we can join your food trips around the city. We see you!
Comments
comments