Press pause on that 2020 diet.
We might be just a few days into the new year, and we're all must be knee-deep into our resolutions (including all the diets we promised we'd go on), but we all know that moderation is key! Diet and dessert sound suspiciously alike, so there's no harm in both.
We might not know where broken hearts go, but we DO know where Krispy Kreme hides their mysterious doughnut holes after creating the famous OG (Original Glazed) doughnuts. Straight into these beautiful boxes available to us now!
There's a reason why Krispy Kreme's Original Glazed® Doughnuts are a classic. No one does the sugar glazed layer quite like Krispy Kreme, and now we get the same taste, different shape!
Price:

Box of 7 pcs. - ₱75
Bucket of 24 pcs. - ₱235
Bucket of 45 pcs. - ₱375
Available for a limited only, starting today, January 4! For more updates on Krispy Kreme, check out their Facebook page.
Krispy Kreme is America's favorite doughnut and coffee shop. It's probably the only doughnut shop whose Original Glazed® flavor is more popular and unbeatable by the rest of its menu.
Enjoy Buy 1 Get 1 deals from them like the Original Glazed® Doughnut and Medium Signature Coffee Combo, Pre-Assorted Half Dozen, Americano, and Cold Brew.
Insider Tip: Claim these delicious snacks and drinks up to 4 times a month!
Pre-Assorted Half Dozen
A sweet combination of six Original Glazed® Doughnuts, and six assorted doughnuts. You can choose from Chocolate Iced Sprinkles, Strawberry Iced Sprinkles, Glazed Chocolate Cake, Glazed Vanilla Cake, Mango Kreme Cake, and Chocolate Iced Custard Filled, for your assorted doughnuts.
Price: Six Original Glaze®, and six assorted doughnuts, for only ₱299!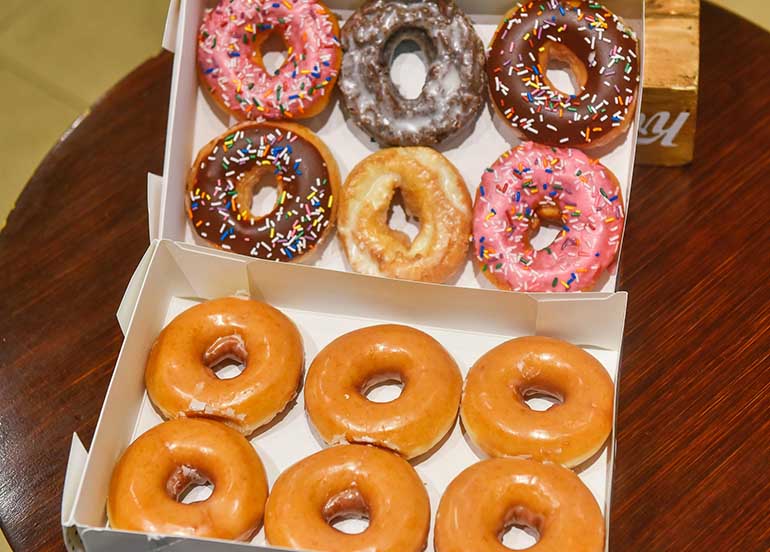 Original Glazed® Doughnut and Medium Signature Coffee Combo
A classic pair of doughnuts and coffee. Start the day right with this combo, and make it even better by doubling it!
Price: Get two of this doughnut and coffee combo for P129 
Americano
A cup of freshly brewed espresso. This can be taken hot or iced.
Price: Double the espresso. Buy 1 Get 1 Americano for only P105 
Cold Brew
Krispy Kreme's signature cold brew which is made with espresso beans that are steeped for over 12 hours
Price: Have 2 Cold Brews for only P125! 
To claim your BOGOs, just follow the steps below:
Download Booky's app and sign up for a free trial
Pick a coupon to avail
Swipe to claim when ordering
Guess what! Booky has more Buy One Get One promos waiting to be claimed! Just download the Booky app and go to the Buy 1 Get 1 tab to check out all the exciting food you can claim throughout the metro!
Remember to tag us in your photos with the hashtag #BookyBOGO to be featured!