Coast to coast.
Just when you thought there's no authentic Italian restaurant out there that could be as real as the food you've tasted in Italy, here comes La Spezia with all the flavors you could only dream of.
Book a table here and get a discount!
La Spezia (lä spet syä) is a coastal town in Italy, just east of its more popular neighbor, Cinque Terre, a world UNESCO site. The Mediterranean cities feature local food that stands out for the mixture of flavors reflecting years of tradition and its fresh seafood. La Spezia is no exception.
Update: Want to see the Top 10 Most Loved Restaurants in Quezon City this month?
Enderun mates, Sean Yuquimpo and Aaron Shiu, both having studied and lived in Europe, come together to bring simple and fresh Italian cuisine done right. At Spezia, you will travel from coast to coast through your palate.
This hole-in-the-wall is as humble and homey as its namesake, but don't let its laidback ambience fool you – there's no rest for the wicked chef, as they're on their sixth menu overall, providing every bit of flavor the seasons have to offer. As a practice, their menu changes every season to adjust to the availability quality of ingredients.
Fun Fact: Some of the photos on the wall are Sean's own photos taken from his travels.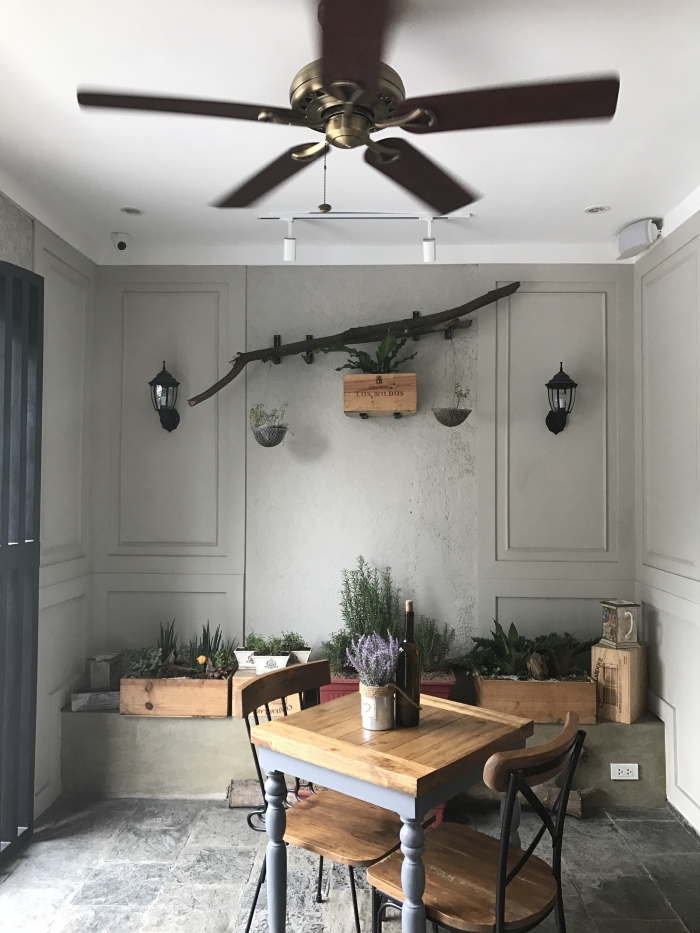 Currently, their menu is very summer-oriented, new dishes have been added to celebrate the bounty of vegetables.
La Spezia traces back to the roots of Italian cuisine by focusing first on the ingredients, which they guarantee are fresh and sustainable. They support farmers and fishermen by sourcing direct. Expect an unapologetically short menu of timeless classics, as well as unique and stand-out desserts by Chef Aaron, who heads the kitchen. Check out their bestsellers available this season.
Burrata
Italian mozzarella di buffalo with pistachios, almonds, and balsamic modena
Caprese Insalata
Salad with Italian mozzarella, garden tomatoes, basil, pesto, and mixed greens
Risotto Classico
Arborio rice, Italian pancetta, 18-month old Parmigiano reggiano, and sweet summer peas
Spaghetti Pomodoro e Basilico
Spaghetti Agile Pesca
Bistecca alla Florentina
Porterhouse (Black Angus, USDA Prime), medium rare, with mixed salad
Pollo Impanato
Sous-vides half chicken, couscous, basil, and extra virgin salad
Carbonara with Black Italian Truffle
Eggs, 18-month old Parmeggiano reggiano, and black Italian alba truffles
Camicia Pear Gelato
Poached pear & flambeed pear, graham crust, vanilla ice cream, and balsamic syrup
Zeppole
Lemon-infused Italian donut, strawberry coulis, mascarpone, and mint
Whichever you choose, you're sure to get an elevated yet approachable experience. This is the La Spezia's core and they will move forward with this focus as they bring in more secret menu specials as time goes by. For now, there is enough on the plate to enjoy and return, and return twice more.
You can also view this restaurant in the app. Search for "LA SPEZIA" to view contact details, location and its menu. If you still haven't, download Booky to experience the convenience of searching and booking restaurants offline!
This restaurant is part of Booky's Summer Barbecue #EatSale from June 6 to 11, 2018.
Get ₱500 off – all day, every day. Hurry! Book now, while seats last!
Discounts are applied when you bill reaches ₱1,000

View menu
View their Instagram account
90 Scout Dr. Lascano St., Laging Handa near Tomas Morato, Quezon City
(0917) 317-8992