Bahaw do I live without you?
We've all been guilty of accidentally making too much rice. This everyday staple is just too easy to make too much of, and for us Filipinos, it's practically a cardinal sin to let it go to waste. And why should you? It's perfect to put back on the frying pan the next day (but of course put it in the fridge, rice isn't invincible).
And don't get us wrong, sinangag is an absolute classic, but we're here to give you ways to take your bahaw up another level. These might even have you make too much rice on purpose next time. Try out these 10 recipes to elevate your leftover rice to the next level.
Adobo Rice
Adobo and rice, the true Filipino classic, but combined.
Here's a recipe from Tastemade.
Ingredients:
4 cups cooked day-old white rice
1 cup shredded cooked chicken
6 garlic cloves, minced
1 serrano chili pepper, thinly sliced
¼ cup low-sodium soy sauce
3 tbsp vinegar (spiced vinegar is a plus!)
Vegetable oil for pan
Instructions:
Get your pan or wok to medium heat and coat it with your oil of choice. Add in garlic and sliced chili peppers to sauté. Once the garlic is fragrant and golden brown, add chicken, soy sauce, and vinegar. Stir well and allow to slightly fry until the liquid has evaporated and the chicken is a little crispy. Add more oil if needed. Mix in the leftover rice and allow to cool for about 5 minutes, while stirring occasionally.
Insider tip: Serve with a fried egg on top or steamed bokchoy.
Beef Pepper Rice
If you've been missing Pepper Lunch like your other favorite go-to restaurants, then you no longer have to miss it. Make your own at home!
Here's a recipe from Pepper.
Ingredients:
Honey Brown Sauce:
1 tbsp oil
¼ of an onion chopped
1 clove of garlic minced
¼ cup of honey
2 tbsp kikkoman soy sauce
⅛ tsp salt
Miso paste (optional for more umami flavor)
1/4 cup slurry (1 tsp cornstarch +1/4 cup water)
Garlic Soy Sauce:
1/4 cup regular soy sauce
4 large cloves garlic, crushed
2 tsp sugar
1/2 cup slurry (1 tsp cornstarch +1/2 cup water)
Beef:
400g short plate cut beef (thinly sliced)
3 cups cooked rice
1/4 cup canned corn
1/2 tsp freshly crushed pepper
2 tsp cooking oil
2 tbsp butter
2 tbsp spring onions, chopped
Instructions:
Honey Brown Sauce:
Mix all of the honey sauce ingredients into a saucepan and bring to a boil for 3-5 minutes or until the onions and garlic have softened. Puree in a blender or food processor and set aside.
Soy Garlic Sauce:
Marinate the raw crushed garlic in the mixture of the 2 types of soy sauce for 30 minutes. Put the garlic soy mixture and the rest of the ingredients in a sauce pan and boil for 1 minute. Take off of the heat immediately. Puree in a blender or food processor and set aside.
Beef Pepper Rice:
Heat a cast iron skillet to high. Wait for wisps of smoke to rise from the pan and add your rice. Top it with regular kitchen salted butter so it melts. Turn off the heat and immediately scatter the beef strips around the rice. Top with desired amount of pepper, corn, and spring onions. Add your sauces or serve it on the side. Mix everything and enjoy.
Insider tip: If you have curry and cheese lying around the house, add that on to your rice as well to mimic their best-seller toppings!
Egg Fried Rice
If you've only got 5 minutes and a limited pantry to whip something up for breakfast, here's a very easy egg fried rice recipe!
Here's a recipe from Brown Girls Kitchen.
Ingredients
3 cups leftover rice
4 eggs
4 green onions (scallions)
1 tbsp oyster sauce
1 tbsp soy sauce
1/2 tsp salt
1/2 tsp black pepper
2 tbsp oil
Instructions:
Chop up your green onions into thin even slices. Add your leftover rice into a bowl and crack in the eggs. Stir until homogenous. Add 2 tbsp of oil into your wok or pan, then fry your green onions for 1 minute. Add your egg and rice mixture into the onions and fry for 4-5 minutes on medium heat. When the egg has cooked into the rice, season with salt, pepper, soy sauce, and oyster sauce. Stir and serve.
Kimchi Fried Rice
What better companion to your late-night Netflix K-drama binge than Kimchi Fried Rice?
Here's a recipe from Maangchi.
Ingredients:
1 Cup Sour Kimchi
1 tsp Vegetable Oil
Hot Pepper Paste (Gochujang)
3 cups Leftover Rice
Sesame Oil
Sesame Seeds
Green Onion
Roasted Seaweed (Gim)
¼ cup water
Instructions:
Cut your kimchi into small pieces, and set kimchi juice aside for later. Pour oil into the pan and fry your cut up kimchi for 1 minute on high heat. Lower the heat to medium and add in the rice. Then, pour kimchi juice over the rice and stir everything together. Add a cup of water if needed so you don't burn the bottom of the pan. Spoon in the hot pepper paste, sesame oil and stir. Remove from heat and garnish with green onion, gim, and sesame seeds.
Insider tip: Add spam and fried egg on top for the ultimate Kimchi Fried Rice Experience.
Tinapa Fried Rice
Does something smell fishy? Infuse that classic smoky tinapa flavor into your rice.
Here's a recipe from Cucina ni Nadia.
Ingredients:
1 Cup Tinapa Flakes (Bangus or Galunggong)
2 Eggs
1 Tomato
3-4 Cloves of Garlic
2 tsp Chives
Half an Onion
Pepper
Salt
1 tbsp Patis (Fish Sauce)
3 Cups Day-old Refrigerated Leftover rice (buhaghag)
Cooking Oil
Salted Eggs
Instructions:
Crack your eggs into a non-stick or well-oiled pan and stir to scramble it. Season with a pinch of salt and cook until the consistency is of small, soft, creamy curds. Don't let it get too dry as we're going to put them back into the pan with the rice later on. Set your scrambled eggs aside into a plate or bowl.
In the same pan, drizzle in the cooking oil and saute the garlic. Stir it for a few seconds before adding in the tinapa flakes (these can either be pre-shredded or just shredded in the pan), and onions. Put the rice into the pan and stir until homogenous. Season with a pinch each of salt and pepper. Mix in the scrambled eggs and chives. Cook for 1 more minute before pouring the patis for the unique taste. Stir and serve with fresh chopped tomatoes and halved salted eggs.
Bagoong Fried Rice
Get some Thai flavors into your kitchens as we deal with our 2gether-induced kilig. The Bagoong Fried Rice is the Filipino adaptation of the Thai Khao Kluk Kapi!
Here's a recipe from Panlasang Pinoy.
Ingredients:
1/4 lb. pork belly sliced thin
3 tablespoons chopped scallions
1/2 cup green mango chopped
5 cups leftover white rice
3 tablespoons bagoong guisado or bottled shrimp paste
1 teaspoon garlic minced
1 tablespoon cooking oil
Instructions:
Heat a frying pan and sear the sliced pork belly by putting them directly into the hot pan. Cook them for 2-5 minutes until the oily pork fat comes out. Add 1 tbsp of bagoong and stir. Cook for 1 minute and then remove from the pan to set aside. Re-oil your pan and heat. When the oil is hot, throw in your garlic and saute for 15 seconds. Add 2 tablespoons of bagoong and then cook for 30 seconds in medium heat.
Put in your rice. Gently mix while cooking until all the ingredients are distributed properly. Cook the rice for 10 minutes while gently scraping the bottom of the pan once in a while. Transfer the rice to a serving bowl or plate. Top with the cooked pork belly, chopped green mango, and chopped scallions.
Aligue Fried Rice
Aligue or crab fat is the orange-red material found on the inside of a crab's shell, and can be bought by the jar. This simple recipe upgrades your bahaw by tossing it into this sinful and savory stuff.
Here's a recipe from The Kusinera At Its Finest.
Ingredients:
1 tbsp cooking oil
1 tbsp garlic, minced
⅓ cup aligue or crab fat
3 tbsp atsuete extract (for color)
3 cups leftover rice
Pinch of salt
Pinch of ground black pepper
Calamansi
Instructions:
Coat your pan in the cooking oil of your choice and heat to medium or medium-high before adding the garlic to saute until fragrant. Add in the aligue and mix until garlic is distributed pretty evenly. Pour in the atsuete extract and dump in your rice. Season with salt and pepper. Stir and serve with calamansi.
Insider tip: Best eaten alongside seafood like pusit, shrimp, crab, or fish.
Nasi Goreng
Indonesia's national dish, Nasi Goreng literally just means fried rice in Bahasa and there are endless variations to it. Adam Liaw's version is just one of them and it builds on the Nasi Goreng basics that are just rice, flavor, and a fried egg on top:
Here's a recipe from Adam Liaw.
Ingredients:
Rice:
3 cloves garlic, peeled
2 shallots, peeled and roughly chopped
1 tsp belacan (fermented dried shrimp paste)
½ cup canola oil
4 eggs
1 large red chilli, seeds removed (or other chillies as you prefer)
1 chicken breast, cut into 2cm cubes
10 medium prawns, peeled and butterflied
12 green beans, cut into 1cm pieces
4 cups cooked rice, chilled overnight in the fridge
1 tbsp kecap manis (sweet thick soy sauce)
Toppings:
prawn crackers (keropok udang)
sliced cucumber
sliced tomato
Instructions:
Combine the garlic, shallots, shrimp paste and chilli in a food processor or blender and process to a coarse paste (rempah). If you don't have a blender or food processor, a mortar and pestle can do the job just as well. Heat the oil in a wok or pan and fry the eggs one at a time until puffy, and browned and crisp around the edges. Set the eggs aside. You can use this oil to fry your prawn crackers if you like. Remove the oil from the wok, leaving about 2-3 tablespoons for further frying. Return the wok to medium heat.
Add the rempah to the oil and fry, stirring frequently for about 5 minutes, or until the oil separates from the solids and they are darkened and fragrant. Increase the heat under the wok and add the chicken breast, prawns and beans and toss for a minute or two until the chicken and prawns are barely cooked through. Add the rice and toss well. Drizzle over the kecap manis and mix until the rice is uniformly coated and lightly toasted. Remove the fried rice to a plate and serve with the prawn crackers, sliced cucumber and tomato, and top with a fried egg.
Insider tip: You can adjust the spiciness depending on the amount of your chilis. Don't skimp on the toppings and the sides for a tastier experience.
Yang Chow Fried Rice
Mother of all fried rice, Yang Chow or Yang Zhou Chao Fan. Here's an authentic Yang Zhou chao fan recipe to follow at home.
Here's a recipe from Chinese Cooking Demystified.
Ingredients:
2 cups leftover rice
2 eggs
3-4 dried shitake mushrooms (soaked in hot water for 2 hours)
5-6 dried scallops (soaked for 2 hours with the mushrooms)
3 tbsp reserved mushroom/scallop soaking liquid
30g Jinhua ham (or any other Chinese ham)
50g pork loin
50g chicken breast or thigh
70g shrimp, deshelled
40g bamboo shoots
4 sprigs green onion, chopped
1 tsp Cornstarch
1 tsp Salt
1 ½ tsp Sugar
1 tsp Stock concentrate (or knorr cube)
1 tsp. Shaoxing wine, Chinese Rice Cooking Wine
⅛ tp MSG
Instructions:
Soak your dried ingredients in hot, boiled water for 2-3 hours. Dice the pork, the chicken, the ham, the bamboo shoots, and the mushrooms. Cut each shrimp into three pieces, and cut the scallop (against the grain) into 4-5 small pieces. Marinate the shrimp with ¼ tsp salt and a ½ tsp cornstarch, and the chicken and pork with ¼ tsp salt, ½ tsp cornstarch, and also a ½ tsp sugar. Prepare the sauce/seasoning liquid. Mix the three tbsp of that reserved soaking water, ½ tsp salt, 1 tsp sugar, and the stock concentrate, liaojiu, and MSG.
Heat your wok until smoking to let moisture evaporate, turn off the heat and add in your lard (this process is called longyau). Turn heat on again to medium-high this time and fry your shrimp for 1 minutes and set aside. Fry the meats, the dried mushrooms and scallops, the ham, the peas and bamboo shoots. Then turn the heat up to high and cook everything together with your sauce/seasoning liquid. Once that liquid comes up to a boil, shut off the heat and take everything all out, liquid included. Longyau before turning heat up to medium-low and toss in thoroughly whisked eggs. Give em a scramble for about a minute or so… once some curds've started to form, you're ready to add in the rice.
Toss in the rice together with the egg, fry over high heat, then add back the rest of the ingredients. Now up the heat to high and add in the rice. The technique for frying rice is to alternate between two motions: (1) pressing down on the rice with the spatula to break down the clumps and (2) scraping and pulling up from the bottom to prevent sticking. The rice'll be done once the grains of rice are loose enough to sort of 'flow' off your spatula, but the timing will depend on how dry your rice was initially (for the rice we used in the video that was about three minutes, but super-moist takeout rice might even need like double that). Fry them together for about a minute til there's no liquid remaining, then add in the shrimp and the green onions. Give it a quick mix, then serve.
Japanese Omurice
No fancy egg flipping needed for this Japanese favorite homestyle dish recipe. Nothing says "I love you" (or "coward") better than a simple, beautiful omurice.
Here's a recipe from Adam Liaw.
Ingredients
2 tbsp canola oil
1 small onion peeled and finely diced
½ cup sliced mushrooms
1 small carrot, finely diced (optional)
1 small chicken breast, cut into 2cm cubes
¼ cup frozen peas
salt, to season
4 cups cooked koshihikari rice, chilled overnight
1 tsp soy sauce
1-2 tbsp tomato sauce (ketchup)
5 eggs, beaten
¼ cup demi-glace (available from Japanese grocers)
2 tbsp beef or other stock
1 tsp finely chopped parsley, to serve
Instructions:
Heat a frying pan over medium heat and add 1 tbsp of oil. Fry onions for about a minute until fragrant, then add the mushrooms and carrot and fry for a further 2 minutes until the carrots are softened. Add the chicken and peas, season with salt and fry until the chicken is just cooked through. Add the rice to the frying pan, along with the soy sauce and ketchup. Fry for about 3 minutes until the rice is warmed, softened and well mixed. Remove the rice from the pan and divide it between two bowls. Press the rice to the side of the bowl at a 45 degree angle, so that the rice forms a half-football or "torpedo" shape rather than a round dome. Turn the rice out onto two separate plates and keep warm while you cook the eggs.
For the demi-glace sauce, combine the prepared demi-glace and stock in a small saucepan and mix well over medium heat until hot and combined.
Heat a clean frying pan (around the same size as the plate the rice is on) over medium heat and add about 1 tbsp of oil. Add 2-3 beaten eggs and with a gentle pushing motion, push the egg from the edges of the pan to the centre as the egg slowly cooks. When the egg is set at the base but still quite wet on top, remove the pan from the heat and slide the egg over one plate the rice. Pour over the demi-glace sauce and sprinkle with a little parsley to serve. Repeat for the remaining egg.
By Kat Espedido and Cyril Fernandez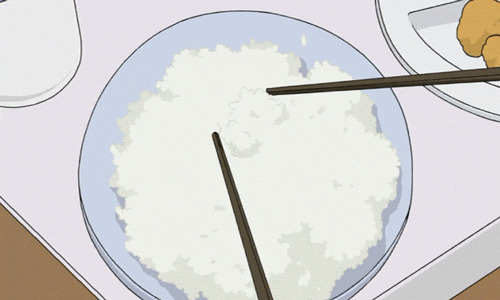 Well, that's all there is to it! In light of the COVID-19 crisis, we hope these rice recipes helped open you up to a whole new world of flavors. Try it out for yourself and let us know if you liked it through our Instagram, @bookyapp. Take care always! – The Booky Team
Cover photo by @ven_teo