Go loco for this Poblacion restaurant and bar!
Poblacion in Makati has been the ultimate hangout spot for years now, and judging by a regular Saturday night crowd, that isn't changing. Featuring some of the best bars and restaurants in Makati, both popular ones and hidden gems, Poblacion has a knack for housing all the best places for a fun, memorable night.
Also read: The Ultimate Guide to the Best Bars Around Poblacion, Makati for Your Night Out
What's a great night out without an amazing meal? There's a spot in the heart of Poblacion that doesn't chicken out of a great dining experience, serving a full Latin-Asian fusion menu with all the best local and draft beer.
Loco Manuk is a fusion restaurant featuring well-known Latin-American and Asian dishes served with a twist, perfected for the Filipino palate. The star of the show is their wood-roasted chicken, paired with a variety of unique dipping sauces.
How did they come up with the name? The self-proclaimed crazy crew came up with loco to describe themselves, and manuk because of their unique chicken recipe.
The entire place features everything a Poblacion staple should. Alfresco and indoor dining options are offered, in the style of Latin-inspired interiors: a cluster of Latin-American posters, a beautiful mural, colorful furniture and accents, and a freedom wall of sorts where guests can write messages.
PSA: They have FREE PARKING in front!
Their current location used to be a tea place. Upon seeing the building, the owners fell in love with the spot so much that even if it would have a small kitchen space, they adjusted the whole menu to fit. But after figuring it all out, they found that no adjustments needed to be made: they fit perfectly.
The stairway is decorated in a way that confirms a popular motto: Condiments are life.
The menu was was conceptualized by their Australian-Peruvian chef Danny Parreno, a former executive chef from award-winning restaurants based in Sydney and Melbourne. This brought to the table a fusion of Latin and Asian flavors, using both traditional and modern techniques and unique sauces to elevate each dish. Tweaked to the Filipino palate, the owners (a group of Australians and Filipinos) want to bring quality dishes at par to the Australian food scene – introducing the same love for grilling and barbecuing that we share.
More chicken and beer? Check out these Korean Chicken Spots To Discover in Metro Manila
Anything you need to make it a fun meal is already here. The best sides that pack a punch, rice meals and mains you can't find anywhere else, and the best draft beer from award-winning brewery The Cebruery.
Fun fact: The restaurant owners also own a popular gym chain in Metro Manila. They were in search of a way to serve chicken for health buffs to eat on a daily bases. The answer: a wide variety of awesome sauces.
Flame-Grilled Corn
Bao
Banana Blossom
Carrots, green mango ginger, and chili dressing
French Fries
Topped with paprika salt and served with garlic aioli
Fried Oyster Mushroom and Sriracha Mayo
Saba Plantain
BBQ Spareribs with Szechuan Caramel and Fried Garlic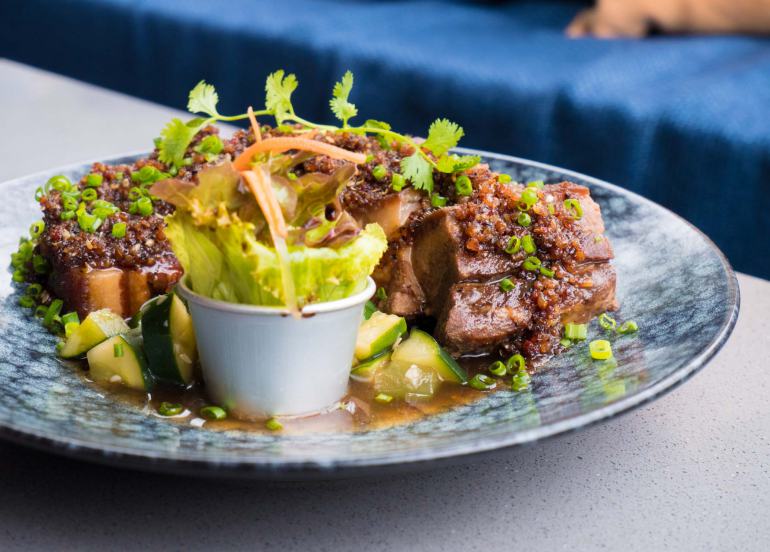 Fried Chicken with Sesame and Ginger Sauce
Red Braised Pork Ribs Rice Bowl
Sisig
With green chili, liver dressing, and chicharon
Whole Chicken
Lost in the sauce: Their different sauce options are Chimi Loco, Loco Manuk BBQ Sauce, Fire Cracker Sauce, Salsa Criolla, and Labuyo Chili Jam, the last one being a fan-favorite!
Churro Classico
Churro sticks with cinnamon sugar & a topping of your choice
Drive yourself crazy with these unique dishes and their wood-roasted chicken for your next night out, and even get a discount!
View menu
View their Instagram account
Corner P. Burgos St. and B. Valdez St, Poblacion, Makati
(0977) 795-5661
Search for 'POBLACION' on the Booky app to see the complete list of restaurants with their corresponding menu and details of location. Share with us your experiences by tagging us on Instagram @bookyapp and using the hashtag #bookymanila when you post your photos online.