Complete with vitamins A, C, E, calcium, and more!
A highly underrated, underappreciated, humble plant, the malunggay or moringa is one that carries within it a whole lot of nutrients – vitamin A, C, E, calcium, potassium etc, – that one can benefit in more ways than one.
Despite it's slow rise to fame, it comes as no surprise that malunggay has made its way into our food – from our bread, our soups, and even our pastas. It's a plant that one can virtually put in everything and can easily be masked with the flavors of the dishes it's in.
Looking to have something healthy? Check out 23 Healthy Restaurants in Metro Manila with Dishes Everyone Will Enjoy!
If you're in need of a boost of nutrients or have developed an affinity for this plant, here are ten noteworthy malunggay dishes, drinks, and desserts served at restaurants that you can order for when you want your lunch/dinner out to be not-so sinful.
Malunggay Lasagna
Serving up all things veggie-centric including vegan options inspired by dishes from all over the world, at The Vegetarian Kitchen you'll surely get your daily amount of greens with their appetizers and mains.
View menu
View their Instagram account
62B Mother Ignacia Ave, Quezon City
(02) 355-5622
Malunggay Coconut Mash
Where to Try It: Berde
Berde is a restaurant that offers wholesome rice bowls with Filipino ingredients which are sourced locally. Choose from their set meals or make-your-own-bowl option!
View menu
View their Instagram account
Ayala Triangle Gardens, Makati Ave, Salcedo Village, Bel-Air, Makati
(02) 728-5046
Malunggay Mozzarella Dip
Where to Try It: Aracama
A Filipino restaurant serving homegrown Filipino dishes inspired by Chef Fernando Arcama's Negrense roots, Arcama aims to not only offer filling mains but at night, offers house special cocktails and other alcoholic beverages.
View menu
View their Instagram account
Unit C The Fort Entertainment Center, Fort Bonifacio, Taguig
(02) 519-6815 | (0917) 874-7738
Malunggay Pestocino
7107 Culture + Cuisine is a Filipino restaurant who serves contemporary regional specialties from our islands' best.
View menu
View their Instagram account
G/F Treston International College, University Parkway District, 32nd St cor C-5 Rd, Fort Bonifacio, Taguig
(0917) 807-8023
Malunggay Pesto Cream Pasta
Serving up affordable Pinoy dishes with their specialties mostly being their chocolate desserts and drinks, Tsoko Nut Batirol is the place to go to if you're in the mood for some contemporary takes on regional and national delicacies.
Malunggay Pandesal
Sear Steak Scullery is a Western-themed restaurant that offers a full-service semi-fine dining experience and Asian influenced dishes. Their complimentary bread that comes with cilantro butter, in particular, is a must try!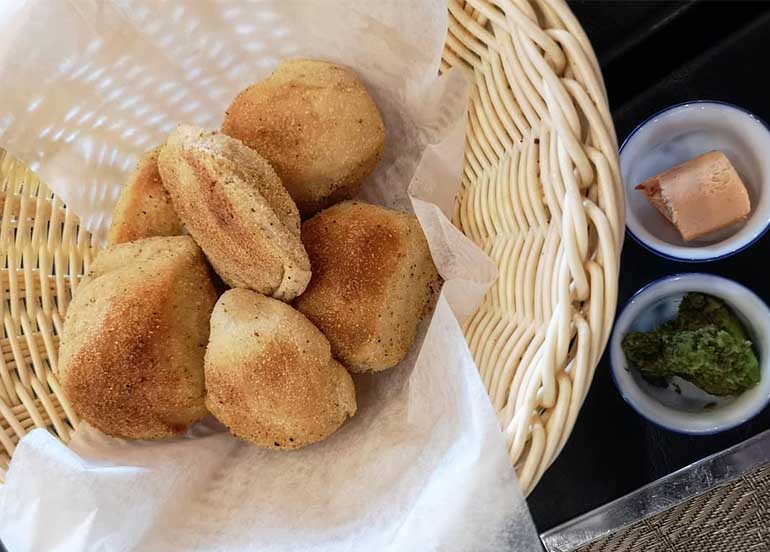 View menu
View their Instagram account
2/F 238 Banawe cor Panalturan St., Manresa, Quezon City
(02) 351-3562 | (0922) 818-9031
Malunggay Brioche
Formerly called Gallery VASK, Gallery by Chele is a modern restaurant that uses local ingredients to give their diners an extensive offering of tasting menus and ala carte options featuring dishes inspired by the Philippines and the Southeast Asian region.
View menu
View their Instagram account
5/F Clipp Center Building, 11th Ave, Fort Bonifacio, Taguig
(0917) 546-1673 | (02) 218 – 3895
Malunggay Ice Cream
Serving up ice cream made with organic ingredients and wrapped in a home-made cassava cone, at The Buzzz Ice Cream, you can satisfy your sweet tooth without feeling guilty about it.
View their website
Dao, Panglao Islang, 6339 Bohol
(038) 510 1822
Malunggay Cookies
Offering snacks, sweet treats, and savory eats, The Blue Kitchen's offers are sure to satisfy whatever craving you have with their small bites in a jar that go great on their own or on top of your favorite meals.
View menu
View their Instagram account
LG/F Power Plant Mall, Rockwell, Makati
(02) 898-0931
Moringa Banana Smoothie
The brainchild of a group of students from DLSU for their entrepreneurship thesis, Thirsty Turtle serves fresh fruit and vegetables for your healthy and 'diet' days.
Fun fact: With Booky, you can get Buy 1 Get 1 Moringa Banana Smoothie for only ₱115!