Help in solving the mango overproduction problem!
It's not new knowledge that the Philippine Mango or the "Carabao" mango is one of the best varieties of mango out there. It's not only recognized locally but also internationally as proven by restaurants such as Hui Lau Shan. That's why when summer comes around, it comes as no surprise that locals flock to markets to get some of this sweet fruit when it's abundant and no doubt sweet.
This year, however, compared to the previous years, the El Nino phenomenon didn't only bring the heat but it also brought about an overabundance of mangoes, one that farmers can't deal with on their own.
Love fruit? Check out One in A Melon: Booky's Favorite Fruit Shakes and Smoothies in the Metro
So, why not help the farmers out and get yourself a lot of this sweet, healthy fruit? Even better, make desserts out of them!
Not sure where to start? No worries! Try out these five desserts inspired by the Filipino classic and undying craze, Mango Float or Mango Graham.
Tip: Have ripe mangoes all year round by freezing them when they're sweet! Simply put the slices on a baking tray and once they're frozen, transfer them into reusable containers/ziploc bags. 
Mango Float Recipe
An interesting Filipino take on a cake, the mango float is a classic that Filipinos just can't get enough of.
Here's a modified recipe from Panlasang Pinoy:
Ingredients (for two layers):
1 tbsp crushed graham
20 pieces graham crackers
1 cup of all purpose cream
3/4 cup condensed milk
2 cups thinly sliced mango
Ingredients
First, in a bowl, combine and mix well the all purpose cream as well as condensed milk. To assemble, in a rectangular dish, arrange 8 to 10 pieces of graham crackers, then layer the cream mixture on top, and finally layer the mangoes evenly in the cream. Repeat the layering until you're satisfied. You may garnish the top layer with mango and crushed graham before you chill for 3 hours. Enjoy cold!
Not willing to wait for 3 hours? No worries! Head on to Quarks and Quills and try out their Mango Graham Cake! And with Booky, you can get up to ₱300 off your bill!
Mango Graham Sago't Gulaman
Not into a lot of graham? Then the Mango Graham Sago't Gulaman is a perfect drink, snack, and dessert.
Here's a modified recipe from Mortar and Pastry:
Ingredients:
1 pack mango flavored gulaman
6 cups water
1 can cremdensada
1 can condensed milk
1 cup all purpose cream
1 minced/pureed mango
2 cubed mangoes
1 1/2 cups of cooked sago
Graham powder/bits
Instructions:
Dissolve the pack of gulaman in the water. Then transfer in a pot, bring it to the boil and once it has, pour it into a mold and let it cool until it's set and ready to be cut into cubes. In a separate bowl, combine the credensada, the condensed milk, the all purpose cream, and the minced/pureeed mango, . Stir well until the flavor's well incorporated. Then add the sago, the gulaman, and the cubed mangoes. Chill before serving and you may either layer the graham or sprinkle it on top for that mango-graham flavor.
Mango Graham Shake
Love Mango Graham but hate that it's not portable? Then turn the mango graham into a shake and bring it around you while you shop!
Here's a modified recipe from SarapChannel:
Ingredients:
6 tbsp mango cubes
3 tbsp evaporated milk
6 tbsp condensed milk
3 cups crushed ice
1 cup crushed grahams
Optional: sago/pearls
Instructions:
In a blender, add the mango cubes, evaporated milk, condensed milk, and ice. Blend until the mixture is smooth. In a cup, if you want, add 1-2 tbsp of the sago/pearls. Then, pour in a portion of the mango shake. Afterwards, add a layer of crushed graham. Repeat the layering until the cup is partially full. Finally, layer some crushed graham on top as well as cubed mango. Enjoy cold!
Don't have a blender or is your blender not strong enough to crush ice? Then try out the Mango Graham Overload at The Citrus Farm! With Booky, you can even get Buy 1 Get 1 of this drink for only ₱110!
Mango Graham Ice Cream
Feeling the heat? Then this Mango Graham Ice Cream won't only cool you down but also bring a smile to your sweet toothed face.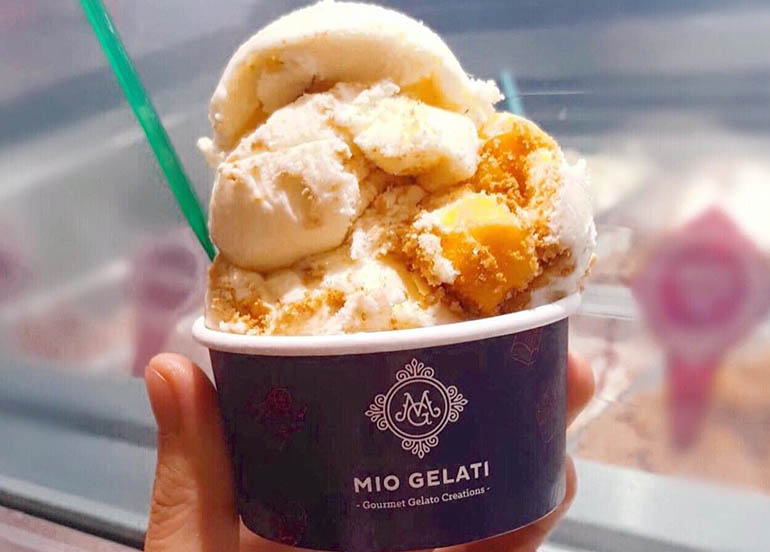 Here's a modified recipe from PinoyRecipe.Net:
Ingredients:
1 box of all-purpose cream
1 can of kremdensada
1 large sweet ripe, sliced
3 pieces of graham crackers
1-2 teaspoons of vanilla extract
Instructions:
In a mixing bowl, whip the all purpose cream and the kremdensada with an electric mixer until the mixture becomes thick. Afterwards, add the graham crackers, the mango slices, and whip until fully combined. You may add the vanilla extract in the end and mix it until well incorporated. Enjoy cold!
Mango Cheesecake
If you're not into the consistently sweet flavor of a mango float, then a mango cheesecake that's slightly tart and rich is the dessert for you.
Here's a modified recipe from Create with Cream:
Ingredients:
1/3 cup melted butter
1 1/4 cup crushed graham crackers
1/4 cup sugar
1 cup softened cream cheese
1/2 cup condensed milk
250 mL all purpose cream
2 tbsp unflavored gelatin (dissolved in 1/4 cup lukewarm water)
2 pcs cubed mango
Optional: 1 tsp unflavored gelatin (dissolved in 1/4 cup lukewarm water)
Instructions:
To prepare the crust: In a bowl, combine butter, graham crackers, and sugar until mixed well. Afterwards, press it evenly into a 9″ springform pan and chill for 15 minutes. To prepare the cheesecake itself: combine the blender, cream cheese, condensed milk, all-purpose cream, and dissolved gelatin until the mixture is combined and has a smooth texture. Pour the mixture onto the crush and decorate on top with prepared mango slices. To make sure that the mango sets, you may add the 1/cup of dissolved gelatin above the mango. Chill until completely set and enjoy chilled!
Not into waiting? Then head on to Sobremesa and try out their Mango Almond Cheesecake! And with Booky, you can get up to ₱300 off your bill!
Now that you have five mango float or mango float inspired recipes to try out, get your chef on and try them out! And if your sweet tooth's not yet satisfied, simply type "DESSERT" in the Booky app to search for places where you can mango desserts or desserts in general for your sweet tooth.
Let us know what you think of these dishes when you try them! Tag us on Instagram @bookyapp and don't forget to use the hashtag #bookymanilawhenever you post photos of your foodtrips with your friends! Happy eating!