Go on a flavor adventure!
When it comes to Mediterranean cuisine, the dishes that'll first come to mind are probably Shawarma, Falafel, or Hummus. And although those dishes can be found in that cuisine, it's only the tip of the iceberg. Did you know that Mediterranean cuisine refers to the kinds of food as well as the methods of preparation from the people of the Mediterranean Basin region
Did you know: If you book a table at any of our restaurant partners via Booky app, you can get up to P500 off on your total bill, plus a FREE dessert when you answer our quick feedback form.
If you're looking to try dishes from this cuisine, then we suggest you check out our ultimate list of Mediterranean restaurants that serve mouthwatering dishes you'll surely enjoy!
Hidden Gems of Certain Areas
Sometimes, the quest of looking for the best Mediterranean restaurants will involve much effort but in the end, trust us, it'll all be worth it.
Mykonos – Alphaland Southgate
Serving up Greek dishes from soups to main courses and even desserts, at Mykonos, you'll get the simplest and most essential Greek dishes that are truly satisfying that you just couldn't ask for more.
View menu
Alphaland The City Club, 7232 Ayala Avenue Ext, Makati
(02) 737-0000
Heads up families and barkadas, if you're looking for a Greek restaurant that serves authentic Greek food that's good for sharing, then head on to Ble Real Greek Food.
Fun fact: If you're eating for one, however, they also offer weekday lunch bundles that you might just enjoy!
View menu
View their Instagram account
G/F A. Venue Mall, Makati Ave., Poblacion, Makati
(0917) 721-7488
A go-to place for your fix of scrumptious Mediterranean, Arabian, Indian, and seafood dishes, if you're looking for a halal restaurant that everyone will enjoy, then you've found it: Al Batra Restaurant and Coffee Shop.
View menu
View their Instagram account
Makati Ave cor Constellation St, Poblacion, Makati
(02) 4013-5552
A late night Middle eastern joint that offers delicious varieties of hummus, falafel sandwiches, and shakshuka, Hummus Elijah's an ideal go-to restaurant for when you want a portable, heavy meal.
Must tries: Falafel Sandwich, Hummus Elijah, and Shakshuka
Fun fact: They also have an array of Mediterranean herbs and spices for sale inside the restaurant 
View menu
View their Instagram account
7850 Makati Ave, Poblacion, Makati
(02) 802-1885
A restaurant headed by Chef Beyto Koc, FETA Mediterranean promises to serve up authentic Mediterranean dishes that are both a meal and a masterpiece that may just leave a lasting impression on those who dine at the restaurant.
Recommended dishes: Doner, Iskender Kebap, Beef Kebap on a Stick, Lamb Shank
View menu
View their Instagram account
G/F Intrawest, 33 Annapolis St., Greenhills, San Juan
(02) 705-7238
Bricks and Copper is a casual Mediterranean restaurant that serves authentic Turkish cuisine including the first (and only) Charcoal-Grilled Doner and freshly baked Pita.
Must-tries: Pita Doner, Kofte, Meze Platter, Iskender
View menu
View their Instagram account
304 Shaw Boulevard, near Dumlao Sports Center, Pleasant Hills, Mandaluyong
(02) 697-2007
Offering up a variety of familiar Spanish dishes with a Mediterranean twist, La Scala Cafe in Manila will entice your taste buds with their famous Paella Valenciana and catch your attention with their antique pieces and collectibles.
View menu
2/F Stargate Bldg., 1711 M. Adriatico St. cor Malvar St., Malate, Manila
There's no need to go on a food trip to different restaurants to try out different cusiines. All you have to do is to head onto Gilak by Hossein, a restaurant that offers dishes from Greek, Indian, Persian, and other Mediterranean cuisines that surely has enough options for you and your friends/family.
View menu
2/F Greenbelt 3, Esperanza St. Ayala Center, Makati
(02) 729-0266
If you're looking at a restaurant that'll give you options enough for you to come back time and again to try them all, then Ziggurat is the perfect restaurant for you.
A hole-in-wall located in Poblacion, at Ziggurat, you can choose from African, Indian, Middle Eastern, and many more dishes which you can feast on with your group of friends or your family.
Must-try dishes: Curry Francoise, Turkish Eggplant Pilavi Rice, and Mezze Forte
View menu
G/F Sunette Tower, Durban St., cor Makati Ave, Poblacion, Makati
(02) 897-5179
Featuring dishes from 2 cuisines, Relish at Ponte is a restaurant that'll impress you with its interiors and even more with it's serving size that's good for sharing. It's a hidden gem in Makati that'll satisfy your craving where that's Hummus from the Middle East or Osso Buco from Italy.
Recommended dishes: Relish Caesar's Salad, Relish Roasted Chicken with garlic, lemon,and oregano as well as Roasted Pumpkin Soup.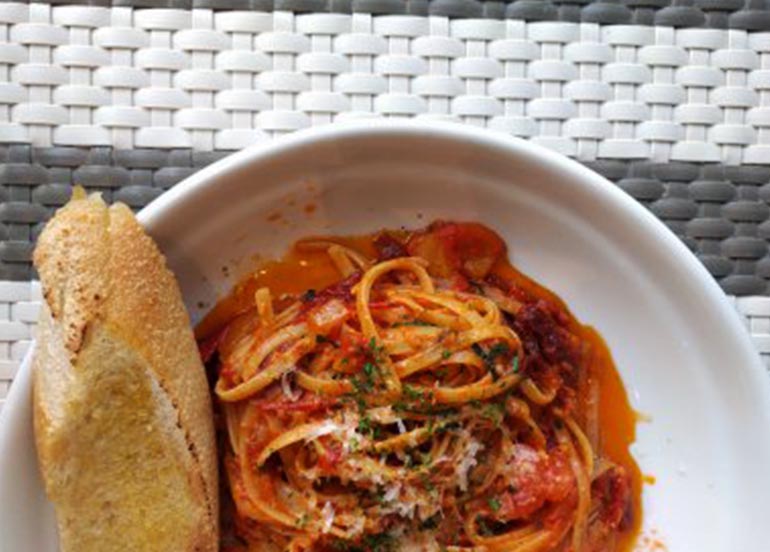 View menu
G/F 120 Valero St., cor Rufino, Salcedo Village, Makati
(02) 519-3543
A Spanish-Mediterranean restaurant by Chef Pepe Lopez, Rambla offers dishes that weren't only prepared using modern techniques but also pair well with the wide selection of drinks that they offer.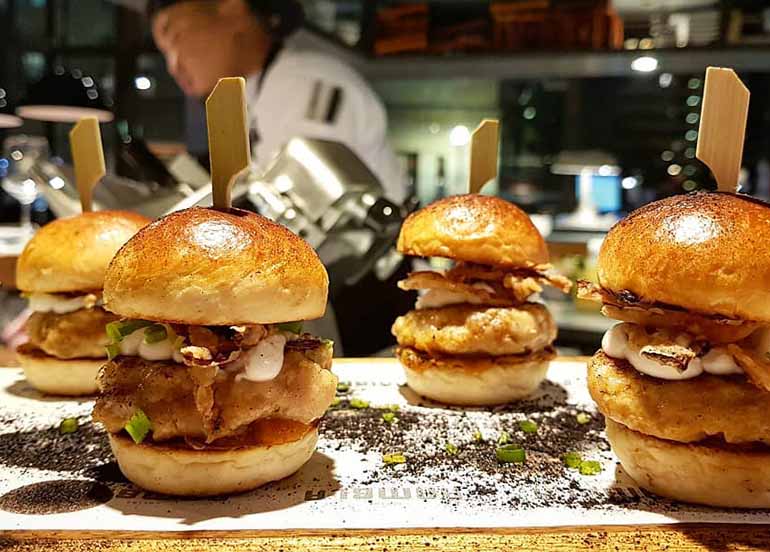 View menu
View their Instagram account
Avail of a discount at their 2 branches
A Mediterranean vegan and vegetarian restaurant, Medley Modern Mediterranean Cafe serves colorful creations in the form of sandwiches, bowls, and salads in dine-in and to-go options.
Must-tries: Beef Koften Bowl and Levantine Chicken Bowl
View menu
View their Instagram account
The Studio, 3/F Fully Booked Bldg., Bonifacio High Street, 9th Ave, Fort Bonifacio, Taguig

Has Branches All Over the Metro
We get it:
Some days, all you want is a quick fix of your favorite dish from the Mediterranean cuisine. If that's the case, then might as well head on to these restaurants that have branches all over the metro.
Cyma – multiple branches
Serving up flavorful, flaming dishes, Cyma is a Greek and Mediterranean inspired restaurant that serves comfort food that'll make you say "Opa!" and leave you feeling full and satisfied.
Recommended dishes: Cyma Fillet Mignon, Grilled Lamb & Watermelon Salad, and Roasted King Crab Legs
View menu
View their Instagram account
Avail of their discount at 6 branches
Short for "souvlaki" – a Greek dish of skewed grilled meats – Souv is an inspired restaurant by Chef Robby Goco that offers Greek favorites like wraps, salads, bowls, and so much more.
Must-try: Pork (minted tzatziki, cherry tomatoes, picked red onions, pickled cucumber, sprouts, feta), Lamb (Harissa yogurt, pickled cucumber, picked red onions, pickled cucumber, sprouts feta), Cranberry Grains Salad, and Beef Kalamaki
Turks – multiple branches
With stalls and kiosks all over the metro, Turks is a well-known stop for quick and flavorful Mediterranean bites.
Must-try: Beef Shawarma
Cafe Mediterranean is a restaurant that serves up all things Mediterranean that isn't only familiar to the Filipino palate but can also be customized by those who are ordering – from the pita to the add-ons.
Recommended dishes: Kebab Pizzas, Hummus, Baklava, Foule, and Chocolate Fudge Cake
Out of Town
You don't know when cravings hit. And when it does, smack dab in the middle of your out of town road trip, at least you know that you have Mediterranean restaurants you can go to.
Gefseis Greek Grill – San Juan
Gefseis (Γευσεις), which meals 'flavors', gives its diners an authentic taste of Greek cuisine using only the freshest of ingredients. At this hole-in-the-wall restaurant that's well-loved by locals and tourists in San Fernando, you'll feel like you've been brought to Greece without having to take a step out of La Union.
Fun fact: Gefseis uses absolutely zero preservatives in all of their dishes. 
Reservations are accepted
View their Instagram account
Urbiztondo Beach Urbiztondo, San Juan, 2514 La Union
(072) 603-0183
Looking for a place for a romantic date with your S.O.? Then check out Don Limone, a dining place in Tagaytay that serves up colorful, flavorful Mediterranean dishes that are as vibrant as the murals on its walls.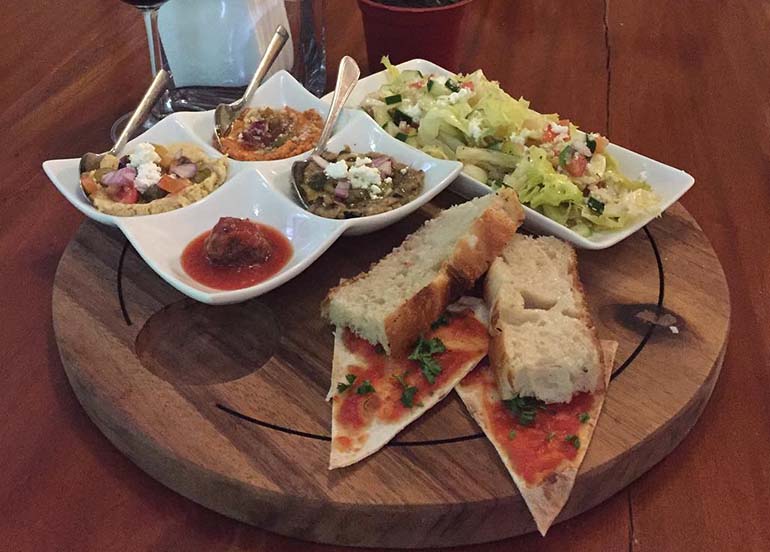 View menu
4870, Gen. Emilio Aguinaldo, Mendez Crossing East, Tagaytay
(0932) 873-2316
If you're a foodie and the type of person who likes to take photos for Instagram, then you surely won't be disappointed if you find yourself at Lemon and Olives with a phone in one hand and utensils in the other.
The restaurant doesn't only have beautiful interiors but also a view of Baguio from the veranda as well as Greek dishes prepared by their in-house chef who came all the way from Athens in Greece.
View menu
View their Instagram account
#26 Outlook Drive, Baguio City
(074) 442-4079
Tucked away in a Tuscany-inspired garden, Marcia Adams isn't only a perfect romantic getaway but also a go-to place out of the metro that serves Mediterranean dishes – from appetizers, to main courses, and even desserts – prepared by no other than the owner Marcia
View menu
Sikat, Alfonso, Tagaytay
(0917) 801-1456
If you're not already enjoying the offline convenience of Booky, you can download the app for FREE! Whether you're on iPhone or Android, you get P1000 worth of savings on us. But why stop there? When you sign up for BOOKY PRIME, you can get up to P15,000 worth of Buy 1 Get 1 deals and unlimited discounts– all for just P199 a month. Your next bite is just a touch away.