Milk tea, reimagined.
Just when you thought you couldn't love milk tea even more, it still takes you by surprise. Your favorite drink has managed to morph in the form of different desserts because of its popularity. There's more than one way to have milk tea, and we're here to show you.
Boba Milk Tea Brûlée Cheesecake
A creamy milk tea-flavored cheesecake topped with vanilla custard and a blowtorched layer of sugar, served with a jar of freshly-made tapioca boba
Who knew a boba milk tea + creme brûlée + cheesecake dessert would ever come to existence? The Burwood Hotel did. This video posted by the hotel went viral and caught our milk tea-crazed attention. Bringing together broken down ingredients that we all know and love from our favorite bubble milk tea in the cake, the tapioca boba is served on the side to be poured right before eating to retain its freshness!
Although this beauty is available all the way in Australia, it's only a matter of time until a crazy culinary genius in Metro Manila makes their own!
If you can't wait for that to happen, you can check out where you can get milk tea-inspired desserts around Metro Manila below!
Chef Jun Florendo from NBC Baking School and Cake Decorating's Bubble Tea Cake creation first made waves last year upon being announced on various Facebook groups. This milk tea cake served in a tin can has a layer of rock salt and cheese and topped with tapioca pearls in Kuromitsu.
Update: Check out all of our Buy 1 Get 1 deals here!
Soft Serve Milk Tea / Classic Milk Tea Swirl – Black Scoop Cafe
Black Scoop Cafe is the much-hyped about dessert shop and cafe serving black mascarpone and milk tea soft-serve. You can even top your sundae with pearls and other toppings!
You can get Buy 1 Get 1 on their Wintermelon Milktea for ₱120 ₱110! Read more here.
Check out other MILK TEA Spots in Metro Manila!
From the name itself, Alice Tea Salon is an Alice in Wonderland-inspired cafe that specializes in authentic and fusion tea products. While they don't actually have milk tea, they have a wide variety of tea drinks that you'll surely love to try!
View menu
View their Instagram account
The Pearl Place, Pearl Drive, Ortigas, Pasig
(02) 925-1213
Dessert Table PH specializes in unique soft-serve ice cream with flavors like Thai Milk Tea, Taiwanese Milk Tea, and Milo Dinosaur. You can also find baked goods from Bellefleur by Beatrix. They are located at the Eden Food Hall in BGC, an up and coming food space that features 12+ brands who started out in Mercato and Legaspi Market.
Also read: 17 of the Coolest Ice Cream Shops in Manila
Reservations are not accepted
View menu
View their Instagram account
Eden Food Hall, 32nd and 5th Bldg, Bonifacio Global City, Taguig City
View all restaurants in Eden Food Hall
Bellefleur by Beatrix is a bakery that offers unique cakes like Ube Leche Flan and Frozen Ube Brazo, cookies, some frozen goods, and drinks from Thirsty Turtle.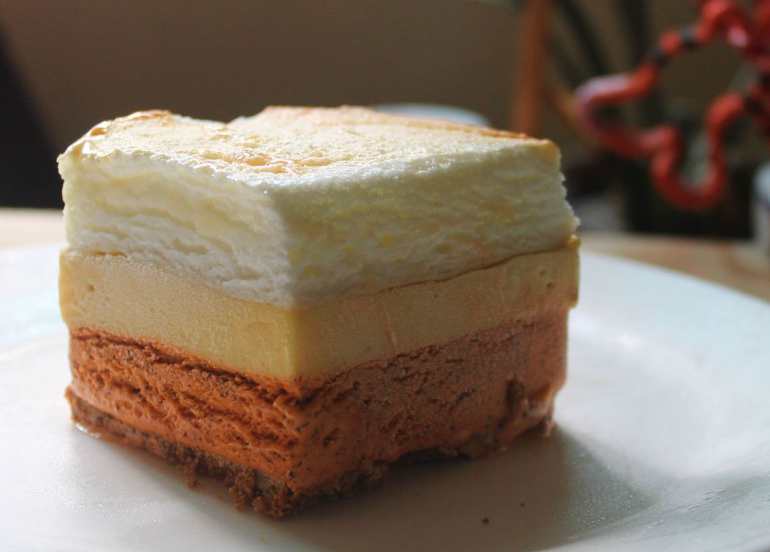 No reservations accepted
View menu
View their Instagram account
G/F Unimart, Greenhills Shopping Center (entrance facing Club Filipino Ave.), Greenhills, San Juan
(0917) 825-8730
Carousel Creamery is a dessert parlour that features a grand display of 101 classic and whimsical flavors of premium handcrafted ice cream, made in small batches. Their HK Milk Tea Ice Cream is a fan favorite, made from dark oolong tea with condensed milk. But why stop there? Try other flavors like Garlic Nuts and Beer, Wasabi, Chocolate Chili, Blue Cheese, Red Pepper Walnut and more.
No reservations accepted
View menu
View their Instagram account
8 Missouri St., North East, Greenhills, San Juan
(02) 775- 9021
Search for 'DESSERTS' on the Booky app to see the complete list of restaurants with their corresponding menu and details of location. Share with us your experiences by tagging us on Instagram @bookyapp and using the hashtag #bookymanila when you post your photos online.