Yes, it's possible.
Because of the burgeoning business of boba, counting calories hasn't been an easy feat for a lot of avid milk tea drinkers out there. It's rep as an uber high-calorie drink starts out at the bottom of the cup: the tapioca pearls, which are loaded with carbs and added sugar.
Thankfully, a hidden café nestled in BGC's Serendra has the quick, guiltless fix for health buffs and health-conscious milk tea lovers in Metro Manila.
Originating in Thailand, Brown Cafe offers their acclaimed collagen-infused bubble, which as the name implies, promotes healthy skin. It'll have you dropping that skin care routine and sipping on some of Brown Cafe's tastiest milk tea selections.
But it's Brown Cafe's Rainbow Low Calorie Bubble Series that has become a hit among its customers. Made of konjac and fruit purée, their rainbow low-calorie bubbles are a mix of vibrantly-colored, fruity-flavored pearls such as strawberry, lychee, ube, and mango.
Fun fact: Konjac is an Asian herb usually used to make zero-carb noodles. It has about 8 calories per 200 grams.
For guilt-free zero calorie and zero sugar bubbles, you can do without the fruit purée and simply choose the 0% sugar level. But if you're looking for something more indulgent, their authentic Thai tea, which uses imported leaves from Thailand, is a great start.
Price: ₱85 for a regular cup; ₱100 for their reusable bottle
Also perfect for strawberry milk fans is Brown Cafe's popular Anchan Strawberry latte with rainbow bubble⁠— a pretty ombré drink that blends from royal purple to bubble pink!
Price: ₱140 for a regular cup; ₱155 for their reusable bottle
Although Brown Cafe exclusively uses premium ingredients (no artificial powdered mixes!) in their drinks, their milk tea selections are more than affordable and one-of-a-kind. So, what are you waiting for? Visit Brown Cafe at Serendra and see why it's worth the hype!
View menu
View their Facebook page
View their Instagram account
G/F Serendra, 11th Ave, Fort Bonifacio, Taguig
In case you missed it
Brown Sugar Milk Tea has become an explosive hit in the Philippines, and we have Taiwan to thank for that. The milk tea concoction doused with a generous shot of sweet brown sugar syrup and tapioca pearls has gathered incredible fanfare that is only getting bigger and better.
And by that, we mean that there's another milk tea shop on its way to Manila very soon! Hailing all the way from the hometown of milk tea, this Taiwanese milk tea shop sets itself apart from all the rest with their authentic specialty, the Brown Sugar Milk!
Renowned in Taiwan, Jenjudan originated from Taipei's Shilin Night Market — one of the largest and most famous night markets in the country. Their popularity comes from their Brown Sugar Milk, made up of only milk, brown sugar, and tapioca pearls.
Instead of cooking their tapioca pearls in cane sugar as most milk tea shops do, Jenjudan slow cooks theirs in-house in brown sugar for a distinct and deliciously smoky, caramel flavor every two hours, making it fresh and authentic in taste as it can be.
Good news is that you won't have to travel to Taiwan to get a taste of this authentic Taiwanese drink, because it's coming soon to BGC High Street Mall! We don't have an exact date as to when they'll be arriving, but you can check out Jenjudan's Instagram account for more updates.
Another upcoming milk tea shop!
It's no surprise that the moment brown sugar milk and milk tea was introduced to Filipinos, Taiwanese shops that specialize in this drink came and took over the Philippines by storm. Currently, if you're craving for a cup, you can choose from Tiger Sugar, Xing Fu Tang, and The Alley.
If you've tried these brands still want more options, did you know that there's another Taiwanese milk tea shop coming to the Philippines and they're bringing their own version of brown sugar milk!
JLD Dragon
JLD (Ji Long Tang) Dragon or "Dragon Milk" is a milk tea shop along SS15, Subang Jaya or also known as the "Bubble Tea Street" that offers a variety of brown sugar milk tea drinks from brown sugar black tea with pearl to brown sugar boba milk taro and their most popular, the brown sugar boba thick milk.
Fun fact: As of this year, they have over 30 stores in Taiwan, Malaysia, Hong Kong, Japan and Singapore. 
Brown Sugar Boba Thick Milk
What makes this drink different from other brown sugar drinks are its ingredients. It doesn't only use 1646 traditional Okinawa brown sugar from Japan but it also has hand made boba and brown sugar.
Fun fact: The "thick" in thick milk refers to the additional layer of cream mousse that they add to the top of the milk to make the milk taste stronger and smoother. 
Sounds good, doesn't it? If you're looking to try a cup, sadly, you're going to have to wait a few more months before it officially opens in Robinsons Galleria. In the meantime, if you want more details, all you have to do is to check out their Facebook page.
Love milk tea and desserts? Check out Your Guide to All the Best Milk Tea Desserts in Metro Manila!
One of the best creations that we've been blessed with was… brown sugar milk tea. It's one of those things that at first glance, you'll immediately fall in love and that's exactly what began our still on-going love affair with brown sugar drinks.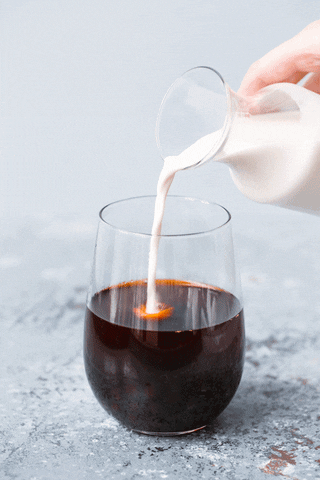 It's been said that the brown sugar drink began in Chen San Ding, humble shop along Gongguan night market in Taipei. Their known for their Brown Sugar Milk drink (it doesn't have any tea!) with tapioca pearls cooked fresh with brown sugar… mmm.
Fun Fact: We love milk tea so much that we made an infographic! Scroll down to check it out.
Luckily for us, a number of milk tea shops have multiplied and are now offering their own take on brown sugar milk tea! We've done all the research so all you have to do is scan through this list and let your cravings decide!
Brown Sugar Milk Teas
Tea 18 – Raw Sugar Bubble Fresh Milk Tea
Tea 18 proves that milk tea doesn't have to be a guilty pleasure. With popular branches in Taiwan, China, and Hong Kong, Tea 18 has successfully created a healthier milk tea line that uses less sugar but still boasts strong and sweet flavors.
Fun fact: With Booky, you can get Buy 1 Get 1 Mix-and-Match Milk Tea for only ₱130. Choose from the following flavors: Four Seasons Oolong Tea, Honey Milk Tea, Taiwan Classic Bubble Milk Tea, Pudding Milk Tea, Mango Oolong Tea, and Kumquat Lemon Tea with Aiyu Jelly.
View menu
G/F The Stratosphere, 136 Valero St
(0917) 127-6688
Serenitea – Brown Sugar Series
Serenitea is a homegrown bubble tea brand known for their strong brews and flavor selections. They have one of the widest tea menus in the country, offering fruit, milk, mixed, and specialty tea drinks all loved by Filipinos.
Yi Fang Taiwan Fruit Tea offers a wide array of freshly-made premium tea drinks. They specialise in fruit teas using real fruit. They also serve sugarcane drinks, tea, lattes, and other specialty and limited-edition drinks.
Chatime – Marble Collection
Chatime is an international bubble tea chain with over 600 stores and are constantly creating new flavours to excite their loyal customers.
One of the first milk tea spots in the metro, Happy Lemon originated in Taipei and has since been giving us a wide variety of drinks from matcha, milo, and many more.
Tiger Sugar – Brown Sugar Boba, Tea Latte, and Pearl Series
One of the most awaited milk tea spots from Taiwan to hit the country, Tiger Sugar, offers a handful of brown sugar infused drinks. They're popularly known for their Brown Sugar Boba that gives their drinks the signature tiger stripes.
Chachago – Brown Sugar Series
A popular milk tea chain in Taiwan and Vietnam, Chachago has finally opened in Manila. They have a lot of tea variants from fruit teas, milk tea, matcha, and many more!
Nomu is a small and minimalist coffee shop located inside the UP Campus serving students and visitors classic milk tea flavours and coffee.
View menu
View their Instagram account
Epsilon Chi Center, Balagtas St., Diliman, Quezon City
From the sweet-toothed geniuses behind Infinitea comes Black Scoop Cafe, your next favourite dessert stop! Serving up soft serve innovations such as milk tea ice cream and the like, we dare you to resist these creatively addictive flavors!
Moonleaf is a homegrown brand with that offers a number of tea-infused drinks. Their tea leaves are sourced all the way from Taiwan and are brewed, steeped, and served the authentic Taiwanese way.
A popular milk tea chain from Taiwan, Xing Fu Tang is best known for their brown sugar boba. They're a relatively new brand (January 2018) but have since expanded internationally and finally opened shop in the country!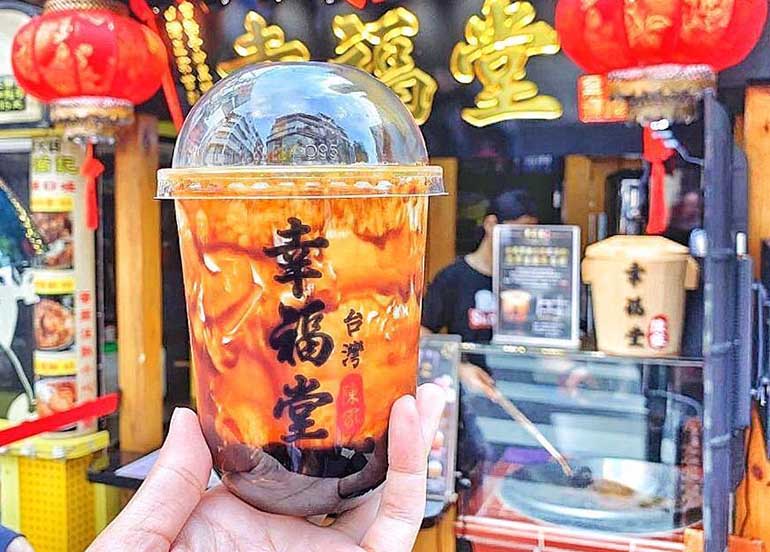 Gong Cha – Brown Sugar Milk Tea
Gong Cha serves milk tea, fruit juices, ice smoothies, brewed tea, chocolate beverages, and coffee. There are over 170 outlets worldwide spreading from Taiwan, Hong Kong, Singapore, Macau, China, Malaysia and the Philippines.
Presotea – Okinawa Brown Sugar Milk Tea
More than just another milk tea chain from Taiwan, Presotea serves up a host of must-try drinks and flavors for true tea lovers. From lattes to fruit juices to the classic milk tea, enjoy their signature brewed-to-order drinks brewed with premium espresso machines for a satisfying experience you won't forget!
Oh My Tea – Golden Sugar Series
A homegrown brand with their first branch in Maginhawa, Oh My Tea serves both Taiwanese milk tea and Thai milk tea. They're continually growing their already expansive menu and have since brought back their brown sugar drinks in their Golden Sugar Series.
View menu
View their Instagram account
111 Maginhawa St., Diliman, Quezon City
(02) 901-9757
Ten Ren's Tea – Brown Sugar Pearl Tea Latte
Ten Ren's Tea is among the oldest tea shops, they began in 1953 and has since expanded all over the world. Their freshly brewed and high quality teas are always sought after and they've finally opened shop in the country for us to enjoy.
Fun facts about our favourite drink
Can't get enough of milk tea? Neither can we! Here are a few interesting things on our favourite drink and a short guide to boba drinks.
More milk tea shops!
Have other milk tea cravings besides brown sugar? Here are a few other milk tea places for you to enjoy!
Teaza – multiple branches
Teaza is a little tea cafe in that has a lot to offer. Their variety of milk teas, tea lattes, fruit teas, hot teas, and rock salt & cheese drinks will surely have any tea craving satisfied.
Fun fact: with Booky, you can get Buy 1 Get 1 mix-and-match combination of Classic Milk tea and Cookies and Cream Milk Tea for only ₱90!
CoCo Fresh Tea & Juice has been around for a while but only recently did they see a surge in customers lining up, sometimes for hours, just to get their hands on the famed Panda Milk Tea. CoCo has made a name for themselves as the country's current favourite milk tea.
Infinitea – multiple branches
Infinitea is all about freshly brewed teas mixed with your absolute favorite flavors. Their selection consists of Milk Tea, Pearl Milk Tea, Slush Tea, Fruit Tea, Original, and more.
A third-wave neighbourhood cafe, Bubba Lab offers milk tea and other drinks with lab apparatuses. They're a homegrown brand that also holds events and promotes local artists in their café.
View menu
View their Instagram account
Ext B, C&B Circle Mall, Liwasang Kalayaan Avenue, Marikina
(02) 682-0408
Another milk tea place that's now open in the metro, get your fill of different flavors of milk tea, tea, coffee, and cream cheese based drinks at Macao Imperial Tea.
Sharetea – multiple branches
Hailing from Taiwan, Sharetea offers a wide variety of milk tea, natural fruit tea, and brewed tea drinks as well as some light snacks.
Dakasi – multiple branches
Dakasi offers milk tea, bubble tea, fruit tea, cakes, and other snacks. Milk tea lovers, you're in for a treat!
Tokyo Bubble Tea is a fun, casual Japanese-fusion chain that puts playful twists on your favourite Japanese dishes and drinks. Experience a unique combination of flavours and textures that you can only find at Tokyo Bubble Tea.
Chemistea – multiple branches
At Chemistea, you won't only experience our usual go-to milk tea drinks but you can even customise your very own!
Follow Booky on Twitter (@bookymanila) and Instagram (@bookyapp) to stay on top of foodie news! If you're not already enjoying the offline convenience of Booky, you can download the app for FREE on iPhone or Android. Discover over 1000 of the top restaurants in Metro Manila and just watch as your foodiverse explodes!